Is a Recession Coming? Is One Already Here?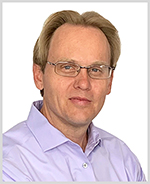 By Mike Larson
Is a recession coming down the pike? Later in 2022 or early 2023?
That's been my expectation for a while ... and a key reason why the market has been struggling mightily.
But what if the recession is already here? As in: happening right now?
Wall Street is increasingly whispering nervously about that.
Why?
• Soaring energy and food prices are sapping disposable income.

• Retailers are overloaded with inventory.

• The housing market is slowing thanks to unaffordable prices and rising mortgage rates.

• Jobless claims are starting to tick up.

• And the Federal Reserve is hiking interesting rates at the fastest pace in decades in a last-ditch effort to combat runaway inflation.
It's a toxic mix for the economy — and professional "nowcasts" are taking notice.
Nowcasts are real-time estimates of the economy's performance, based on the most recent available data released by government and private sources.
Take a look at the Federal Reserve Bank of Atlanta's GDPNow, for instance. Their economic model estimates what gross domestic product growth is in the current quarter.
Here's what it showed yesterday: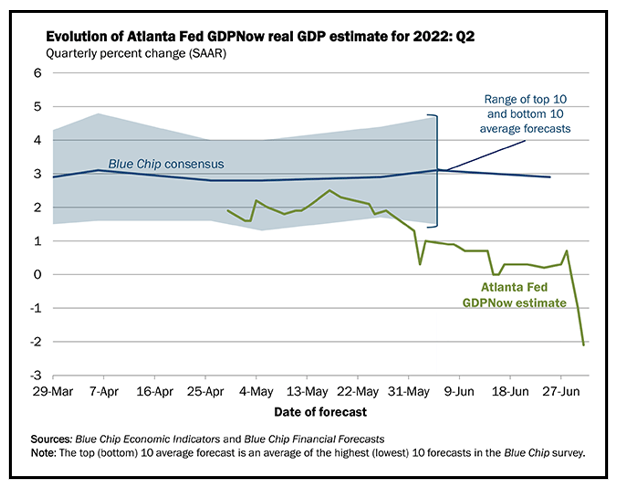 Notice anything interesting?
Professional economists keep whistling past the graveyard, publishing forecasts that show second-quarter GDP growing around 3%.
But the actual data is getting worse by the week.
In fact, it's getting so bad that the Atlanta Fed's model is now predicting a Q2 GDP DECLINE of around 2.1%.
More recent reports COULD change the forecast. But if they don't, that 2.1% decline would be even worse than the 1.6% slump in the first quarter.
We would also have two consecutive quarters of declining growth — the generally accepted (though not TECHNICALLY accurate) definition of a recession.
So, yeah, this is a rough environment. It's no wonder the S&P 500 lost 20.6% in the first half of 2022, its worst start to ANY year since 1970.
It's also no wonder why the bear market rally I wrote about last week is already fading, just like I said it would.
In just a couple of days, my July issue of Safe Money Report will be published. It'll be chock-full of detailed recommendations on what to do in this environment, so be sure to read it cover to cover (and if you're not a Member yet, you can sign up here to get it).
If you're not ready to take that step, just be sure to follow the more general guidance I've been doling out here.
Because whether we're in recession now or will be soon, the market is struggling and will likely continue to struggle until economic worries fade.
That makes following Safe Money investing strategies more important than ever!
Until next time,
Mike Larson