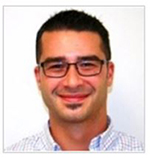 By Jordan Chussler
The Bureau of Economic Analysis will release its next gross domestic product report on July 28.
Expectations are still for positive growth, but that was also the case leading up to the last report released on May 26 when all forecasts missed.
By definition, two consecutive quarters of negative economic growth — as measured by GDP — officially mark a recession.
In Q1, when the BEA reported -1.5% growth, the U.S. saw its first negative GDP figure since the first two quarters of 2020, which coincided with the arrival of the pandemic.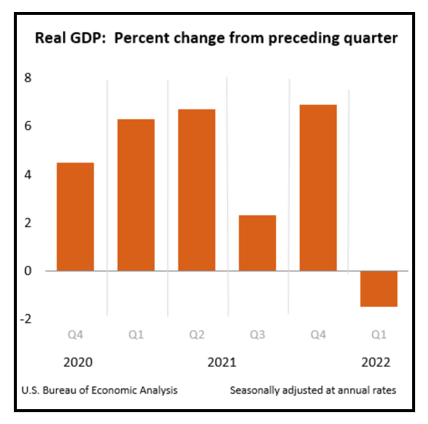 Excluding the short-lived COVID-19 recession, the last time we saw two consecutive quarters of negative growth was amid the financial crisis of 2007-2008.
And while analysts aren't immediately predicting a recession, many believe we'll see one before year's end, including those at big banks like Wells Fargo (WFC).
In addition to other headwinds, today we're seeing parallels to the economic precursors of both the 2007-2008 crash and 2000 dot-com bubble collapse:
• Housing prices have created the most inflated real estate market since 2008. But this time, subprime lending isn't the culprit. Rather, interest rates remained too low for too long, and inventories couldn't keep up with demand.

Between April 2020 and April 2021, the number of homes for sale dropped an astounding 53%. Halfway through 2022, inventories still haven't caught up, but mortgage rates have. Recently pushing above 6%, they're now the highest since — you guessed it — 2008 and have the housing market facing a potential crisis.

• The same low-rate environment that propelled the S&P 500 to an all-time high (ATH) in 2000, near its ATH in 2008 and to a new ATH in 2020, once again pushed the index to a new ATH in January 2022.

During this latest runup, corporations continued setting stock buyback records while the Fed kept rates historically low. But overvalued companies have — by and large — entered correction territory, with tech leading the way down.

• The Consumer Price Index (CPI) has shown dramatic increases, hitting a 40-year high in May. And as was the case in 2008, wages are unable to keep apace of soaring inflation.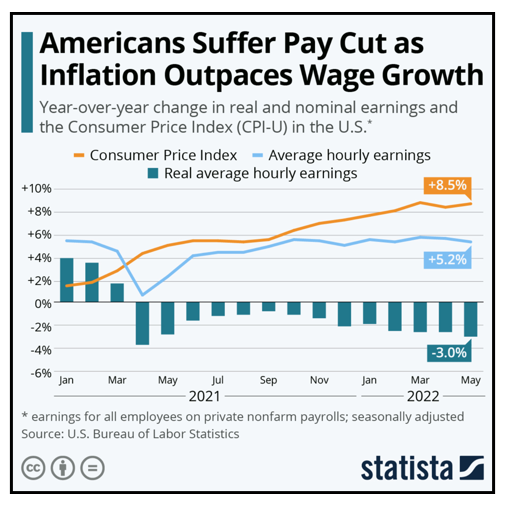 It's not just America's GDP forecast that's troubling, either. Fitch Ratings has slashed its global GDP projections, citing inflationary pressures that could drag down the world's major economies.
Fitch's biggest revision was to its growth forecast for China, "where it cut its expectations by more than a full percentage point: It now expects growth of 3.7% in China this year, down from 4.8%."
Safe-Haven Investments
Investors can prepare for a looming recession by turning to safe-haven investments — those that retain or increase in value amid turbulent market conditions.
Commodity and cycles expert Sean Brodrick has been pointing readers to gold for months, doing so as recently as June 11. He argues that, as the Federal Reserve tepidly attempts to slow inflation with marginal interest rate hikes, the precious metal is set to benefit.
"Historically, gold outperforms both the U.S. dollar and stocks following interest rate hikes. In the six months following tighter policy, gold historically outperforms U.S. stocks by nearly 3-to-1."
Another option is mirroring the market shift from growth to value stocks — particularly defensive stocks, which (1) boast recurring, stable earnings and (2) consistently pay dividends with generous yields.
These are the types of stocks Mike Larson, an analyst and income investing specialist, has been endorsing since last year — long before the S&P 500 began its correction.
"Investors are now swooning over higher-yielding, higher-quality stocks and dumping the names Wall Street aggressively peddled to Main Street for most of 2020 and 2021.They want dividends. They want economic resilience. They want proven business models."
Members of their services, Resource Trader and Smart Money Report, are sitting on open gains over 93%, 33.5% and 17.5%.
To find these resilient, proven companies, I recommend researching Dividend Kings. These defensive stocks have track records of consistently paying — and increasing — dividends for 50 consecutive years. They also boast exceptional payout ratios and have strong price-to-earnings (P/E) ratios.
Because of their performance histories, many of them are household names, including the following four:
PepsiCo (PEP)
Weiss Rating: "B"
Annual dividend yield: 2.96%
Quarterly dividend amount: $1.15
52-week range: $144.61-$177.62
P/E: 21.27
Lowe's (LOW)
Weiss Rating: "B-"
Annual dividend yield: 2.36%
Quarterly dividend amount: $1.05
52-week range: $176.93-$263.31
P/E: 14.5
3M (MMM)
Weiss Rating: "C"
Annual dividend yield: 4.42%
Quarterly dividend amount: $1.49
52-week range: $134.40-$203.59
P/E: 14.04
Stanley Black & Decker (SWK)
Weiss Rating: "C"
Annual dividend yield: 2.97%
Quarterly dividend amount: $0.79
52-week range: $105.05-$210.92
P/E: 12.8
Investors should be preparing — not panicking — as the economy continues to demonstrate telltale signs of a recession.
Be sure to mark July 28 on your calendars, and no matter what you decide, always conduct your own due diligence before entering a trade.
Until next time,
Jordan Chussler
Managing Editor
Weiss Ratings Daily