Is This Streaming Platforms' Curtain Call?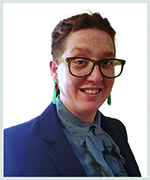 By Kelly Green
I can't tell you how excited I am to see company earnings in 2022.
No company in particular, even though I do have a short list of those I'm watching more closely.
But, 2022 is going to be an interesting year because we're going to see which pandemic patterns will continue into the future.
We're going to see which companies can convince investors that the lofty valuations of 2021 should hold steady … and which companies will see swift corrections.
This week, I got distracted by several headlines about Netflix (NFLX). Here are a few:
That last one is particularly rough since this is what has happened so far: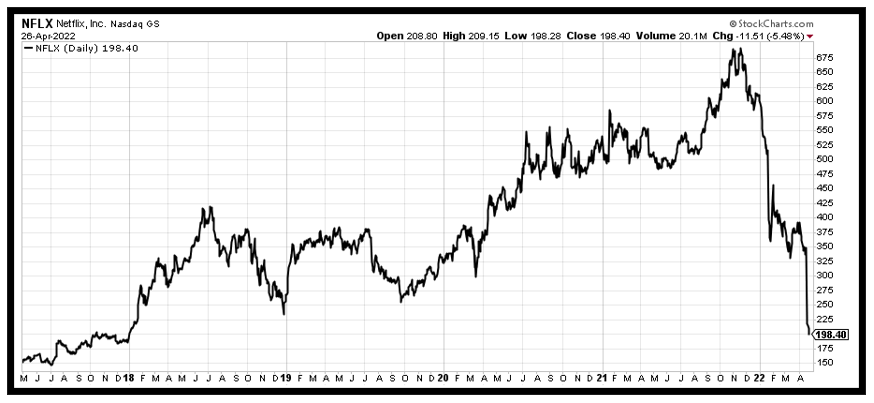 Netflix prices are at levels not seen since 2018 … and are down around 70% since all-time highs in November of last year.
Investors were not happy last week when the company announced that — for the first time in a decade — it lost subscribers during a fiscal quarter.
A closer look shows that it lost 640,000 subscribers across the U.S. and Canada. But that was offset by gains in the Asia Pacific market.
To subscribers, the company has always justified its massive spending on everything from content to executive salaries.
If spending the money was a surefire way to keep making subscriber gains, then in the end it was worth it ... but that's a hard justification after this earnings announcement.
The Future of Streaming
All this got me thinking about the past and the future of streaming. It's not like streaming wasn't a thing before the pandemic. But starting in March 2020, all of a sudden, people had more time on their hands.
Consumers — who might have only had one subscription — decided that it was time for another … or two. And then decided that they might need another as more subscriptions like Warner Bros. Discovery's (WBD) HBO Max and Walt Disney's (DIS) Disney+ became available in the second quarter of 2020.
Netflix has been a dominator in the space, especially when it came to original programming.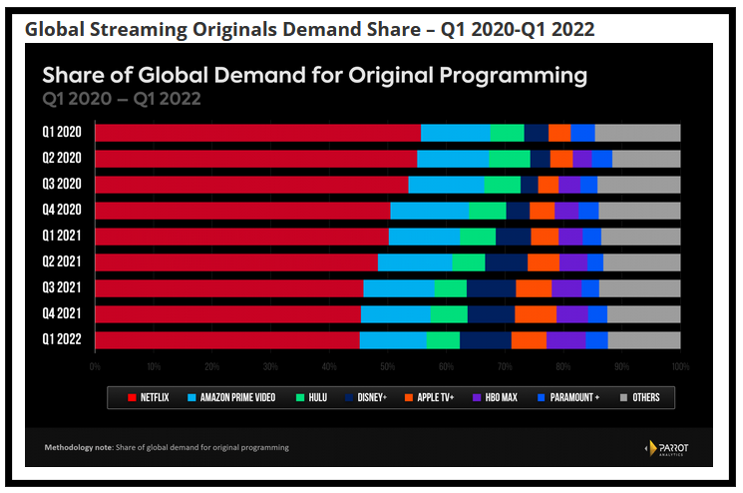 But we see that domination is clearly changing now.
In Q1 of 2020, Netflix's global demand share for streaming originals came in at 55.7%. That number is now just 45.2%. By comparison, in Q2 of 2020 Disney+ and HBO Max came in at a combined 6.7%. That number is now 15.5%.
Multiple sources point out that Netflix is more expensive to the consumer since its basic $10 package doesn't offer HD video. But in the end, we all know that it comes down to content.
Does the streaming service have the content that a person is looking for? If so, a few dollars in price difference probably won't matter.
It's also worth pointing out that Disney+ and HBO Max release new shows similar to traditional TV. This means that people have to keep their subscription through the season if they want to see all the episodes.
On the other hand, Netflix tends to release portions of a season as a bulk drop. This means that the subscriber only needs to have a subscription for the length it takes to watch those episodes, then could cancel until the next drop.
While I didn't do a deep dive into the company's earnings, I still think this theme is interesting and could be a future investment opportunity. So, I headed over to WeissRatings.com to see what I could find out.
Since 2014, Netflix has bounced between a "Buy" and "Hold" rating. It should be noted that it does spend more time in the "Hold" range and is currently rated a solid "C." This comes after two consecutive downgrades in February then March. Shares are down 66% year to date and 61% over the past year.
Disney+ & HBO Max Stealing Market Share
Shares of Walt Disney are obviously more than just Disney+. We're talking about movies, merchandise, theme parks and much more.
Taking a look at the company's last earnings release, we can see that for the quarter that ended Jan. 1, total subscriptions across Disney's streaming portfolio increased to 196.4 million. That included 11.8 million Disney+ subscribers added during the quarter.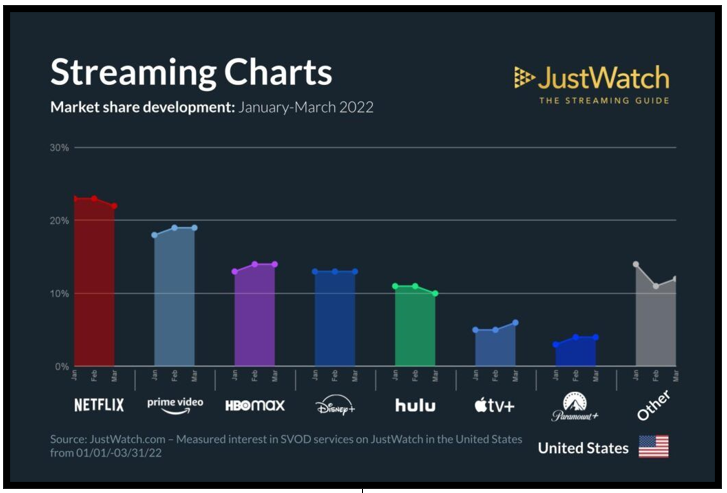 Source: JustWatch
But, although Disney+ saw increased subscriptions revenue, it also saw higher programming, production, marketing and technology costs. This is apparently a trend across the industry.
Although Disney used to spend most of its time in the "Buy" range, that has changed since the pandemic started. Disney now oscillates between the "Hold" and "Sell" ranges. Most recently, it was upgraded from a "C-" to a solid "C" in February.
This one is worth watching since it has not held a "C+" since March 2020. Could we see an additional upgrade over the next few months? And will the company be able to head back into its comfortable seat in the "Buy" range?
The company releases its next earnings on May 11. So, I'm going to add this one to my watchlist.
Shares are down 23% so far this year and down 24% over the past 12 months.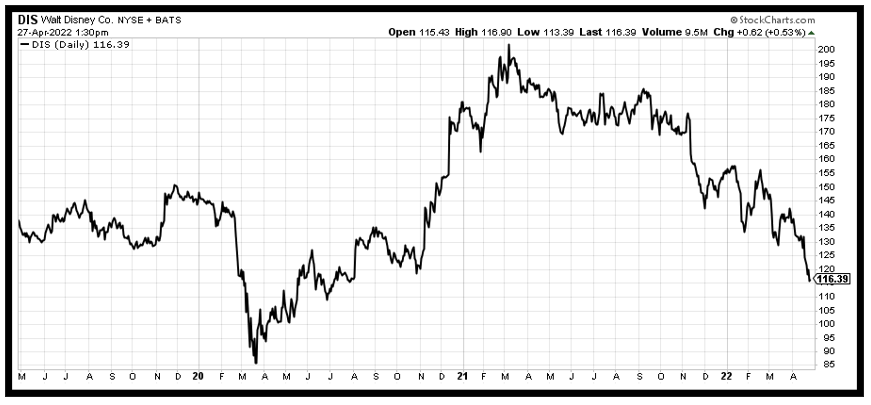 HBO Max is owned by the media conglomerate Warner Bros. Discovery (WBD), which was just formed on April 8 when the divested WarnerMedia merged with Discovery.
The company includes Warner Bros. film and television studios, Warner Bros. Interactive Entertainment video game publisher and a slew of networks, including Food Network, HGTV, TNT and Discovery Channel to name a few. Its streaming platforms include Discovery+ and HBO Max.
WBD announced its Q1 earnings on Tuesday, but since they were for the quarter ending March 31, the numbers won't give us much insight toward the future.
Right now, the company is currently rated a "C." Shares are down 12% year to date and down 48% over the past year.
I'll be adding this one to my watchlist so that next quarter I can see how the combined company is performing.
So far,it looks like all three streaming platforms have a cash burn problem. But only time will tell if they can continue to create enough original content to keep subscribers interested. This is sure to be one of the pandemic trends that I will continue to follow through 2022.
It's also worth noting that none of these companies pays a dividend. That's a huge problem in my book. I like being paid while I'm holding a stock.
And speaking of being paid, my colleague Mike Larson has a surefire way to lock in extra income from your investments week after week. And in his course, you'll see how even non-payers can produce income.
It's an advanced strategy that even the most inexperienced investor can learn. If you'd like to learn more, click here now.
While pandemic trends may be changing, my reliance on the Weiss Ratings for my investment decisions won't a bit.
Best,
Kelly Green