Keep the Chips Powering AI on Your Radar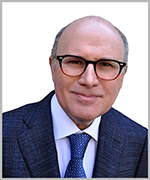 By Jon Markman
A single company controls technology that is foundational to everything from smartphones and supercomputers to automobile safety systems. The best is yet to come.
Shares of Arm Holdings (ARM) were listed last Thursday on the Nasdaq MarketSite. The stock closed up 25%, pushing its market capitalization to $60 billion. This is an artificial intelligence story though, and it's early.
Let's dig into this new Wall Street darling and see if it is worth an investment …
Structure and IP Are the Key
The British designer of semiconductor architectures has been flying under public investors' radar.
Arm was founded in 1990 as Advanced RISC Machines, a joint venture between Apple (AAPL), VLSI Technology and Acorn computers. The project was originally supposed to supply central processing units to the Apple Newton, a personal digital assistant that predated the iPod.
Newton proved to be an abysmal failure. The opposite was true for the CPUs that Arm developed.
The company came up with a power-sipping architecture, and the business was profitable after only three years.
Structure was the secret to its early success. The company didn't make semiconductors. Rather, its intellectual property was licensed to other firms.
By 1997, Arm was licensing system on a chip (SoC) architecture, an integrated circuit that allowed IP to be embedded into another system. Arm-based SoCs are foundational to this day for a myriad of devices and systems …
Apple, Samsung Electronics (SSNLF) and Qualcomm (QCOM) license Arm IP for CPUs used in smartphones, tablets and wireless modems, among other applications.
NXP Semiconductors (NXPI) uses Arm IP for the microcontrollers that are the brains for automatic braking systems on cars and trucks.
Fugaku, a Japanese supercomputer, is based on Arm architecture. The Fujitsu (FJTSY) and RIKEN joint venture reigned until May 2023 as the world's fastest computer.
Nvidia (NVDA) is the current leader in AI with its sought-after graphic processing units. However, GPUs can only work when paired with CPUs.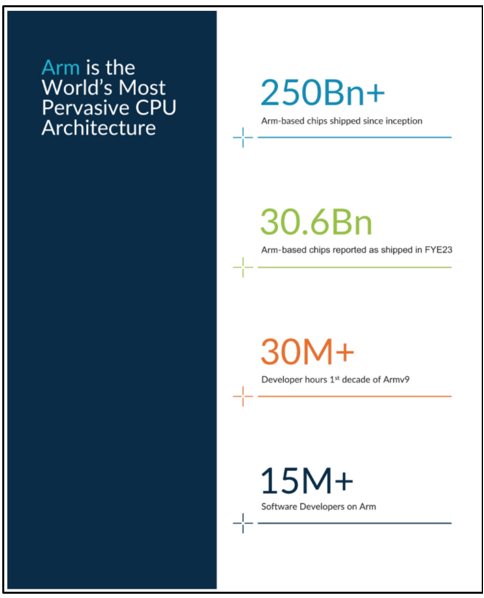 Source: Arm's prospectus.
Click here
to see full-sized image.
Nvidia, Amazon.com (AMZN), Alphabet (GOOGL), Meta Platforms (META) and Microsoft (MSFT) are all choosing CPUs based on Arm IP for their AI projects.
Industry insiders know the value Arm tech has when it comes to power efficiency.
SoftBank Group (SFTBY), a Japanese conglomerate, purchased Arm for $32 billion in 2016. When SoftBank ran into financial difficulty in 2020, as the tech bubble imploded, executives reached an agreement with Nvidia to sell Arm for $40 billion. However, opposition to the deal was fierce.
Lawyers for Microsoft, Alphabet and Qualcomm all raised competition concerns. These sentiments were echoed at the European Commission and the Federal Trade Commission in the United States. Staff members of the U.K. government argued that the deal represented a national security threat.
The Nvidia deal was eventually killed. Yet, investors should recognize what Nvidia executives saw in Arm …
There Is No AI Without Arm
In 2019, Arm was the cornerstone of the Autonomous Vehicle Computing Consortium. AVCC brought together NXP, General Motors (GM), Toyota Motor (TM), auto parts makers Bosch, Continental and Denso (DNZOY), as well as Nvidia. The big idea was to find a power-efficient way to bring AI to automobiles to solve autonomy.
Arm CEO Rene Hass understands power efficiency and the opportunity presented by AI.
During an interview following the IPO last Thursday, Hass said that Nvidia is developing a next generation AI product to reimagine data centers. Grace Hopper replaces x86 CPUs made by Intel (INTC) and Advanced Micro Devices (AMD) with 72 Arm CPUs connected to an Nvidia GPU.
Arm is effectively being married to the AI growth curve. Better still, Arm's business model is more like software publishing than manufacturing. That's a high margin business that's becoming integral to Nvidia's AI success.
Arm shares were listed last week at $51. They quickly rose to $66.25 before falling back to $63.50.
Based on profit statements in documents filed with the Securities and Exchange Commission, that means that Arm shares trade at 110 times the company's trailing 12-month earnings. It also makes its market cap a whopping $60 billion.
That's rich. However, it is an integral player in the future of AI. It needs to shake off this early hype before it's worth buying.
A much more reasonable entry point is $42.50, a level commensurate with a $40 billion market cap. That's the same level Nvidia was willing to pay in 2020 for the entire business.
If its early momentum slows — and it has already started since last week — this is a play you should definitely consider buying on dips.
As I said, Nvidia's GPUs are essential to AI. But they only work with CPUs. And now, Nvidia is switching to ARM's CPU IP. Keep this on your radar.
All the best,
Jon D. Markman
P.S. There are plenty of ways to play the boom in AI. The hardware and intellectual properties associated with the early winners aren't the only way to take advantage. In fact, I recently found the earliest industry to adopt AI. And its profits are already soaring. Click here to check it out.