My New Favorite Sentiment Indicator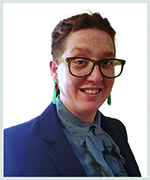 By Kelly Green
My friends and colleagues know I spend most of my days consuming data.
I'm reading, analyzing and screening on a variety of subjects related to a variety of industries.
They also know that I'm easily distracted.
But when I fall down what I like to call a research rabbit hole, it's usually when I learn the most.
And in the end, some kind of article topic usually comes out of it.
Yesterday, someone sent me over an article from ETF.com. Generally, analysts either love exchange-traded funds (ETFs) … or hate them.
Me? I'm open to whatever will make me some money.
And I know that since we rate 2,945 ETFs, I can always head over to WeissRatings.com for more information.
The article I clicked on was titled "Barclays Suspends 'OIL,' 'VXX' Creations."
Apparently, Barclays (BCS) halted new share creations of both the iPath Pure Beta Crude Oil ETN (OIL) and the iPath Series B S&P 500 VIX Short-Term Futures ETN (VXX).
The bank has claimed that it ran out of issuance capacity for both products and would halt new creations indefinitely.
On top of that, it appears that …
Both funds are in fact cleared to issue far more notes than what's currently in the market according to its latest SEC filings.
Oh boy, we've got drama in the ETF world!
I, for one, am not surprised that these two ETFs are in the spotlight. Brent Crude oil spiked to prices that haven't been seen since 2008. And the CBOE Volatility Index (VIX) is still hanging around 30.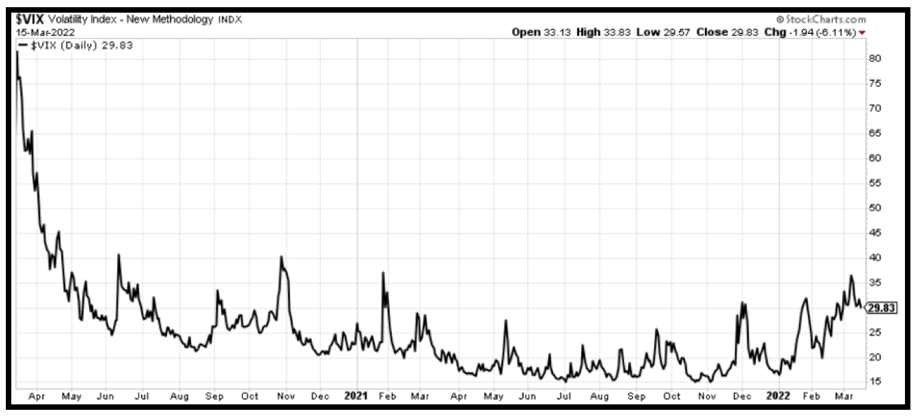 If you're not familiar with the VIX, it's a real-time index that monitors volatility implicit in prices of near-term S&P options contracts.
The result is a number value describing the market's expectations for volatility over the next 30 days.
It's widely called the fear index. And 30 is the magic number, indicating tremendous uncertainty.
The spike in each of these sent investors running to oil stocks and ETFs.
The iPath Pure Beta Crude Oil ETN, currently rated a "B," is up 22.9% year to date. And the iPath Series B S&P 500 VIX Short-Term Futures ETN, currently rated an "E+," is up 52% year to date.
That's when I got another idea of how I could utilize the ETF screener on WeissRatings.com.
But today I didn't actually care about the ratings. Instead, I wanted to see what ETFs had the best year-to-date returns.
My theory: By sorting this list largest to smallest, it would allow me to get a better look at what investors are rushing into as the S&P overall is sliding.
To accomplish this, I added a column instead of a filter. This can be found by clicking on the three vertical dots icon on the upper right corner.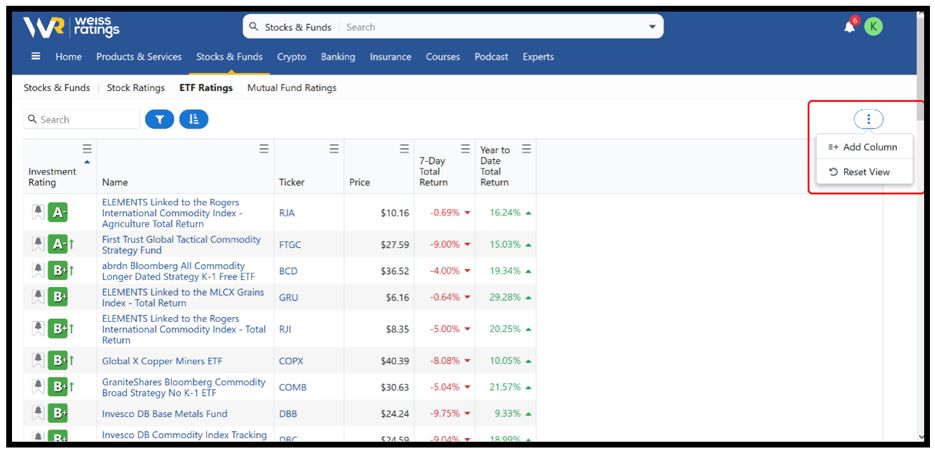 After clicking on the "Add Column" option, you can search for the desired data just as you can with filters.
I added the column labeled "Year to Date Total Return."
Then, all you have to do is click on the three horizontal lines in the heading box to select the option to "Sort Descending."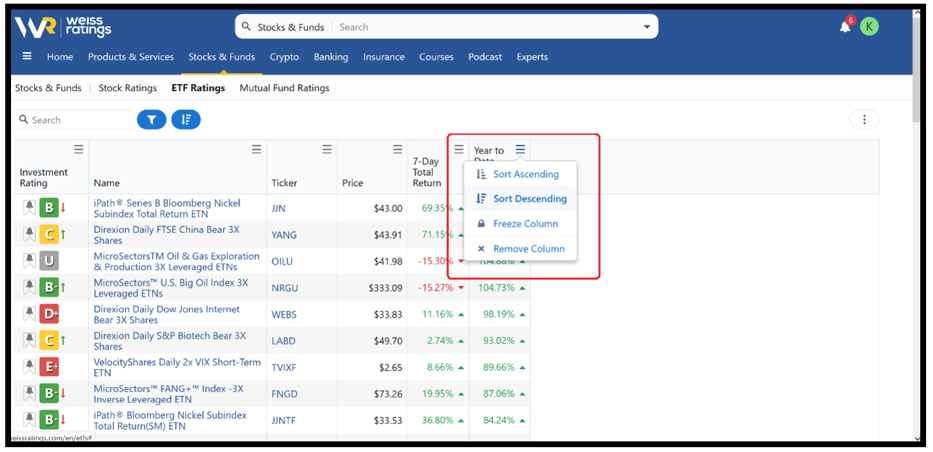 Let's look at what I found.
The top result was the iPath Series B Bloomberg Nickel Subindex Total Return ETN (JJN).
This ETN seeks returns linked to the performance of JJN and offers exposure to futures contracts, not direct exposure to the physical commodities.
Its year-to-date total return came in at a whopping 122.9%.
So, of course, I went looking into the current price of nickel.
Here's what I found …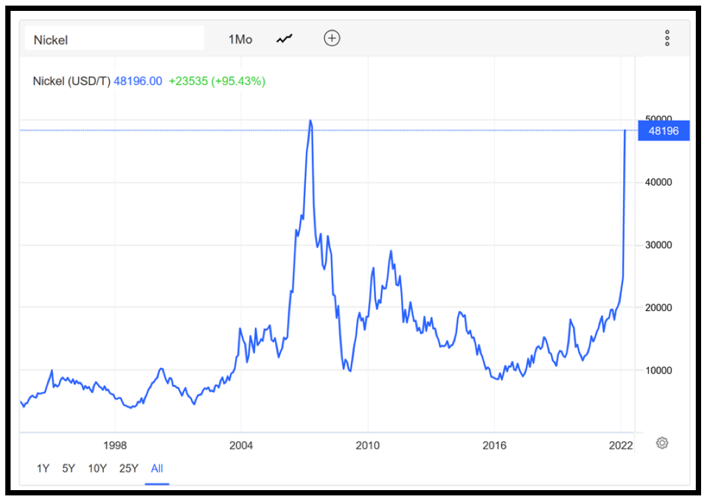 Nickel has spiked to a near all-time high!
The metal was already rallying as the stainless-steel and battery industry drained inventories. London Metal Exchange (LME)–registered warehouses have seen their lowest inventory since 2019.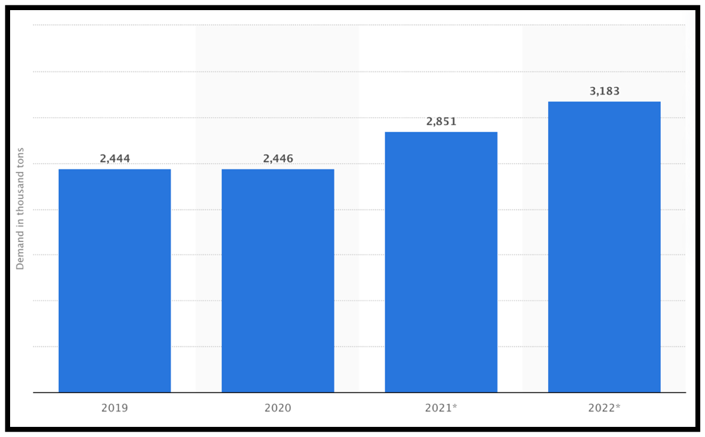 The rally continued after Russia invaded Ukraine, since Russia accounts for about 10% of the global nickel supply.
Well, I definitely learned something new here!
I could spend all day combing through this list and exploring. The top 10 gainers include oil, natural gas and energy topics right now.
There were also two bear funds: one focusing on internet and one on biotech. Plus, there was the MicroSectors FANG+ Index -3X Inverse Leveraged ETN, which includes Meta Platforms (FB), Amazon.com (AMZN), Netflix (NFLX) and Alphabet (GOOGL).
So, in just a matter of seconds I could quickly see …
I think I'm on to something here.
This is proof that there's so much more that you can do with the hundreds of thousands of data points available.
By sorting a universe of ETFs or stocks, you can see the patterns and adjust your personal research accordingly.
And who knows how long it would have been before I took the time to research nickel. Except for gold, I don't personally spend a lot of time looking at metals. That's why I'm so glad to be a part of the team here at Weiss.
My colleague Sean Brodrick, editor of Supercycle Investor, is sitting down with founder Dr. Martin Weiss to discuss how global events impact the economy.
It's important to point out that we're living in some of the most powerful cycles of history and nature:
The cycle of economic expansion and contraction.
The cycle of debt.
The cycle of inflation.
And the cycle of war.
Instead of fighting them, I recommend joining them.
So, check Dr. Martin Weiss' emergency Zoom call that will be held next week. For more information, click here now.
Best,
Kelly Green