ON Semi Signs Long-Term EV Deal with BMW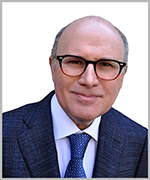 By Jon Markman
The transition to electric vehicles is an amazing growth story, but the big opportunity for investors is in the chips and chargers sector.
Executives at ON Semiconductor (ON) announced Monday that a long-term agreement has been reached with BMW to supply technology for its EVs. This is another design win for ON Semi.
Investors should buy ON Semiconductor shares on pullbacks.
The debate is over. EVs are coming as all the world's leading vehicle makers begin to transition their fleets from internal combustion engines to electrification. This is a tricky transformation, though.
Apart from the new factories and skillsets required to build EVs at scale, legacy auto companies must overcome the perception that legacy EVs are inconvenient to refuel and do not hold a sufficient charge to make them practical for everyday use. This issue has been exacerbated by the strength of the Tesla (TSLA) Supercharger network.
Tesla is the leading company in the sector, with more than two million EVs sold since 2009, when the company was formed. To accommodate its rapidly growing fleet, the Austin, Texas-based company has built an extensive 400-volt network of 40,000 chargers.
Customers simply pull into a station, plug in to a charger and charge. There is no fuss with mobile software applications or credit cards. The entire process is seamless.
By contrast, legacy car companies are working with a hodgepodge of third-party vendors with limited reach, subpar software and less-than-stellar reliability.
More than 25% of Combined Charging System units in the San Francisco area were inoperable, according to a study from researchers at the University of California, Berkeley.
To compete, legacy companies need to leapfrog Tesla.
Their next generation CCS network needs to charge faster than a Tesla Supercharger and be more reliable. This has been a tricky undertaking because current systems use technology developed decades ago by electric utilities companies.
ON Semiconductor builds next generation silicon carbide integrated circuits and chips for EVs, EV chargers and clean energy applications. This tech supports up to 1700-V, has higher efficiency and greater power density than anything on the market. Allowing for higher voltage operation will increase charging speeds and reliability.
BMW chose ON Semi because its products provide a clear competitive advantage. Future BMW EVs will be able to charge more quickly and will achieve better range. And the German automaker is not alone in its pursuit of ON Semi products.
CEO Hassane El-Khoury noted in February that many silicon carbide products for EVs and EV infrastructure are sold out through much of 2023, as automakers clamor to get ready for the next roll out of their EV fleets.
Revenue attributed to the automotive sector in Q4 reached $1.16 billion, up 35% year over year. Overall, sales increased to $2.1 billion, up 14%, while profits jumped to $726.5 million, ahead 40.6%.
ON Semi is hitting on all cylinders, and it's positioned in the right place at the right time. Production of EVs from legacy firms is about to accelerate, and they need to one-up Tesla to vie for market and mindshare. Faster, more reliable charging would be a big competitive advantage.
At $83.10, ON Semi shares trade at 16.2x forward earnings and 4.2x sales. Profit margins are 22.8%. The stock could easily trade above $115 during the next 12 months, or 38.5% higher.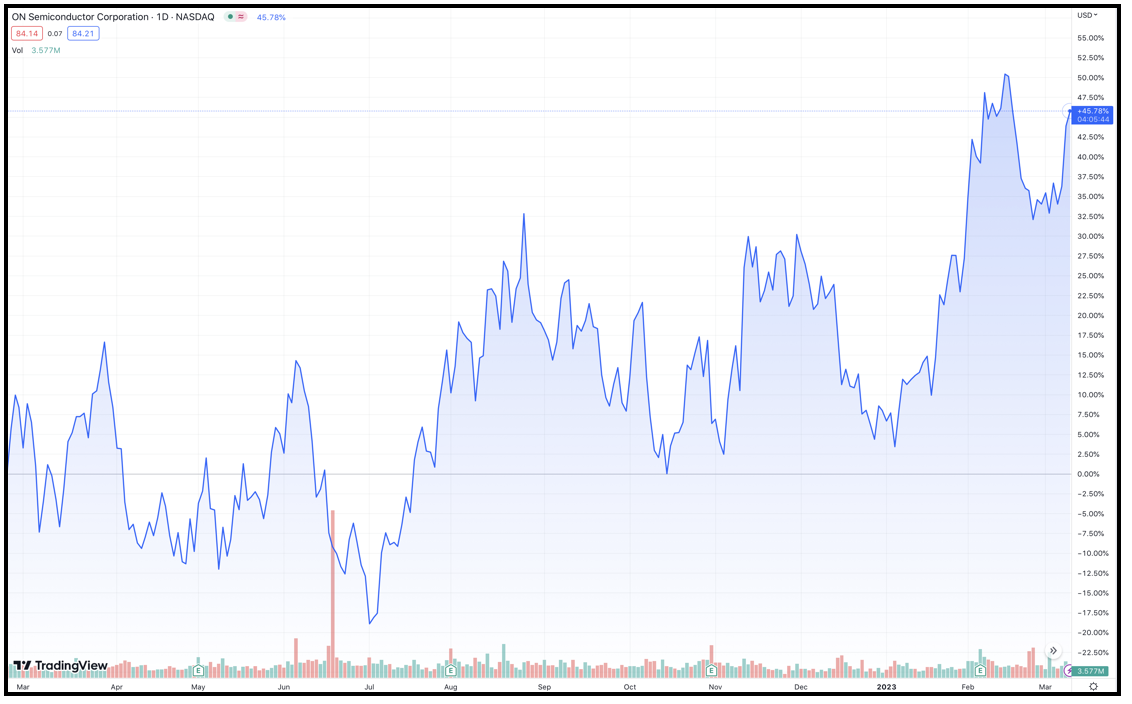 One-year chart of ON.
Click here
to view full-sized image.
That's all for today. I will be back with more soon.
Thanks for reading,
Jon D. Markman
P.S. In today's turbulent market, investors need to make smart, safe decisions with their money to stay ahead of the curve. And my good friend and colleague Nilus Mattive has a proven track record of doing just that for his Safe Money Report Members, who are currently sitting on open gains of 40%, 35% and 13%!