Our Stock Screener Reveals 2 Gems in 2023's Strongest Sector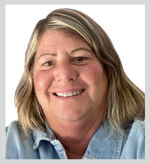 By Karen Riccio
I learned very early in my career to never settle for mediocrity. In other words, don't rely on a plain-vanilla index like the S&P 500 as an investment unless you want to stunt your portfolio's growth.
Broad indices make great benchmarks. But investing in them can often be an exercise in missed opportunities and an invitation to sub-par performance.
You'll need to drill a little deeper into the S&P 500 to find investment options up more than the ho-hum 7.6% the index has delivered thus far in 2023.
However, within the S&P 500, there's a far more enticing treasure trove of 11 sectors that comprise the index. After all, the 24 industry groups, 68 industries and 157 sub-industries within those sectors are responsible for making the world (and money) go round.
Plus, retail and institutional investors alike are pouring trillions of dollars into the best companies in the following sectors: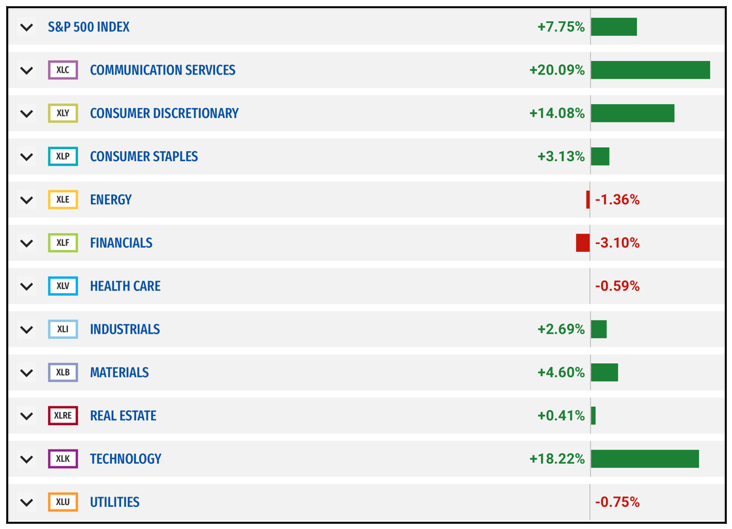 Year-to-date performance of the S&P 500's 11 sectors.
Click here
to see full-sized image.
I know that nothing I've said so far is new or requires a data scientist's IQ, but investing in the strongest sectors at any given time is one of the best ways to generate superior returns. Equally important to beating benchmarks is avoiding the weakest sectors.
That gap between the strongest and weakest sectors is akin to the Holy Grail of investments. The larger the gap, the larger the potential to outperform.
First, I'll share some examples from 2022. Then, I'll show you how to use the free screener at Weiss Ratings to find stocks that meet your specific criteria.
2022 Sector-by-Sector
Performance
Last year, the gap was wider than ever; investors in the best performers saw a lot more green than red in their portfolios.
The Dow Jones Industrials, S&P 500 and Nasdaq 500 all suffered their worst years since 2008 and snapped three-year win streaks.
• The Dow fared the best of the indices, down about 8.8% as investors flocked to value and defensive stocks and dumped growth stocks.

• The S&P 500 sank 19.4%.

• And the tech-heavy Nasdaq tumbled 33.1%.
If we dive deeper, we find that of the 11 sectors listed earlier, Communications, Technology, Real Estate and Consumer Discretionary lost the most, down 40.4%, 29%, 28% and 37.6%, respectively.
Meanwhile, Energy (fossil fuels) emerged as the clear winner, surging by 59%, followed by Utilities -1%, Consumer Staples -3.6%, Healthcare -3.6% and Industrials -7.1%.
That means the gap between the strongest sector (Energy +59%) and the worst sector (Technology -40%) was quite large.
What's Changed
in 2023
To find the best performers thus far in 2023, I went to Fidelity Investments. You can learn which sectors are performing best over different periods of time. For our purposes today, let's choose the strongest year-to-date performer.
As you can see from the below chart, Communication Services is nudging out Information Technology as the top sector, up 19.56% vs. 19.10% since the start of the year. Consumer Discretionary is third, up 14.42%. All three are outperforming the S&P 500, the other eight are underperforming the index.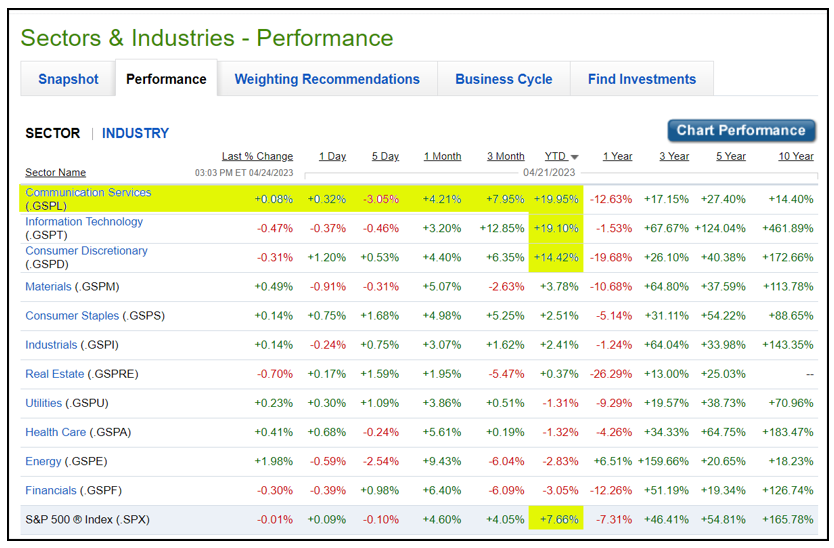 Year-to-date performance of each S&P 500 sector.
Click here
to see full-sized image.
We can also see that Financials and Energy are the weakest sectors in terms of year-to-date performance, so we should avoid those.
Now that we've determined that Communication Services is the strongest-performing sector thus far, Weiss Ratings' free screener can help you find the strongest stocks.
Go to Weiss.com, and start by clicking on Stocks & Funds on the top navigation bar.
Then, click on Stock Ratings.
Once there, you want to find all the stocks in the Communication Services sector.
To do this, click on icon at the top (see arrow in below screenshot) and scroll down to Sector. Then, check the Communication Services box and a list of stocks will pop up.
As you can see, there are 930 qualifying stocks in our database — a pretty overwhelming number. But I don't just want any ol' stocks. I want them to:
• Pay dividends between 2.5%–5% (dividend producers offer a hedge against inflation and volatility).

• Trade above their short- and long-term moving averages (50- and 200-day).

• And most importantly, be rated at least "C+" and recently have been upgraded by Weiss Ratings.
So, I check the appropriate boxes and just two stocks in the universe of more than 900 in the Communications Services sector meet all of my criteria: Omnicom Group (OMC) and The Interpublic Group of Companies (IPG).
Both are outperforming the S&P 500 year to date, 14.97% and 12.19%, respectively, which means they're batting 1.000 for our "beating the market" goal. What about the rest?
• Dividends above 2%? Check.

• Trading above their short- and long-term trendlines? Check.

• Rated above a "C+"? Check (both are "B-").

• Recently upgraded? Check.
Interestingly, Morningstar recently reported that Communication Services is the most undervalued sector in markets today. That makes sense, considering it was also one of the hardest hit in 2022, drastically lowering stock prices.
I wouldn't necessarily associate value with advertising and marketing companies in today's world, but OMC and IPG are among the largest with the longest histories and experience with multinational companies.
Omnicom Group, with an $18.7 billion market cap, is the second largest of the Big 5 global marketing conglomerates with more than 5,000 clients and operations in 70+ countries.
Consisting of dozens of businesses organized into six groups, $14.1 billion IPG is one of the Big Four advertising agencies (along with Omnicom) doing business across the globe.
If you're wondering, "Won't companies cut advertising and marketing spending if we get hit by a recession?" Well, many of those doing business with OMC and IPG need to advertise regardless of the economy.
Based on research by Nielsen, long-term revenue can take a 2% hit every quarter a brand stops advertising, meaning companies cannot afford not to advertise.
And just like that, the Weiss Ratings stock screener turns up two of the strongest stocks in the strongest sector thus far in 2023.
I think you'll agree that finding potential winners can't get much easier.
You ought to give it a try and let me know what gems you find.
Talk soon,
Karen
P.S. Back in December 2018, talking heads were calling "the death of crypto." At the same time, Weiss Crypto Analyst Juan Villaverde was calling the start of the largest bull market of any asset class on the planet.
Spoiler alert: The talking heads were full of hot air. Juan was right. Investors who understood that risk and were glad to buy at bargain prices could've seen our list of high-rated coins surge dramatically — 20x, 54x, 102x and even as high as 234x!
How did Juan know to call the start of the next big bull? He's a student of the cycles, and using his Crypto Timing Model, Juan monitors the cycles to determine when to act. As the next leg of the crypto bull market heats up, you can learn more and join him by clicking here.