Power Up for This Investing Boom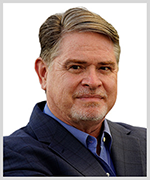 By Sean Brodrick
This year is going to see a landmark shift in energy investing.
2023 is the first year that more money will be invested in green energy than in fossil fuels.
And one renewable energy in particular is going to shine brightest of all. I'm talking about …
A Boom in
Solar Energy
That's according to the latest data from the International Energy Agency. But it's only part of the parade of good news for solar. Even better: This is an easy trend to invest in.
"For every dollar invested in fossil fuels, about 1.7 dollars are now going into clean energy," IEA Executive Director Fatih Birol said in press reports. "Five years ago, this ratio was one-to-one."
In actual dollars, the forecast is for $2.8 trillion to be invested in energy worldwide in 2023. Of that, more than $1.7 trillion is expected to go into "greener" energy like renewables and nuclear power. The rest will go to oil, gas and coal.
As for solar …
Investment in solar power should hit $1+ billion per day or around $382 billion on a yearly basis in 2023.
Meanwhile, investment in oil production should be around $371 billion.
In the U.S., 29 gigawatts of total solar capacity should be added this year. Europe is pouring money into solar as it tries to keep up. And globally, annual photovoltaic installations are forecast to increase by 15% until 2026, and capacity is expected to rise 24% until 2031.
And U.S. solar manufacturers can benefit from part of the Inflation Reduction Act. The IRA provides economic incentives to manufacture solar materials in the U.S. It sets a tax credit at 30% for solar installations until Dec. 31, 2032.
How You
Can Play It
There are different ways to play this. You can invest in:
• Manufacturers of solar panels.

• Makers of various components, including solar microinverters.

• And installers of both rooftop and utility-scale solar grids.
According to Bloomberg estimates, solar manufacturers should see sales climb on average ~33% this year.
For example, here are the top manufacturers (by capacity) of solar panels in the U.S.:

Some of these companies are private, but two of them — First Solar (FSLR) and JinkoSolar (JKS) —are public.
And if you don't like the risk of individual stocks, there's an ETF that holds a basket of the world's best solar stocks: the Invesco Solar ETF (TAN).
For a total expense ratio of 0.69%, TAN lets you own a piece of great names, including not only First Solar and JinkoSolar, but also SolarEdge Technologies (SEDG), Enphase Energy (ENPH) and even foreign-listed stocks like China's Xinyi Solar Holdings.
Here's a weekly chart of TAN: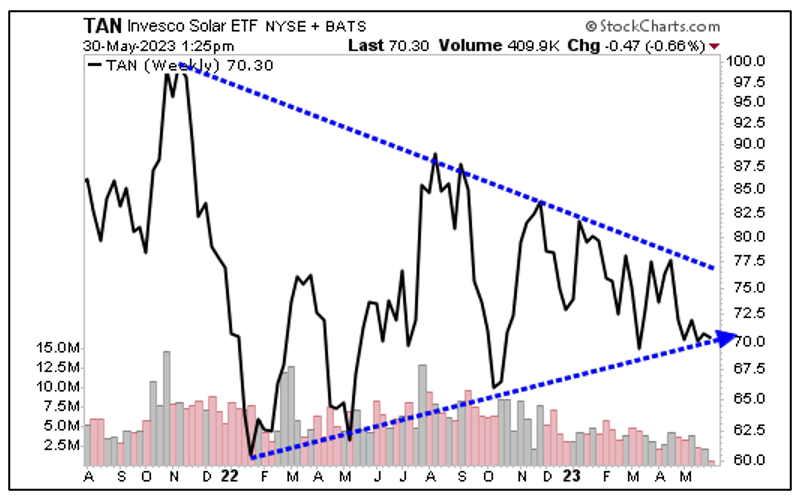 Weekly chart of the TAN.
Click here
to see full-sized image.
You can see that the TAN has spent the past 18 months consolidating and coiling up for what will likely be a big move. I believe that move is going to be a breakout to the upside.
Will it be a straight line? Heck, no! But you can buy the pullbacks.
The sun is shining on renewables, and especially on solar. As the saying goes, "make hay while the sun shines."
Best wishes,
Sean
P.S. We've been warning loyal readers like you about a new government program called Fed Now — or what we call Fed Control. This is why I urge you to join founder, Dr. Martin Weiss, for our first-ever Emergency Banking Summit on Tuesday, June 6, at 2 p.m. Eastern. It's free, and you'll want to attend. Just click here to sign up.