Put This Siege-Breaking Legacy Business on Your Radar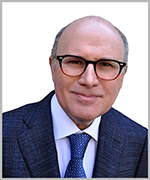 By Jon Markman
Digital transformation is changing every facet of the corporate world, and some legacy businesses are failing.
Disney (DIS) networks went dark last Thursday night for 15 million cable TV subscribers nationwide. That blackout includes highly-watched channels like ABC and ESPN. In fact, it began right before kickoff of a big college football game on ESPN, leaving viewers hanging.
This all happened because an operating partner is disputing Disney retransmission fees. Unsurprisingly, gouging customers is a lousy business model. I'll show you just how this transpired in a moment. But first …
Software Killed the Legacy Star
Legacy businesses are under siege globally. Software is allowing innovative, agile companies to quickly gain footholds and dominate.
Consider this …
The automotive sector is being hollowed out by Tesla (TSLA). Software defines every aspect of the Austin, Texas-based company … from design and supply chain to its advanced driver assistance systems.
More importantly, these digital processes are vertically integrated with Tesla's operating system, a software platform that governs corporate decision-making. The benefits are showing up.
Volkswagen (VWAGY) executives concluded in 2021 that Tesla manufacturing was three times more efficient than legacy firms.
Netflix (NFLX) enjoys similar advantages in media. Executives at the Los Gatos, California-based company determined more than a decade ago that they could use software to develop and deliver media content across the globe.
Data analytics inform what content is produced. Proprietary compression algorithms make streaming possible, even with low bandwidth.
The Netflix subscription video on-demand service, or SVOD for short, that was introduced on Jan. 16, 2007, started a cord-cutting revolution. SVOD gave consumers an on-demand alternative to cable TV … and at a lower price point.
This ties into the most recent legacy businesses under fire story. Cord cutting is at the center of the Disney blackout.
Price Gouging
Charter Communications (CHTR) is the third largest cable TV operator in the U.S. Executives claim Disney is jacking up pay TV prices by forcing operators to carry ESPN and other expensive Disney-owned channels in so-called bundles.
Customers, it argues, want skinny, cheaper bundles. The impasse, according to Charter, is leading to subscriber losses.
U.S. pay TV subscriptions fell to 75.5 million in Q1 of 2023, down 7% year-over-year to the lowest level since 1992. Analysts attributed the decline to higher costs for ESPN retransmission fees.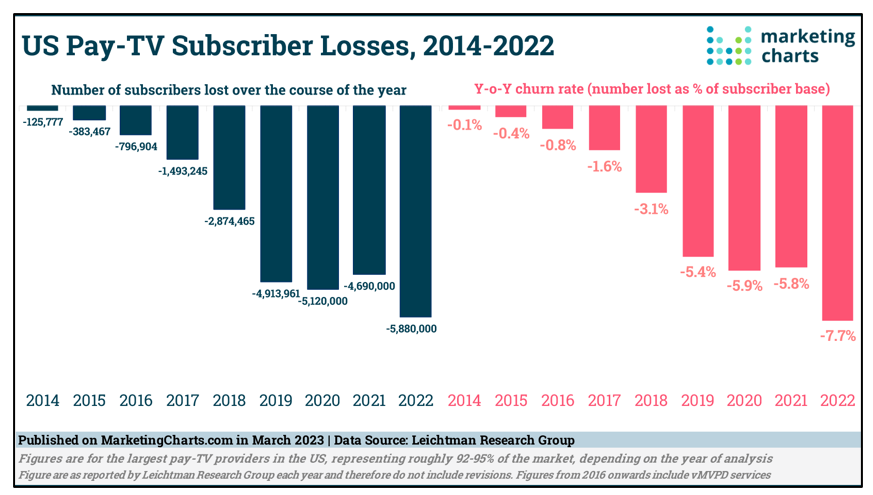 Price gouging has become a go-to strategy for failing legacy companies in the digital transformation era, especially when your competition is leading through software innovation.
Take Ford (F), for example.
The Ford F-150 is the best-selling vehicle in America. The median price has risen from $49,831 in 2019, to $77,040 in 2023. This is three times the rate of inflation.
As my colleague, Nilus Mattive pointed out last week, vehicle prices across the automotive sector are rising more quickly than inflation, even as sales volumes contract.
The exception, of course, is Tesla, where prices are falling despite rising sales.
Leaders at legacy companies need to be more considerate of their customers. One company is doing just that …
Click-and-Collect Rather Than Hike Prices
Walmart (WMT) operates 11,500 stores under 72 banners in 28 countries. In 2022, the Bentonville, Arkansas-based company had revenue of $572.8 billion. Sales in 2023 are projected to grow to $611.3 billion, an increase of 6.8%.
Now, Walmart is a legacy business. There's no doubt about that. Yet, executives have not resorted to price gouging to win favor with investors.
They answered disruption from Amazon.com (AMZN) with forward-thinking and a commitment to customers. They leveraged Walmart's inherent strength … its stores.
90% of Americans live within 10 miles of a Walmart. It turns out customers like to order goods online, then pick up the bagged items in stores.
This omnichannel, click-and-collect strategy gives consumers control and lower prices.
Click and collect e-commerce orders in 2021 reached $20.4 billion. Walmart accounted for 25% of those purchases, according to CEO Brett Briggs.
Briggs has been the architect of an aggressive e-commerce acquisition strategy. Over the past few years, Walmart purchased Jet.com, Bonobos, Eloquii and Modcloth for $3 billion, $310 million, $100 million and $60 million, respectively.
However, the biggest buyout occurred in 2016 when Walmart spent $16 billion for a 77% stake in Flipkart, India's biggest e-commerce company. The company then spent $1.4 billion in 2023 for additional Flipkart shares.
Not all legacy business will succeed with their digital transformations. Too often their strategies are flawed. Executives put short-term profits above winning customers.
Walmart, however, proved that there is a path forward. In fact, combining its legacy business with its tech-enhanced strategy makes it a potential play for your back pocket.
At today's share price, Walmart stock is still a bit expensive. But, if it pulls back toward $140, you might want to start buying into this neo-legacy business.
All the best,
Jon D. Markman
P.S. Legacy companies absolutely stand a chance to do well even with disruptive technologies. In fact, several legacy healthcare companies are embracing the most disruptive tech of them all: AI. Check out this new presentation to find out more.