Reap Rewards From This Resilient Sector
In this segment, Financial News Anchor Jessica Borg interviews Research Analyst Sam Blumenfeld about one sector that's outperforming the broad market as sell-offs, corrections and volatility continue.
You can watch the video here or continue reading for the full transcript.
Jessica Borg (narration): It's been a wild few weeks for the financial markets … indexes dropping, prices plummeting, sell-offs resuming.
JB: Sam, it's been a rough ride, recently. What can we expect this summer?
Sam Blumenfeld: We could see elevated volatility over the coming months, but there will still be opportunities — especially with energy — where we've seen it outperform over the last several months.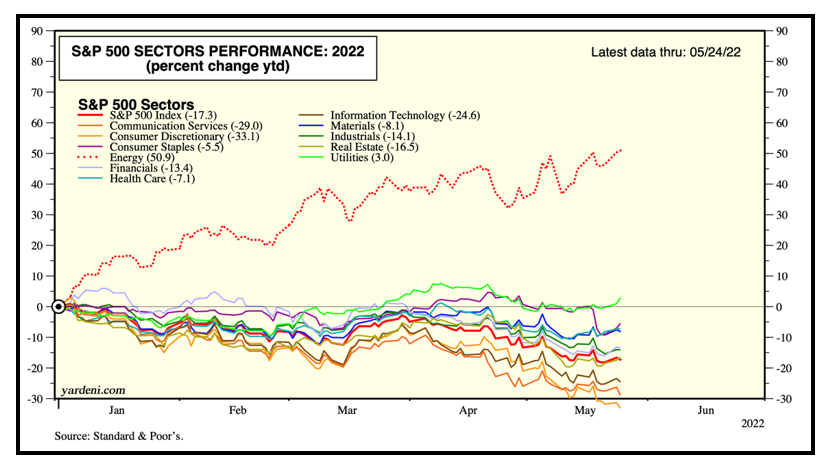 Caption: The energy sector has outperformed the other 10 sectors of the S&P 500 YTD. Source:
Yardani Research
JB (narration): Research Analyst Sam Blumenfeld has been focusing on the energy sector.
He works with commodities expert Sean Brodrick on his publications.
They're currently tracking gains in Wealth Megatrends, SuperCycle Investor and Gold & Silver Trader.
JB: One area, of course, showing lots of resiliency is oil.
SB: I expect to see a continuation of the broader shift from growth investments over to companies that are more value-oriented, and with strong positive tailwinds for oil, it's likely to have oil prices drive greater growth than higher earnings over the next several quarters for oil companies.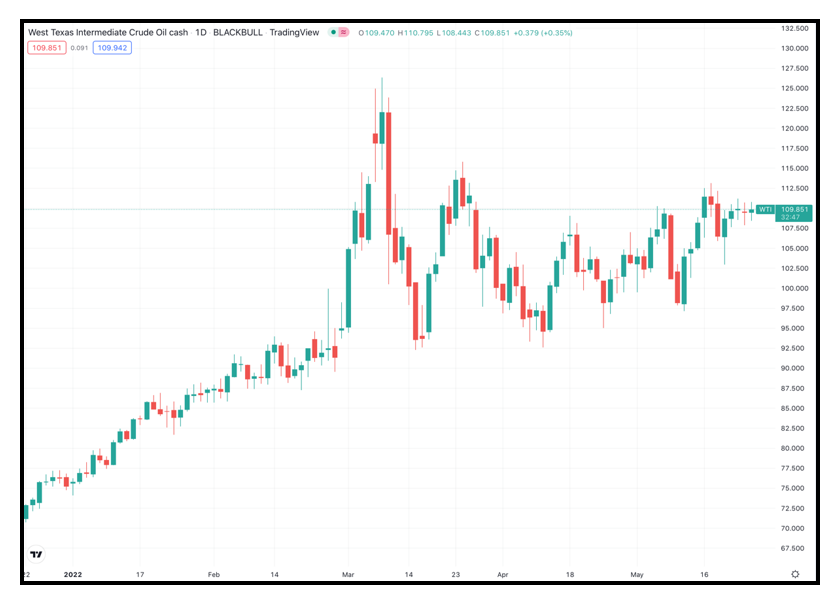 West Texas Intermediate (WTI) is testing overhead resistance. Source: TradingView
JB (narration): Take a look at how the price of crude oil has been rising.
This is a chart of West Texas Intermediate, the U.S. crude oil benchmark.
You can see the lows are getting higher, indicating a breakout could be coming soon.
Right now, companies that produce and refine oil are profiting and so can investors.
Marathon Petroleum (MPC) —currently trading at about $99 per share — is among many companies that Wealth Megatrends holds.
One stock in the Supercyle Investor portfolio is Canadian Natural Resources (CNQ).
And one on the list for Gold & Silver Trader is Halliburton (HAL), an oilfield services company.
That's because plenty of companies are spending money to develop new oil wells and ramp up domestic oil production.
SB: We have a large allocation to energy companies right now. It's the only sector in the S&P 500 that's green in the past couple months' timeframe.
JB (narration): Aside from the traditional equity markets, the crypto market has also been sliding.
Some of that has to do with tech stocks taking a beating this year.
SB: We do see that elevated correlation with cryptocurrencies and technology stocks because of the short-term headwinds facing both markets, such as geopolitical tensions in Ukraine, as well as the Federal Reserve raising interest rates.
JB (narration): Sam is a contributor to Weiss Crypto Daily, covering the largest two cryptocurrencies by market cap: Bitcoin (BTC) and Ethereum (ETH).
SB: They generally hold their value better than the broader market, which we have seen with speculative assets selling off more than Bitcoin and Ethereum have.
JB (narration): Sell-offs are expected to stabilize, as mainstream adoption continues.
Just this week,the luxury fashion brand, Balenciaga announced it would start accepting Bitcoin and Ethereum as payment for online purchases and at certain stores. It'll take effect next month.
The company joins other fashion giants, like Gucci, which also accepts Litecoin (LTC) and Dogecoin (DOGE), among other cryptos.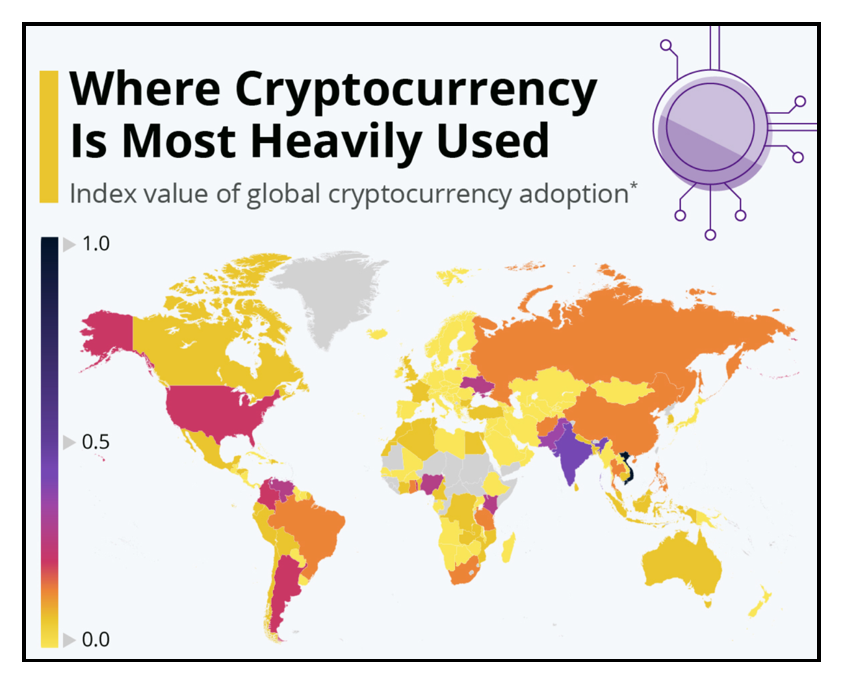 Despite its status as a nascent asset class, crypto adoption is increasing globally. Source:
Statista
SB: Despite the short-term headwinds that the crypto market faces, adoption is progressing — as expected — and the long-term prospects for crypto are very strong.
JB (narration): So, while the market cools as the summer heat rises, keep in mind, the next bull runs for certain sectors and industries could be around the corner.
JB: Research Analyst Sam Blumenfeld, always great getting your insights. Thank you so much for your time today.
SB: Thanks, Jessica.
Best wishes,
The Weiss Ratings Team