Reasons to Love Consumer Staples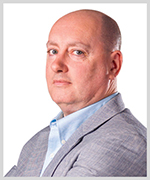 By Gavin Magor
If it's not sustainable, I'm probably not interested.
That relates to many areas of life … including friendships, investment strategies, careers, diet, health and this list could go on and on.
It's a bit of a simple rule of thumb, but when you really think about it, it's the smartest way to go about things.
For example, when the meme stock frenzy was going on a few years back with stocks like GameStop (GME) and AMC Entertainment (AMC), I wouldn't have touched those with a ten-foot pole.
If you or someone you know were able to grab some highly speculative gains off them, great. But for me, it's just not how I go about things because of my high value on safety and sustainability in my investing strategy. And in the long run, it's paid off.
Think Dream Stocks, Not Meme Stocks
In the long term, products that people like win. Think companies that have been around for decades and have been incredibly successful like Procter & Gamble (PG), Apple (AAPL), Altria (MO) and Johnson & Johnson (JNJ).
When I invest in a company, I obviously scan the financials to a tee. But I also look at things like leadership, what the founder's initial goals were and why they're going to stick around.
And speaking of stocks that stick around for years and years with great products, you should be looking to include some consumer staples in your portfolio … if you're not already.
Why? Because these are the types of stocks that have proven they can and will do well, and typically, even in good times and bad. People will always need things like toilet paper, soap and toothpaste. These types of stocks may not be making headlines at CNBC like some flashy technology names, but they are battle-tested.
And if you do decide to include a few Consumer Staples stocks in your portfolio, one of the absolute best places where you can look for strong names is with the Weiss Ratings.
So, without further ado, let's turn to the Weiss Ratings Stock Screener to look at some of our highly ranked names.
High Grades in Consumer Staples
After a few easy filters on our Stock Screener page, here's what populated: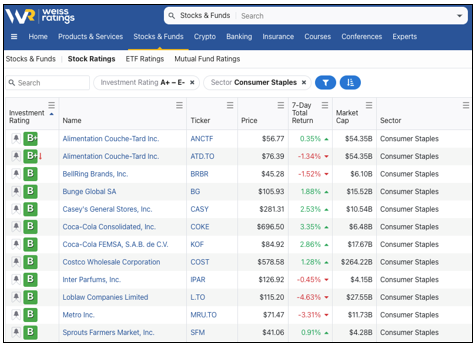 Whilst there are many stocks that populated in the "buy" range that you should explore, here are the top 12 names that populated.
Of these names, one I particularly love is Costco Wholesale (COST). To my point earlier about sustainability, Costco fits the description perfectly. Since its inception in 1983, it has been a pioneer of success through strong leadership by CEOs Craig Jelinek and former CEO and founder James Sinegal.
On our Costco Ratings page (click on its ticker above), you can see the company is rated a "B." You can also view all kinds of information about the stock to see if it's right for your portfolio. And that goes for every single stock we rate.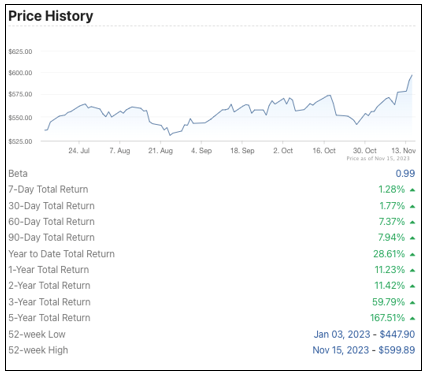 Costco shares are up around 373% over the past 10 years.
Click here
to see full-sized image.
I am a Costco shopper, and it is truly one of the most diverse stores in terms of its shoppers. As a potential shareholder, you should love that. It is a business that attracts all types of consumers to its membership. In a way, going to Costco is an event that many love.
I could probably write an entire thesis on Costco. But for simplicity purposes, it's the type of name that has proven itself and is now eyeing more growth both domestically and internationally.
It's what I view as a safer name. And in our Ratings history for it, you won't find anything lower than a "B-" rating.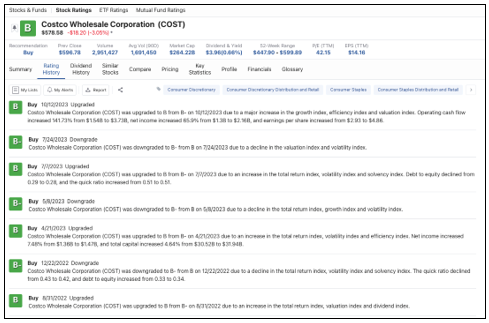 No ratings for Costco lower than a "B-" going back to at least 2014.
Click here
to see full-sized image.
Costco is one of many great consumer staples names that we currently rate. If you don't have much consumer staples exposure in your portfolio, I highly encourage you to consider it.
In life and in investments, we should want things that will be with us for the long run. That's what truly impresses me.
Cheers!
Gavin Magor
P.S. When it comes to crypto, many investors simply ignore it. Not me and not Dr. Martin Weiss. That's why he's hosting an urgent event with crypto analyst and expert Juan Villaverde tomorrow at 2 p.m. Eastern. I hope you can attend, because they have some big news. Click here for more information.