Steer Clear of These 4 Losers
Every morning, I look to see which stocks are in the news. Most days, I turn to the Weiss Ratings to see which ones are "Buy"-rated because that is a good way to start looking for money-making opportunities.
And other mornings, like today, I look through the ratings for companies that are "Sells" — the losers.
Ok, so maybe calling "D"- and "E"-rated stocks losers might be a bit harsh. After all, I could potentially make money from them by selling them short or limiting my downside risk with an options strategy instead.
One thing is for sure, I don't want to add them to my portfolio for the long haul.
Meet the Worst of the Worst
There are 8,350 "Sell"-rated stocks right now.
So, today I wanted to narrow the selection down a little bit.
I personally tend to invest in companies whose brand or product I recognize. That's not 100% of the time, but it's a general rule for me.
Maybe it's because my investments tend to fall mostly into four sectors: (1) communication services, (2) consumer discretionary, (3) consumer staples and (4) information technology.
After adding this sector selection to the "Sell"-rated stocks, I then had a more manageable list of 1,890 stocks.
It was more manageable because I wasn't going to look at each one individually. Instead, I intended to take a quick browse through to see which companies I recognized right off the bat.
1. Joann (Nasdaq: JOAN) Weiss Rating: E+
I've been an avid customer for as long as I can remember, and I actually worked at two different Joann locations during high school and college. But what really struck me as interesting was that I thought that more people picked up sewing and crafting hobbies over the past year.
Wasn't there a mad rush to get materials to make masks? And I'm still seeing posts on Facebook (Nasdaq: FB) for people selling masks made of all different fun materials for different occasions. This boost might have been the reasoning at the time to go public in March 2021. Now it's time to see if the company can deliver results for shareholders.
Over the past four quarters, net income has steadily decreased. Its earnings release last July showed net income of $149.9 million. The same quarter this year showed only $5.2 million. Of course, there is more to this story.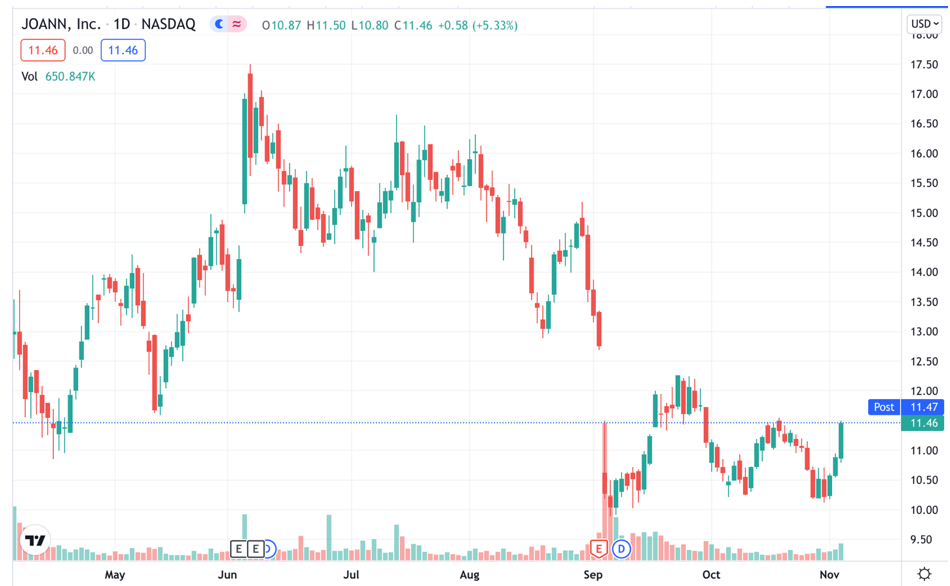 JOAN gapped down in early September and has had trouble breaking through overhead resistance since. Source: TradingView
And the company saw a Weiss Ratings upgrade in September from an "E" to an "E+." But shares are down 21% over the past 90 days, and 5% since its initial public offering (IPO).
Perhaps craft-making will see a winter uptick. But I'd rather spend my money on home decor than their shares.
2. Poshmark (Nasdaq: POSH) Weiss Rating: D
Poshmark went public earlier this year, and it seemed like a good idea. At the time of the IPO, it had 32 million active users. I've been using the app for years both as a seller and a buyer. And I know many people who have "side hustles" that use the app.
This might be one of those companies to consider in the future, but now is not the time. Between the first and second quarter this year, Poshmark only saw revenues increase by less than $1 million. And its net loss is still $3 million. Shares are down 5% in just the past 30 days and 76% since the company went public.
3. Beyond Meat (Nasdaq: BYND) Weiss Rating: D
I'm not the only one who has written about the increasing consumption of plant-cased meat alternatives. The trend is there. Analytics companies are writing about it. My local Publix and Sam's Club now carry more plant-based alternatives. And actually, Publix was carrying a variety of brands including their own Greenwise fake burger meat patty.
After tasting the Greenwise version, I can 100% understand why they aren't selling that one anymore ... but it seems that everything has disappeared now except for the Beyond Meat brand. They've also added the Italian sausage and other offerings.
But the ratings look at the numbers and not the buying trends of my Florida neighborhood. Since November 2019, the company has held its "D" rating. The company's last earnings show a quarterly net loss of $19.7 million despite net revenues increasing 31%. Shares are down 14% in the past 60 days and 39% over the past year.
4. Wix.com (Nasdaq: WIX) Weiss Rating: D
Wix is one of the easiest website management platforms that I've used. When I owned my yoga studio, it was easy to create the site, maintain the site and integrate with any other software I was using. I still use it to host information related to my yoga teaching endeavors.
I also know how much I'm charged for the features that I choose to use. And when they charge my credit card every year, I think to myself, "Man, this must be a good business." Well ... the ratings are saying otherwise.
Since 2014, the stock has never had a "Buy" rating. It briefly made it into the "Hold" range in both 2017 and 2018. But it generally seems to bounce around in the "D" range. Shares are down 27% so far this year.
I will admit, I would love to make money from any of these companies. I still think that they have good products and services. But that's why I look to the ratings! I don't want to follow my emotions to losses.
I'll be adding these companies to my watchlist, just in case, they start to climb the ratings ranks in the future.
For now, I'll be putting my money elsewhere.
And one possible spot is with Dr. Martin Weiss' new crypto Superyield strategy. In it, he details ways of achieving yields that absolutely blow away current standards.
He's so confident in the strategy that he's putting $1,000,000 of his own money to work.
If you're interested in learning more, click here now.
Best,
Kelly Green