Tame the Insurance Firestorm with These Industry Rock Stars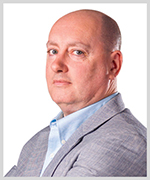 By Gavin Magor
What's that? You don't live in Mother Nature's most frequented places like Florida, California, Arizona, Colorado or Texas?
Count your blessings, but don't waste a lot of energy doing so. It's just a matter of time before the insurance firestorm in those places spreads to your state, too.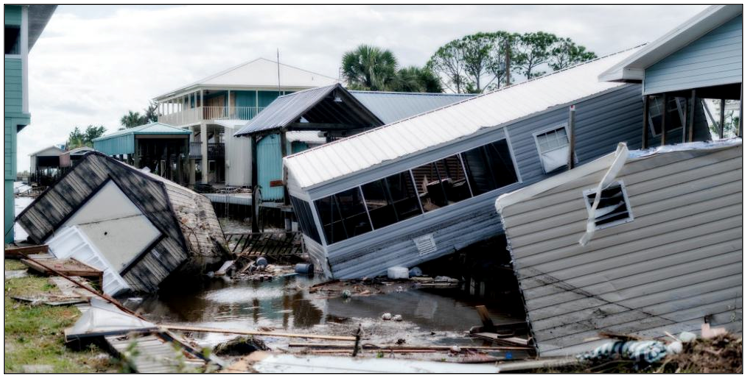 Damage from Hurricane Idalia.
Click here
to see full-sized image.
I've learned a thing or two after 15 years in the insurance ratings business, one of which is that most firms do a fantastic job "talking out of both sides of their mouths."
In public, they plead poverty as the excuse behind recent astronomical hikes in premiums, cancellations, the refusal to pay claims and the increasingly popular practice of pulling out of disaster-prone states entirely.
Privately, they sit around the boardroom with dollar-sign glazed eyes and count money, come up with new ways to make more money and talk about how they're going to spend all their money.
Lately, it's been very fashionable for companies that provide property and casualty insurance to stop selling policies on homes in areas most vulnerable to hurricanes, flooding, winds, fire, etc. It's left millions of homeowners financially unstable and desperate for answers.
U.S. insurers have disbursed $295.8 billion in natural disaster claims over the past three years, a record for that duration, according to the American Property Casualty Insurance Association.
In the first six months of 2023 alone, natural catastrophes in the U.S. caused $40 billion in insured losses, the third costliest first half on record.
So, I can understand if smaller insurers facing their own financial casualties as a result of increasing weather events and hefty claims need to stop issuing policies, but that's not the case here.
Billions in Profits &
Nothing to Show for It
I'm talking about the No. 1 and No. 4 property and casualty insurance companies in the U.S. — State Farm and Allstate (ALL) — along with Nationwide, Erie Insurance Group, Progressive (PGR), Berkshire Hathaway (BRKA), Chubb (CB) and others have minimally created restrictions involving P&C coverage and regions. Twenty firms alone have pulled out of Louisiana in the past two years.
These are big companies with savvy management, deep pockets and steady profits. Interestingly, insurers don't make the bulk of their money by selling policies and bringing in more than they pay out as claims, also known as an underwriting profit.
For most insurance companies, this profit stream is just icing on the cake. Many are perfectly fine breaking even.
The more important and more lucrative way insurance companies make money is by investing funds from premiums — called the float — before they are paid out for claims. Reserves are a huge component of success.
Just how much? Billions and billions. Where do insurers keep that money? In conservative investments that probably return 4% a year as safely as possible. Remember, 4% of hundreds of billions of dollars is still billions of dollars.
That's why today's climate of higher inflation and rising interest rates bodes well for insurance companies.
I gather that higher and more frequent claims might be cutting into profits of even large firms, but I'd rather it come out of their pockets than yours.
That's why I'm encouraging the stalwarts of the industry, some that have already become offenders and others that haven't yet gone to the dark side, to become part of a solution that benefits both sides.
Putting consumers first will pay huge dividends in the end. I know if I saw efforts by my insurance company to make compromises to meet my needs, I'd be a loyal customer.
Without some kind of intervention (not necessarily the divine variety), the insurance firestorm will continue to gain momentum, leaving people and properties unprotected from Mother Nature's wrath.
I don't know quite what that looks like, but considering you can't fool Ms. Nature and you can't beat City Hall, you might think about profiting from the fortunes and misfortunes facing insurers.
Insurance Rock Stars
Like I said earlier, we've got the economic climate to provide tailwinds to the industry.
But I don't want to invest in just any insurance company. I want to buy the staples of the industry: the companies that have faced adversity today and will be around to face adversity tomorrow.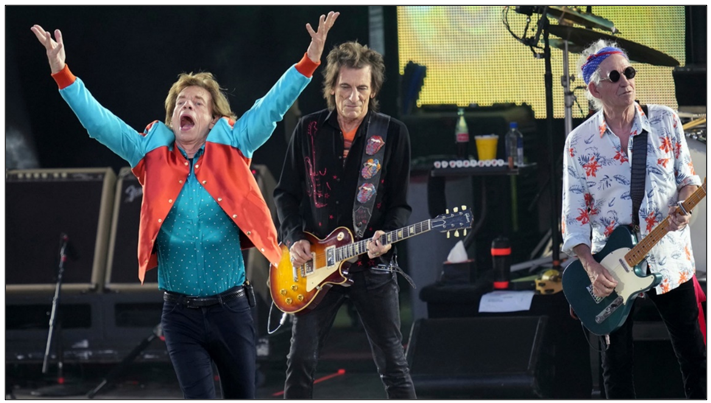 Last three members of the Rolling Stones.
Click here
to see full-sized image.
I'm looking for rock stars for my portfolio, much like the Rolling Stones. Indeed, after more than 60 years of making music, the band just released a single from their new album — the first in two decades. That's with a combined 235 years in age among the surviving band members, Mick Jagger, Keith Richards and Nick Jones.
They're legends, never to be forgotten or copied. They got where they are today with talent, good business and money management skills, popularity, stability and a healthy dose of crises along the way.
Not like the no-name, one-hit wonders throughout the decades that come and go without leaving much of a mark in music history.
I want to invest in the Jagger, Richards and Jones of insurance companies. And the best place to find investable stocks is at Weiss Stock Ratings. You can set any number of parameters to filter stocks for what you're looking for.
In my case, I wanted the largest insurer with at least a "B" stock rating, trading above both its 50- and 200-day moving averages.
(Note: Don't confuse this with our Weiss Insurance Ratings, which grade a company's ability to withstand financial hardship and manage risk.)
The winner: Chubb Limited (CB), with a "B+" rating.
One of the purest ways to invest in the overall insurance industry is with exchange-traded funds. This may sound illogical, but as one analyst put it, "The best time to invest in insurers is when they get hit with a lot of losses."
Why?
Because that usually triggers a major sell-off in related stocks, creating attractive prices on some very stable companies.
The ETF that offers the biggest exposure to P&C insurers is Invesco KBW Property & Casualty Insurance (KBWP). Rated a "C+" by Weiss, its top 10 holdings include some rock-solid companies.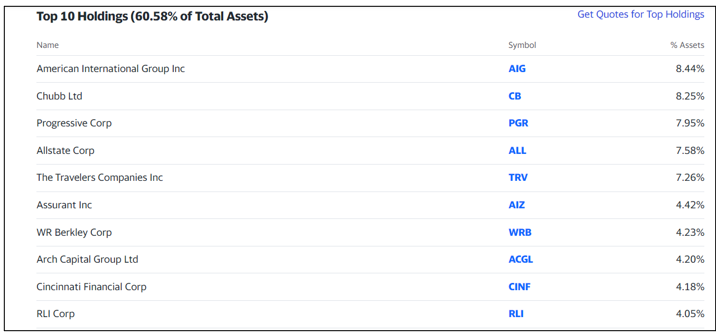 It's a given that we'll continue to see more and more natural disasters and more expensive premiums until the powers at be come up with a solution. Both are clearly out of our control.
One thing you can control are your investments, and putting money into a sector ripe for a turnaround is a sound move for today.
That's all for today. I'll have more for you soon.
All the best,
Gavin Magor