The 'C'-Rated Stock That Needs Your Attention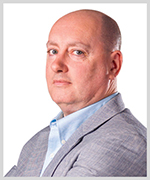 By Gavin Magor
It was the best of times. It was the worst of times.
No, I'm not quoting Charles Dickens, I'm talking about this year's stock market.
Year to date, on July 31, the S&P 500 was up around 20%. And since, we've seen a reversal of around 6%, in what I view to be a neutral market environment, or "cautiously optimistic." A big reason for the sell-off since July was because of heavy pressure from rising Treasury yields in the bond market.
I'm cautious, because there are many questions regarding interest rates, inflation and geopolitical tensions, but I'm also optimistic in the fact that the U.S. economy is strong, consumers are spending, corporate earnings have been solid and foreign investments are pouring in.
Whilst I'm fairly confident we'll see a rebound to this year's July prices sometime in the next quarter or two, it seems there may be far more time needed to reapproach the S&P's all-time high set in December 2021.
One way investors can always benefit is by guidance from the Weiss ratings. And today, I want to turn your attention to one major stock that was recently upgraded last quarter: Amazon.com (AMZN).
In August, we upgraded Amazon from a "D+" to a "C," and it's not hard to see why as profit and growth at Amazon are surging faster than the actual Amazon River.
I'm sure you're very familiar with Amazon, and chances are you order items from the e-commerce giant or are even a Prime member. I mean, we live in a day and age where you need to be a Prime member to watch — or rather, stream —Thursday Night Football games!
For many of us, our lives are becoming more and more tailored around Amazon, and I say that because of its incredible convenience aspect. One-to-two-day shipping on nearly all products has totally changed my shopping habits in the past few years.
But chances are you may not know just how much of a behemoth this company has become. And if you're not an investor, should you be?
Well, its prospects look strong, so it shouldn't be surprising when you see its recent stock upgrade to "hold" territory on our stock screener page.
Profits Flowing Faster Than Even Bezos Can Believe
Incredibly, Amazon is the world's fifth largest company by market cap, and it is now responsible for 38% of all online retail sales in the United States.
If that statistic wasn't eye-popping enough, this year, Amazon made $12.9 billion in the U.S. in just two days on its annual Prime Day, where it has significant sales on many of its products.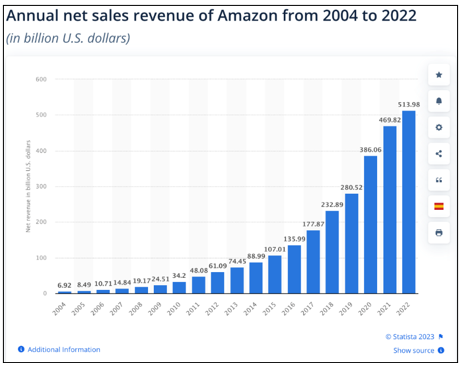 Annual net sales revenue continues its yearly climb at Amazon.
Click here
to see full-sized image.
Amazon was rated a "Buy" by Weiss Ratings on April 25, 2017. Shares since then are up 204%. It has since bounced around ratings, but its recent upgrade to "C" territory speaks volumes.
Its past three earnings reports have been impressive, including its most recent one, which was released last week.
That is one of the great things about our ratings system … you're not getting a snapshot of just a recent period … you're getting the entire picture, with a massive bias toward safety.
For example, let's take a recent look at some specifics about why our database upgraded Amazon's stock in August:

Operating cash flow surged 244%, earnings per share jumped and earnings before interest and taxes grew an impressive 55%. These are all positive financial metrics, and as they each steadily increase over the year, it's easier to understand why it's currently a "hold."
You see, it's clear that Amazon was always a strong company, but it was reaching what we viewed as overvalued levels earlier in the year. That's why it was rated as a "D," or "sell." Companies sometimes need to prove their lofty valuation … and Amazon is doing just that. It's a major reason why I believe the stock now deserves investor attention.
And don't forget … it's not just retail with Amazon. The company has its hands full with other major industries, such as cloud storage with Amazon Web Services; Amazon Studios, where it produces content like movies and shows for Amazon Prime Video; grocery delivery through Whole Foods and a number of other areas.
For example, Amazon Web Services gained $80 billion in revenue last year and would be a massive, massive company on its own.
The company is looking to expand even further wherever it sees the right opportunity. And if history and our ratings are any indication, Amazon appears to be ready to prove to investors that it's not done flexing its financial muscles just yet.
You may have a shopping cart full of items on Amazon.com, but our ratings are suggesting you put its stock on your radar, as well.
Cheers!
Gavin Magor
P.S. Amazon is also international. It operates in dozens of countries. So, you don't even have to lose its convenience if you decide to Build Your American Escape Plan. Here's how you can do just that.