The Skilled Workers Gap Could Close with This New Trend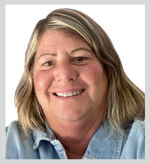 By Karen Riccio
Decades of emphasizing academics above all has created a Grand Canyon-sized skill gap in many industries.
But this newest trend might be the ticket to closing it just in the nick of time.
You see, more and more high schoolers today are foregoing traditional four-year universities and colleges for quicker and often cheaper alternatives — many aimed at teaching highly in-demand skills, but not necessarily creating brainiacs.
In fact, there have been 1 million fewer student enrollments in college since the onset of the pandemic in March 2020, according to new findings from the National Student Clearinghouse Research Center. Only community colleges grew in enrollment for the current Spring 2023 semester.
More than 75% of high schoolers now say that a two-year or technical certification is enough, and only 41% believe they must have a four-year degree to get a good job.
You can't blame them.
As colleges continue to increase the costs of tuition and fees, saddling more and more graduates with unprecedented student loan debt, they're beginning to question whether a degree is worth all the time and money.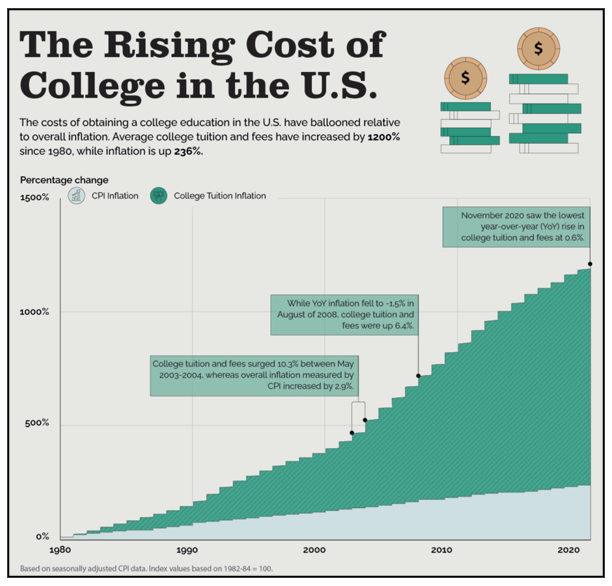 Since 1980, rises in college tuition (1,200%) have dramatically outpaced inflation (236%).
Click here
to see full-sized image.
On top of that, many companies are struggling to fill positions that require specific skills.
A degree — be it a bachelor's, master's or doctorate — no longer holds the same value it used to. Years ago, you couldn't get in the door for an interview without a degree.
That's no longer the case. The U.S. Bureau of Labor Statistics projects that occupations requiring an associate's degree will grow faster than those requiring a bachelor's degree.
Add technical certifications, trade schools and online programs into the equation that cost far less and take less time, and that doesn't bode well for the future of traditional education and gainful employment.
But it bodes very well for …
Industries Hit Hard
by Skill Shortages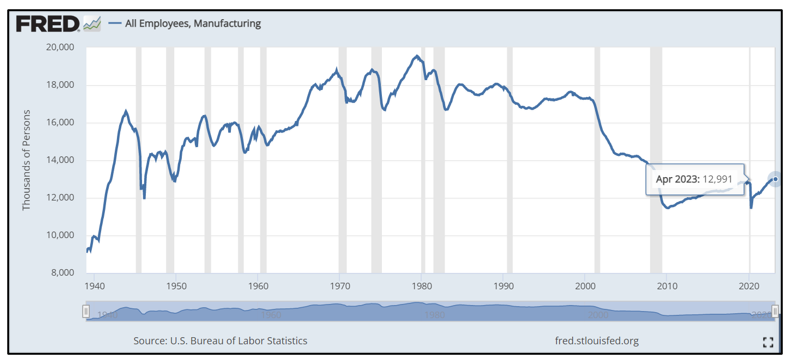 Manufacturing employee decrease.
Click here
to see full-sized image.
The above chart clearly shows the decrease in manufacturing employees over the past decade. So, let's start with manufacturing.
Someone can have a sky-high IQ and an Ivy League education and not be qualified to fill one of the estimated 693,000 open jobs in the industry as of March 2023.
It was among many industries that faced a major setback after losing roughly 1.4 million jobs at the onset of the pandemic. Since then, the sector has struggled to fill job vacancies.
Manufacturers are operating in the hub of the Fourth Industrial Revolution where many have already adopted robotics, machine learning and AI, among other innovative technologies.
While this revolution has and will replace man with machine in some instances, it's more important than ever that workers have the skills necessary for human-machine interactions.
For production workers, it isn't the need for STEM (science, technology, engineering, math) degrees, but rather the ability to program machines on a plant floor. Employers need people with extended computer skills to program machines for a new job or interact with engineering or manufacturing software.
So, it only stands to reason that if the manufacturing industry can't find skilled workers, the technology industry must really be in dire straits.
I spent years as the editor of an IT magazine and became intimately familiar with theskill gap woes in tech. With legacy employees and equipment fading away and new innovations arising on a regular basis, the worker shortages are daunting for companies.
IT trade group CompTIA estimates that there are 700,000+ unfilled IT jobs in the U.S.
So, after decades of emphasizing academia, there's a definite shift taking place. One that dates back centuries.
Apprenticeships in trades were highly valued in Europe and young America. In the early 1800s, schools trained students for specific jobs. During WWI and WWII, workers were needed for specific skills related to national defense.
Even as a junior high student in the 1970s, I remember boys taking woodworking and girls learning to sew or cook. In high school, we were offered classes in shorthand, typing, bookkeeping, auto mechanics and other practical skills.
Investing in
a Rising Tide
More people are realizing that going to college for four+ years isn't for everyone or always the best option. And tech and trade schools are clearly the beneficiaries … along with graduates, companies desperate to fill skilled positions and investors smart enough to buy shares of companies that match the two camps.
Here's one to consider that's sure to supply skilled workers to a number of industries in the near future, especially in IT and manufacturing: Universal Technical Institute (UTI).
UTI, a $219 million company in the consumer discretionary sector, caters to students wanting careers as automotive, diesel, collision repair, motorcycle and marine technicians in the U.S. under brands such as Motorcycle Mechanics Institute, Marine Mechanics Institute and NASCAR Technical Institute.
Students can also enroll in manufacturer-specific training programs and manufacturer- or dealer-sponsored training at one of its 13 campuses, as well as earn a diploma in welding.
Enrollment is up, with nearly 12% new student starts through April 30, compared to the same period last year. Revenues also increased 5.5% to $79 million.
UTI is currently rated a "C-" by Weiss Ratings, meaning it's a "Hold." So now may not be the time to put money to work in the stock. However, there's no denying the relevance of UTI as companies try to navigate the labor market.

Many companies in the consumer discretionary sector were beaten down in 2022, which is why shares of UTI are down nearly 30% year over year. However, long-time shareholders have been handsomely rewarded with a five-year return of 105.43%.
Less money, less time and seemingly endless available jobs will ensure continued growth in enrollment for trade schools. Companies meeting these new education demands stand to profit for many years, and so do investors with the savvy to buy shares in their stocks.
Before I go, I want to call your attention to something we've been warning loyal readers like you about. It's a new government program called Fed Now — or what we call Fed Control. This is why I urge you to join me for our first-ever Emergency Banking Summit on Tuesday, June 6, at 2 p.m. Eastern. It's free, and you'll want to attend. Just click here to sign up.
Be smart out there,
Karen