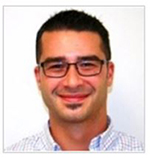 By Jordan Chussler
Back in 2009, Apple (AAPL) began using a catchy tagline in its advertising.
I'm sure you remember hearing it ad nauseam. In fact, it became so popular that one year later, the company registered a trademark for it: "There's an app for that."
And while its use faded with time, it recently came to mind while I was contemplating the sheer volume of exchange-traded funds (ETFs) currently available on the market.
According to Statista, the number of ETFs has grown markedly from just 276 in 2003 to 8,552 in 2021.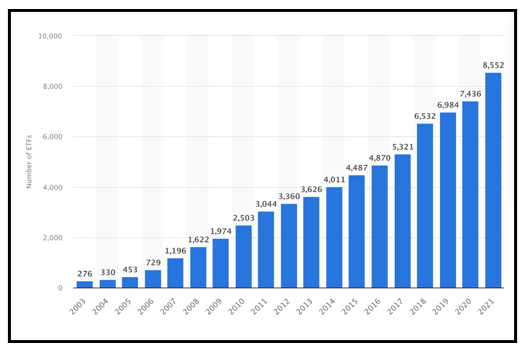 Number of ETFs worldwide from 2003–2021. Source: Statista
So why the surge in popularity?
ETFs offer investors something other equities — namely common stock — cannot. That is, broad exposure to a particular sector or industry via a basket of stocks, with reduced risk due to diversified holdings.
And no matter what sector, industry or niche investors are interested in, it seems there's an ETF for that.
Cybersecurity? Check. Home builders? Check. Food and agriculture? Check. Electric vehicles (EVs), EV battery makers and EV metals? Check, check and check.
The list could go on and on. But among those 8,552 funds, it's important to understand that …
Not All ETFs Are Created Equal
Foremost, ETFs have varying expense ratios (ERs) — fees for managing a fund. The formula for calculating an ER is simple:

This typically results in an ER below 1%, meaning that for every $100 invested, you would pay less than $1 per year in expenses. Generally, it's advisable to avoid ETFs with an ER exceeding 1%.
Another thing to consider is the sector a particular ETF caters to. For example, the Invesco QQQ Trust (QQQ) is a tech-heavy fund that tracks the capitalization-weighted Nasdaq-100 index.
And if you haven't seen the news in five months, the tech sector has been getting trampled since the start of the year.
The Nasdaq-100 has shed more than 29% of its value year to date (YTD). So, it's understandable why an ETF heavily weighted to tech like the QQQ has nearly mirrored that index with a 29.41% YTD loss of its own.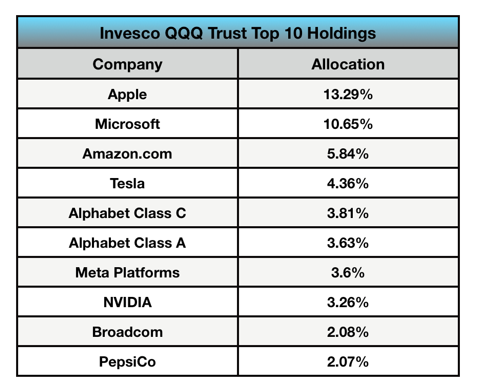 The top 10 holdings for the Invesco QQQ Trust by allocation.
Conversely, sectors that are outperforming in this late-cycle environment — like energy, utilities and consumer staples — are seeing associated ETFs perform similarly.
It's no surprise, then, that an energy-focused ETF like the Energy Select Sector SPDR Fund (XLE) is producing sizeable gains in tandem with the energy sector itself. The XLE is up nearly 45.44% YTD. The S&P 500's energy sector as a whole? Up over 50% YTD.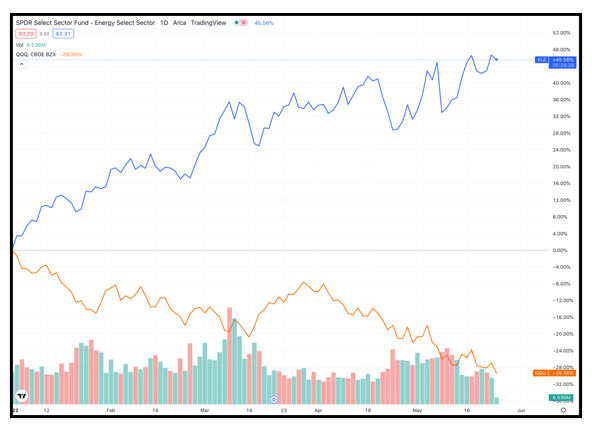 YTD price action for the XLE (blue line) and the QQQ (orange line). Source: Trading View
If you'd like to know what ETFs our senior analysts are recommending, Tony Sagami, editor of Disruptors & Dominators, has pointed members to a particularly shiny fund that's outperforming the broad market.
But if you're doing it on your own, you should …
Get Acquainted With the Weiss Ratings ETF Screener
The Weiss Ratings ETF screener is not unlike the Weiss Ratings stock screener. Users are able to add filters, sort by ratings and add funds to their watch lists.
For a simple search:
1. First, navigate to the taskbar and select "Stocks & Funds."
2. Second, click or tap on "ETF Ratings." This will populate an unfiltered list of all the ETFs in the Weiss Ratings universe.
3. Next, click on the three bars on the far left "Investment Rating" column and choose "Sort Ascending" to organize by rating.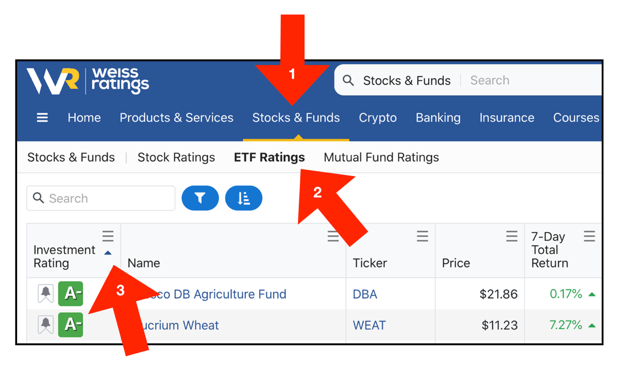 There is presently one ETF receiving a grade of "A" and seven receiving "B+" ratings.
I'll leave the exploration of those funds to you.
But as always, be sure to conduct your own due diligence before entering any trade.
Until next time,

Jordan Chussler
Managing Editor
Weiss Ratings Daily