This Bargain Stock Could Soar 500%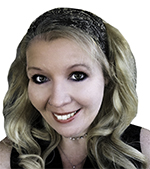 By Dawn Pennington
The bear market has been with us for almost a year.
The Nasdaq and Bitcoin both found themselves down 20% from their highs last November. The Dow Industrials and S&P 500 joined them in February and June, respectively.
But here at Weiss Ratings, we aren't letting the bear market blues get us down.
Our lead crypto analyst Juan Villaverde sees signs that a Bitcoin bottom could soon be in the offing.
And even if stocks have more breaking down to do before they break out to the upside, that's fine because any market is the right market to turn a profit.
For example, Jon Markman recommended a tech stock to his Power Elite Members that's gone up some 53% in 2022. That's the purple line in this chart.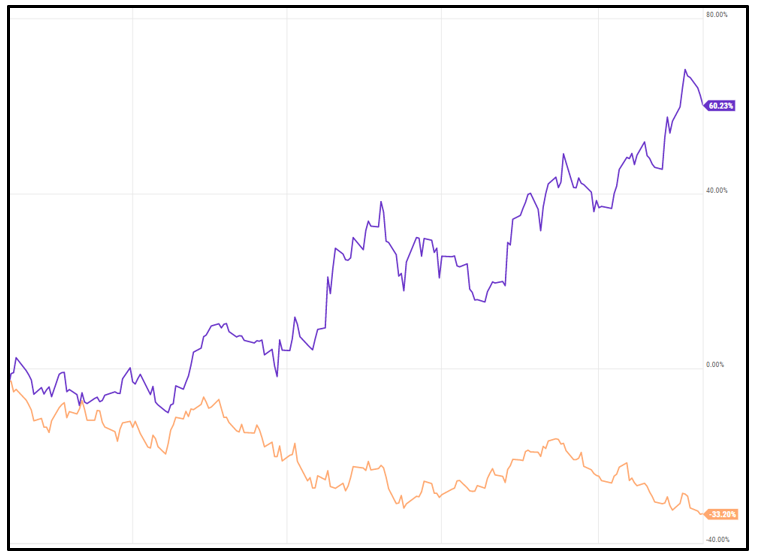 Source: YCharts
Click here
to view full-sized image.
To compare, the Nasdaq is down more than 33% this year. That's the orange line.
Jon sees a lot more upside for this pick. Click here to see how you can get the name, along with his full list of power picks for the coming year.
As you can see, the bears are in control. But there's still bull food for your portfolio. Right now, we just have to hunt a little more strategically for it.
And today, I found a smaller-cap stock that could become one of the bigger percentage winners this year.
It's gained 19.8% over just the past seven days.
Analysts are expecting shares to jump 500% between now and Christmas. Which would effectively make it …
One of 2022's Top Gainers
This stock is GPO Plus (GPOX).
GPO Plus is a developmental-stage global holding company that organizes, promotes and operates industry-specific group-purchase organizations in the U.S.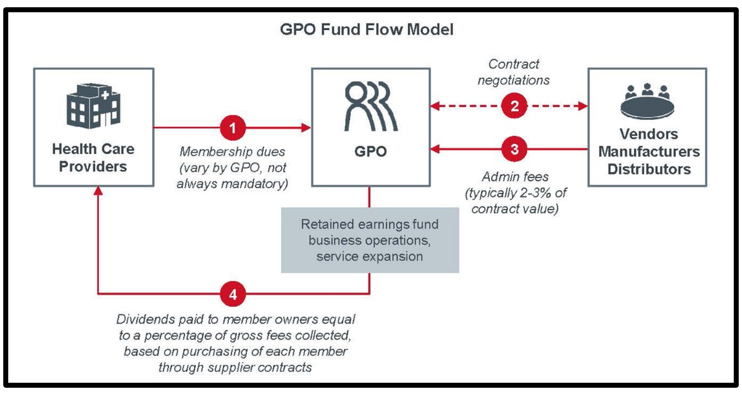 First, a bit about GPOs. In short, they're third-party organizations that combine purchasing volume of their provider members (vendors, manufacturers and distributors in the graphic above).
So, what's the benefit of a GPO? It leverages scale to negotiate prices to provide member companies with better contracts for their goods and services.
Back to GPO Plus, the firm offers:
HealthGPO, a group purchasing organization for the healthcare industry.


cbdGPO, a group purchasing organization for the hemp and CBD industry.


And DISTRO+, a group-purchasing organization for specialty retailers.
Additionally, the company — founded in 2016 and headquartered in Las Vegas — provides Herberall, a natural dietary brain-support supplement, as well as other medical products and professional services.
Currently, the stock has earned a Weiss rating of "D," or "Sell." So, it's not a candidate for one of our trading services.
However, the company appears to be on the right path. It is seeing a large increase in its growth, total return and solvency indexes.
GPO Plus has a modest market cap of $32.4 million (considered a nano-cap company), but what's most impressive are its six-month and one-month total returns: a whopping 485.29% and 373.81%, respectively.
Those returns are evidence of the healthcare sector's ongoing resilience in the face of this bear market. Of the S&P 500's 11 sectors, healthcare has performed fourth-best year to date and over the past year.
That's because even during market pullbacks, healthcare is inelastic in demand. With inflation running hot, people are going to cut down on vacations and inessential purchases … not doctor's visits and medications.
There are other aspects that make a strong case for GPOX's rise — which I'll get to in a minute — but one of the top reasons is that it's …
A Bargain Buy
GPOX trades over the counter on the OTCQB market. At the time of writing, shares are trading near $1.11.
Let's look at GPOX's three-month technical chart: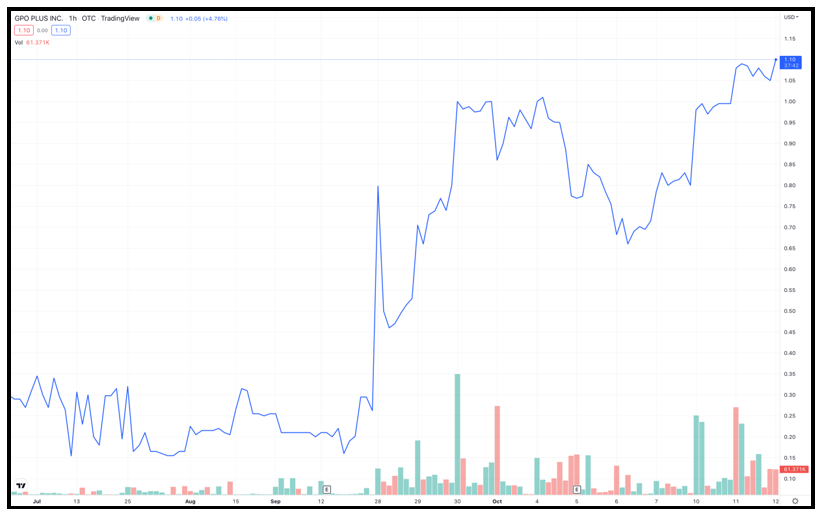 Three-month chart of GPOX.
Click here
to view full-sized image.
Since bottoming in mid-July, GPOX is up 657%! Shares can be illiquid at times — typical of nano-caps— with an average daily trading volume of around 55,000.
But as you can see in the chart above, volume — like GPOX's price action — has been on the rise lately.
And that's not all …
Not Your Average Healthcare Company
Global supply-chain issues have been making headlines for the last couple of years since COVID-19.
GPOX is disrupting the healthcare industry thanks to its novel approach toward making the supply chain more efficient.
This approach has earned the company an outstanding reputation over the past 24 months … which should, in turn, help them turn record profits.
GPOX has already more than doubled, which shows that its bull run is steadily gaining steam.
The success of the stock is being made possible in large part due to the innovative vision of CEO Brett Pojunis and his team.
Back in July, GPO Plus announced it engaged the streaming platform Lookhu to increase its revenue and brand exposure.
With the help of Lookhu, GPOX is aiming to:
"develop unique marketing and branding campaigns designed to increase sales of its products and overall brand awareness for the company. The initial focus is to promote the newly acquired vitamin and nutraceutical company, Nutriumph and Herberall, a natural alternative to Adderall."
More Than Medical
GPOX is also involved in the hemp and CBD sector, which is really good timing as the cannabis industry recently received some promising news on the political front.
Last Thursday, with only a month before the midterm elections, President Joe Biden made a surprise move by announcing that he's "taking considerable steps to overhaul America's federal marijuana laws — including pardoning everyone convicted of simple marijuana possession at the federal level."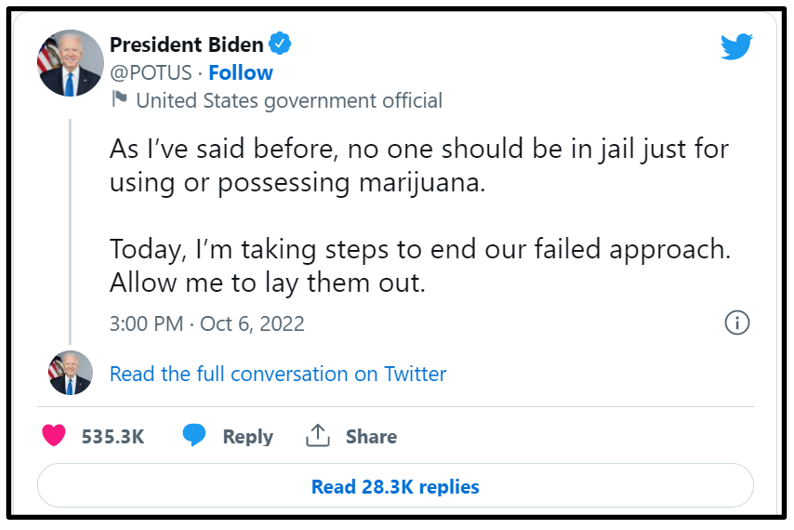 President Biden's tweet.
Click here
to view full-sized image.
Not only is Biden planning on pardoning all prior federal offenses of simple marijuana possession, but he also called on governors to do the same at the state level. Biden has even initiated an administrative review of marijuana being classified as a Schedule I drug.
This could be a huge step toward the decriminalization and legalization of marijuana on the federal level.
It also means cannabis, hemp and CBD makers stand to reap the benefits of broader acceptance and, potentially, bigger sales to a wider audience.
And it's getting ready to fill more orders, more quickly.
Room to Run
Just a few days ago, GPOX announced that its distribution division and GPO for specialty retailers, DISTRO+, launched its first distribution center in Monroe, Michigan.
The center is strategically located to service Michigan and parts of Ohio and Indiana, as well as the ability to dropship to surrounding areas.
The facility will serve as a warehouse and central distribution center for all the brands distributed by the company.
This was the impetus for the steady rise of its stock this week — up over 62% since last Thursday.
Currently trading at a $26 million market valuation, GPOX zoomed beyond $1 from well under 25 cents per share.
After a brief dip last week, the stock is coming back strong, closing at 80 cents on Friday on 137,000 shares traded.
Again, that's small potatoes now. But if this company continues its current path, these low prices and volumes may fade into history along with 2022 itself.
To your wealth,
Dawn Pennington
Editorial Director
P.S. Dr. Martin Weiss and one of our crypto analysts who picked the last big bottom just showed members how to spot the NEXT big bottom. Find out how by clicking here.