This Investment Strategy Keeps Beating the Market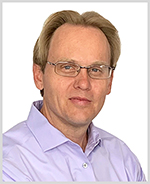 By Mike Larson
I just got back from the MoneyShow in Las Vegas, and let me tell you, Safe Money investing was a HOT topic.
Numerous investors like you expressed satisfaction with its results, and I appreciated your excellent, thought-provoking comments and questions about the powerful investment strategy. I hope I was able to clarify how and why it's so important.
But what if you couldn't join me?
Well, I'll let the numbers speak for themselves. Focusing on income-generating, higher-rated, value-oriented stocks has worked best in the recent past … and it's working best in the present.
And it should continue to work best for the foreseeable future!
Here's a very simple screen I created using the tools available at our Weiss Ratings website.
It shows how a handful of the highest-yielding, late-cycle sector, exchange-traded funds (ETFs) are performing relative to lower- yielding, early- and mid-cycle groups ... as well as the SPDR S&P 500 ETF Trust (SPY).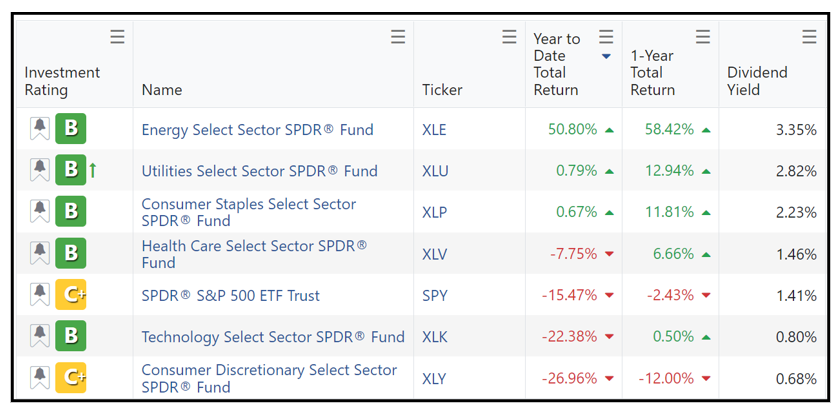 What's immediately obvious here?
Investing in the kinds of sectors I keep talking about — energy, consumer staples and utilities — is beating the pants off investing in lower-yielding, riskier sectors like technology and consumer discretionary.
It's not even close!
There are several reasons for that. But one is very simple: The cost of money is increasing. And yet it's going up at a rate that still leaves interest rates far below inflation.
The result?
Like I told my Safe Money Report members in the issue that just went to press this past Friday (you can get your hands on it — and the recommendations it contains — by clicking here):
"When rates are low or falling, investors pay more now for growth companies that may ultimately deliver big earnings — just not until further in the future. When rates are high or rising, they'd rather invest in value stocks that deliver steadier profits in the nearer term."
You can see the influence this is having on a stock like Merck (MRK). Even amid the "relentless" market pressure I told you about last week, guess what?
This favorite Safe Money name of mine started breaking out to an all-time high! Plus, it's spinning off a 2.9% dividend yield ... more than DOUBLE the S&P 500.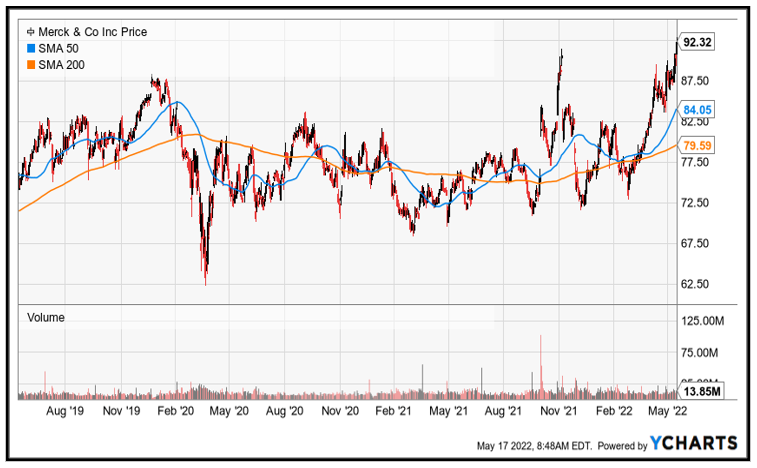 I don't think this is the kind of trend that lasts just a few months and then dies out. It isn't a flash-in-the-pan move. It's powerful. It's long-lasting. And it holds the key to your investment success.
My advice?
Don't fight it. Embrace it!
Give Safe Money strategies your time, attention and adherence ... and I'm confident your portfolio will thank you!
Until next time,
Mike Larson