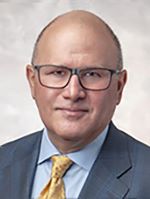 By Jon Markman
One Big Tech company seems unimpeded by the weakness in the global economy. It is selling every product it makes, and shares are still going down.
On Wednesday, Tesla (TSLA) reported that Q3 profits doubled year over year, and revenue shot up 55% to $21.5 billion. Analysts are worried that business can't get better.
Big stock moves are about narratives. Lousy macroeconomics are winning, for now.
The race to electric vehicles in the automotive sector is continuing full throttle, and Tesla has a commanding lead.
In addition to making the most advanced EVs, Tesla has the most supply chain leverage, proficient factories and highest operating margins at 27.9%.
The company, based in Austin, Texas, is on pace this year to build 1.5 million EVs. Every vehicle is presold at a huge profit. Tesla is crushing the competition in every way.
On the conference call Wednesday, CEO Elon Musk said Tesla has more demand than production capabilities for the foreseeable future. The only major issue is logistics bottlenecks that are preventing the company from getting vehicles to customers.
But what analysts heard: constraints.
Strange Times
The global economy is coming apart at the seams. Central banks are recklessly raising interest rates to fight inflation, and politicians are engaged in hot and cold wars for future hegemony. These processes are uneven, yet they are taking the same bite out corporations, especially Big Tech.
Inflation in Europe is not nearly the same as inflation in the U.S. The European problem is supply driven. There simply is not enough energy given the continent's dependence on Russia's supply.
In the U.S., the issue is about too much demand for too few goods, given the on-again, off-again COVID-19 restrictions in China, where most of the world's goods originate.
All of this is being complicated by war in Ukraine and a worsening cold war between the U.S. and China.
Inflation and the wars should be impacting Tesla. Its biggest market by far is China. Its biggest factory is there. Gigafactory Shanghai makes one shiny-new Tesla every 35 seconds. Tesla China says that 83,135 vehicles were sold out of the facility last quarter, and that was during the country's stringent COVID-19 lockdown measures.
By any measure …
Tesla Is Rolling
Musk noted that the company is expanding production ramps as quickly as possible to meet red-hot demand.

The company signed a deal in May with Vale (VALE) for nickel used in battery production. The EV company also contracted with Samsung (SSNLF) in July for the cameras that are required for its full self-driving software.
FSD software could be a big new business for Tesla. The company announced Wednesday that 160,000 people have now enrolled in the program. New FSD software packages cost $15,000 per license, up 100% since 2019 when it was first revealed.
Make no mistake about it: Tesla is a great business.
The analogy to Apple (AAPL) and mobile handsets is legitimate. Both businesses make the best product in their sectors, with the most loyal customers and the highest profitability. If there is any quibble, Tesla has greater operating leverage since its core business is more vertically integrated, and EVs as a market segment are growing faster than smartphones.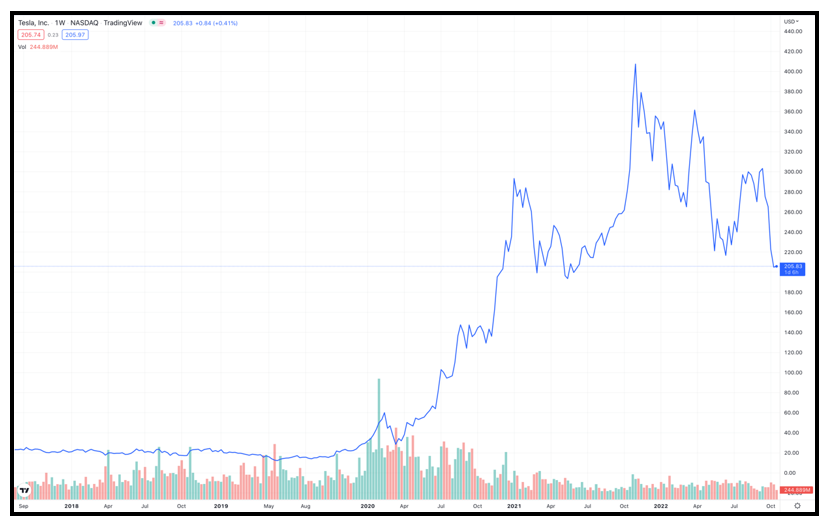 Five-year chart of TSLA.
Click here
to see full-sized image.
Unfortunately, the larger narrative is that rising interest rates will kill automobile demand, especially at the high end of the market where consumers typically finance costs. That headwind is impacting every vehicle manufacturer, automotive retailer, and even the parts makers. Ugly macroeconomics are killing investor sentiment. That is a roadblock to higher share prices.
It's hard to say when this will change; however, if history is any indication, stocks should attempt to rebound moving toward year's end. Seasonally, this is a stronger period, when money managers who have performed poorly begin to put money to work to catch up. This transition occurs every year like clockwork.
In the interim, Tesla is the best business in a weak sector.
Best wishes,
Jon D. Markman
P.S. Starting Oct. 25, Weiss Ratings Members once again get first dibs on something normally reserved for the likes of angel investors like Mark Cuban: the chance to invest in rapidly growing companies before they're listed on public stock exchanges. Click here to get access.