What 6% Mortgage Rates Mean for Investors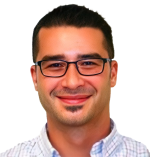 By Jordan Chussler
For the first time since 2008, 30-year mortgage rates are now above 6%, good for a 14-year high.
That's a marked increase from 3.22%, where rates began the year, and more than double the year-ago figure of 2.86%.
Much of the escalation can be attributed to the Federal Reserve's attempt to quell runaway inflation. The central bank has now hiked the federal funds rate by 75 basis points three times this year, which has trickled down to mortgages and slowed the red-hot housing market.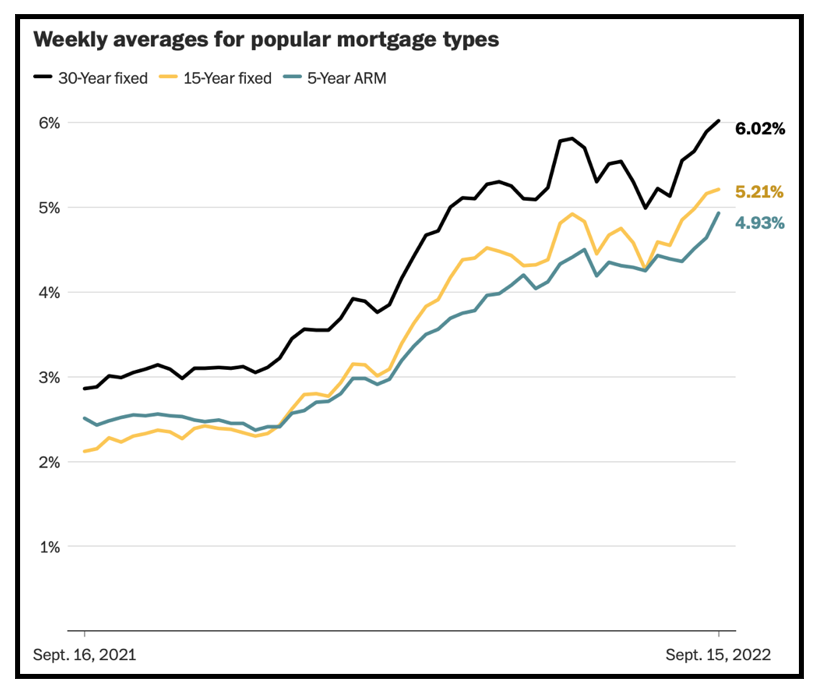 30-year, 15-year and 5-year ARM mortgage rates.
Click here
to see full-sized image.
As a result:
Single-family home sales have seen a year-over-year decrease of 29.6%.
Housing starts, which hit a 16-year high in April 2022, are down 9.6% year over year, representing a 17-month low.
And builders are aiming to keep prices below $400,000 to increase affordability. For context, the median sales price in August was $439,400.
A Stumble, Not a Crash
When I last wrote about the housing market in April, I largely focused on affordability, or lack thereof. That remains an ongoing issue, but some relief is in sight.
The Housing Affordability Index is down from nearly 150 a year ago to 102.2 recently.
Lumber, which surged to all-time highs at the peak of the pandemic, is near a one-year low.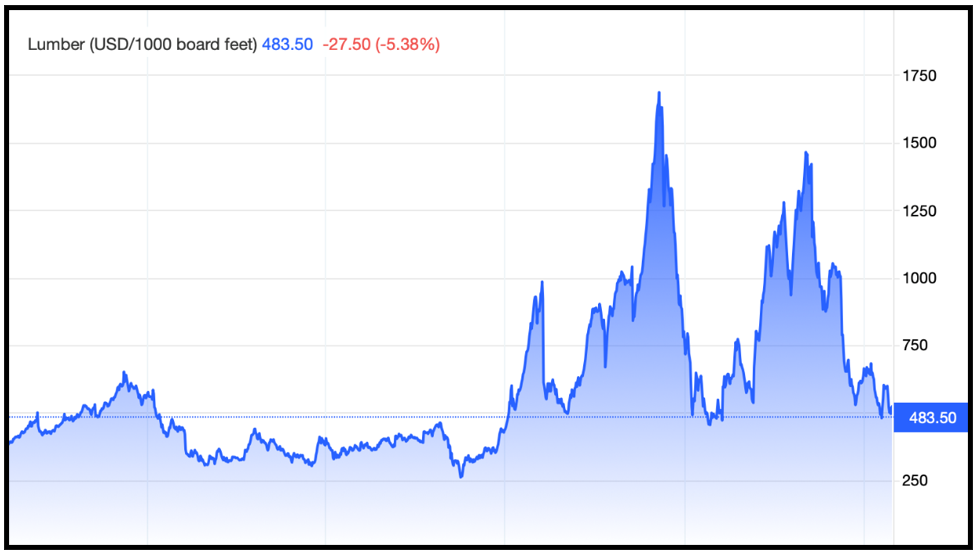 Five-year chart of lumber prices.
Click here
to see full-sized image.
Additionally, the slowdown in sales, starts and permits isn't uniform across the country, with select markets still experiencing staggeringly high demand.
According to Robert Abrams, a Florida-based realtor with eXp Realty:
"Florida's still attracting buyers with no income tax and lower property taxes than other states. Supply is continuing to grow, and history will show this is just a regression, not another housing bubble. We may see an 8-12% correction by Q2 of 2023, but right now, it's business as usual. Our inventory has grown 100% since March, and investors are still flooding the market with cash offers."
While markets like California, Colorado and Illinois are seeing sizeable slowdowns, they're being offset by the staying power of desirable markets in Arizona and Sunbelt states like Florida, Georgia and the Carolinas.
Zillow reports that, despite house prices falling in 259 markets, they're increasing in 615 markets.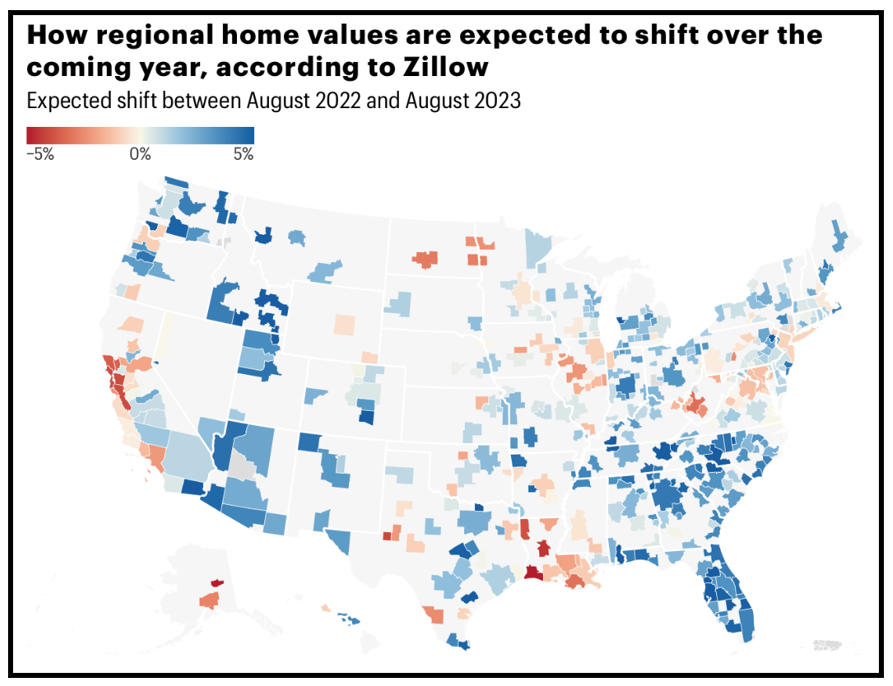 Regional home value map for August 2022–August 2023.
Click here
to see full-sized image.
Another strong indication that the housing market will weather higher interest rates is the action being taken by Blackstone (BX), the global investment management firm with nearly $1 trillion in assets under management.
BX is aggressively purchasing real estate investment trusts. Recent rate hikes have resulted in lower valuations, and the investment firm is acquiring REITs at a perceived discount. So far in 2022, Blackstone has spent a total of $29.9 billion to add four residential REITs to its portfolio.
Residential REITs
Each year, September proves to be a difficult month for equities. In fact, September is historically the worst month of the year for the S&P 500 and the only one with a negative average return (-0.5%).
As investors continue to seek reduced-risk assets amid ongoing market volatility, REITs offer ongoing opportunities. They're ideal investment vehicles for income-focused investors because they're required by the Securities and Exchange Commission to distribute at least 90% of their taxable income to shareholders.
There's no shortage of them, either. There are more than 20 residential REITs listed on major indexes with an average dividend yield of 2.95%. For comparison, the S&P 500 yields just 1.53%. There are outliers, of course. Brooklyn-based Clipper Realty (CLPR) yields a robust 4.61% annually, while Weiss "Buy"-rated Invitation Homes (INVH) yields 2.37%.
According to reit.com, those 20 residential REITs have produced a return of 58.29% since 2021. However, only two have produced double-digit returns over that time span.
Regardless of whether the housing market continues to show signs of declines in some regions, these two REITs specialize in rental properties, and nationwide rent saw a year-over-year increase of 11% in August.
No. 1: Bluerock Residential Growth REIT (BRG)
Weiss Rating: "C" ("Hold")
Market cap: $823.07 million
One-year return: 137.1%
Dividend yield: 2.42%
Bluerock Residential focuses its portfolio on Class A apartment properties in demographically attractive growth markets to appeal to the renter. It boasts acquisitions of 35 million square feet valued at approximately $10 billion.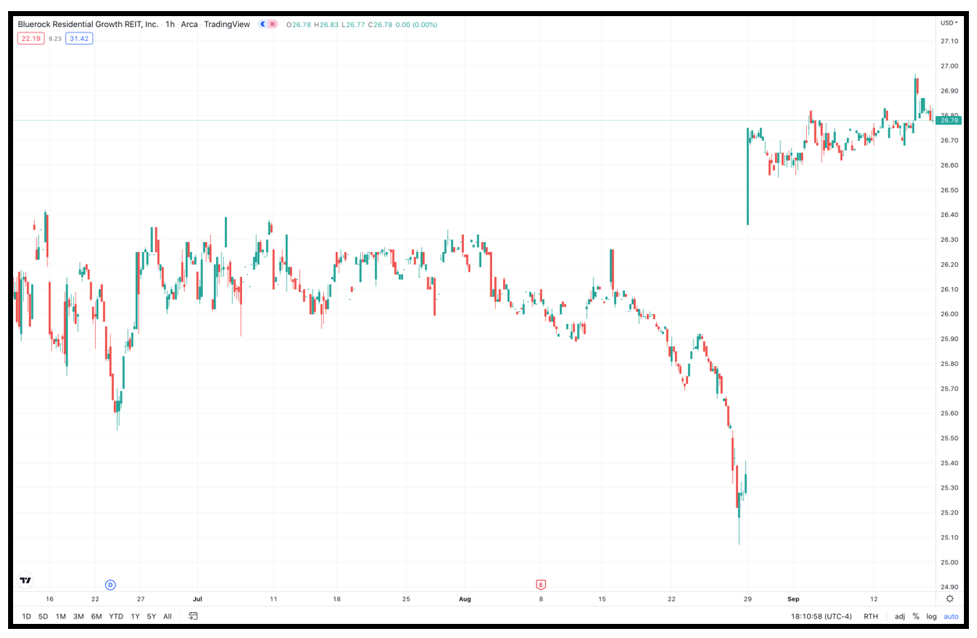 Three-month chart of BRG.
Click here
to see full-sized image.
Shares currently trade at $26.78, down less than 1% from its year-to-date high of $27. Since bottoming in late August, BRG is up nearly 6%. Its next dividend payment will be made on Oct. 5 to shareholders of record as of Sept. 23.
No. 2: BSR Real Estate Investment Trust (BSRTF)
Weiss Rating: "B-" ("Buy")
Market cap: $1.02 billion
One-year return: 10.17%
Dividend yield: 2.92%
The BSR Real Estate Investment Trust is the owner and operator of multifamily communities in the Sunbelt region of the United States. Headquartered in Little Rock, Arkansas, the trust's core markets include Austin, Dallas, Houston and Oklahoma City.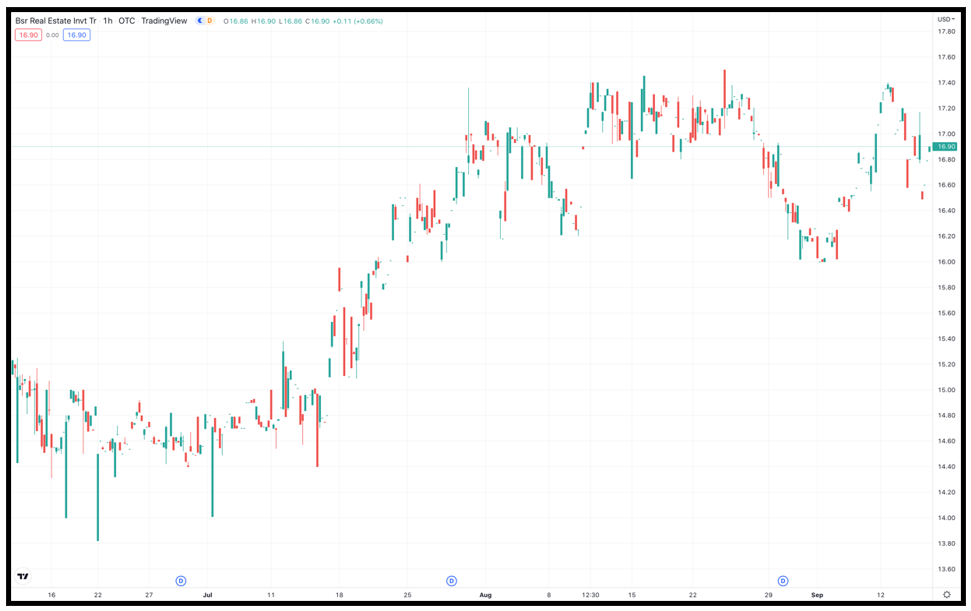 Three-month chart of BSRTF.
Click here
to see full-sized image.
At a current price of $16.90 per share, BSRTF is currently down 22.76% from its year-to-date high of $21.88. But since bottoming in late June, it's up over 16% and trending higher. BSR sports a price-to-earnings ratio of 14.88 and reported earnings per share of $1.52 last quarter.
Mortgage rates above 6% might be frightening to potential homebuyers. But for investors looking for strong dividend yields and steady, medium-to-long-term growth potential, residential REITs are lower-risk equities capable of producing positivereturns despite potential ongoing interest rate increases.
If you'd like to receive tailored REIT picks, Senior Analyst Tony Sagami's trading service, Disruptors & Dominators, offers just that. Members are currently sitting on open gains of over 53%, 45% and 26%.
As always, conduct your own due diligence before entering any trade.
Until next time,
Jordan Chussler
Managing Editor
Weiss Ratings Daily