What to Buy If You're Worried About Recession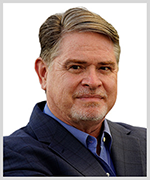 By Sean Brodrick
Are you worried that America is heading into recession? If you are, then it's clear what you need to buy: Stocks that grow their dividends.
Those stocks have underperformed the S&P 500 all year, while the leading stock index has, in turn, underperformed big tech stocks. That's because the economy has been growing fast, clocking 4.9% GDP growth in Q3.
So far this year, tech stocks as tracked by the Invesco QQQ Trust (QQQ) are up nearly 40%, while the S&P 500 is up just 13.4%.
Meanwhile, dividend payers, as tracked by the ProShares S&P 500 Dividend Aristocrats ETF (NOBL), are actually down a little for the year.
When the economy is growing, money flows out of "boring" dividend payers and into growth stocks. Higher interest rates also hurt dividend payers because bonds start to outshine dividends.
Now, however, many on Wall Street warn that the Fed has kept interest rates too high for too long, raising the odds of a recession. Well, in a recession, interest rates usually go down. And dividend stocks shine.
Here's a chart, using data from Ned Davis Research, showing the performance over the past five recessions of dividend growers and initiators versus the S&P 500 and stocks that don't pay dividends at all …
It may surprise you that stocks went up in a recession. That's because stocks generally anticipate the future. And in the case of a recession, they anticipate the end of the recession. At the same time, interest rates come down, letting dividend stocks shine.
But what if inflation remains stubbornly high? Well …
Dividends and Inflation
Here's another statistic from Ned Davis Research: The dividends paid by S&P 500 companies increased by 9.70% in 2022, which more than offset rising inflation.
In fact, over the past five decades, the dividend payment of the S&P 500 Index has increased by a 6% rate on average, well above the historical inflation rate in the United States.
Now, dividends aren't immune to everything. In the two-month economic contraction from February to April 2020, as COVID-19 shut down the nation, 42 S&P 500 companies suspended their dividends.
Nonetheless, dividend stocks tend to be more stable and decline less than those that don't. They have the right characteristics — cash flow, good debt structures, a view for the longer term — that helps them ride out hard times.
And thanks to the fact that America is graying as baby boomers get older, dividends are more popular, anyway … because retirees want those quarterly payouts.
There are many different dividend-focused funds you can use to ride out a recession. The one I mentioned earlier, the ProShares S&P 500 Dividend Aristocrats ETF, is rated "C+" by Weiss Ratings despite being down for the year, because it's such a high-quality offering. Here's a daily chart …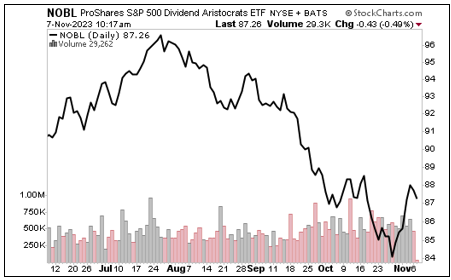 NOBL price chart.
Click here
to see full-sized image.
You can see that NOBL has been under pressure since July. But as the market recently started to think the Fed might be done hiking rates, NOBL is rallying.
A dividend aristocrat is a stock that has increased its dividend for at least 25 years in a row. That makes these stocks less likely to cut their dividends in a downturn, too.
If you're worried about a recession, this kind of stock offers extra peace of mind, so consider adding NOBL to your portfolio today.
All the best,
Sean
P.S. Even if you do fear a recession, you can't ignore other factors that can instantly jolt the stock market. These days, even a few words or a tweet can do it. In fact, I've been following an important story involving just such a market jolt. Click here to view my presentation on it.