Why You Should Buy This AI Network Juggernaut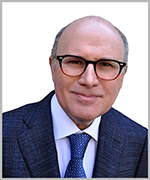 By Jon Markman
One of the world's richest men believes that developers are one killer app away from disrupting Alphabet (GOOGL) and Amazon.com (AMZN).
Bill Gates reiterated last week that truly smart, personalized digital assistants will change everything about how we interact with computers, potentially disrupting tech's biggest firms. He's right.
With that said, investors should buy Arista Networks (ANET). Let me explain why.
There is a lot of buzz around generative AI, and ChatGPT in particular. The chatbot built by OpenAI is widely perceived as superior to anything made by Google. A big part of this narrative is the first-mover advantage.
ChatGTP holds the distinction of being the fastest software app to reach 1 million unique users, a feat achieved only five days after launch, according to a report at Reuters. For perspective, it took Facebook — now Meta Platforms (META) — 10 months to achieve this milestone.
Unfortunately, even with all of those users, it's going to be difficult for OpenAI to disrupt Google.
It's a Matter
of Scale
And it stems from an unlikely source.
Most investors remember Google+ as an abysmal failure. The social media platform was launched back in 2011 as a competitor to Facebook. Back then, executives at tech companies arrogantly assumed they could disrupt competitor platforms with brute force.
Google+ failed; however, executives made one brilliant choice: They did away with the spider web of separate accounts for YouTube, Maps, Search, Gmail and Photos, the firm's most popular software platforms.
All of those accounts, even today, are merged into a single Gmail login. This decision was genius.
It means that every Google service has immediate access to the Google Assistant, the firm's personal digital valet. No joke; I have used it for around five years and it is the best, far surpassing Siri and Alexa in its ability to swiftly provide clear answers to complex questions.
The ubiquity of Google's platforms — they all have at least 1 billion unique users — means cross-population on iPhones, Windows computers, game consoles, TVs and even cars.
This single Gmail account is a Trojan Horse for the Google Assistant, easily the most powerful and accomplished digital assistant. It's a killer app that Google could switch on in order to find 2 billion users overnight.
Bill Gates Is
Keenly Aware
Speaking last week at a Goldman Sachs (GS) technology conference, Gates made a strong argument that voice is the logical replacement for keyboards and computer screens. It makes perfect sense. If given the choice, most of us would rather speak to a computer, then type messages, à la ChatGTP.
This would certainly disrupt Google's current business model based on display advertising. However, the best companies disrupt their own business before others get there. Also, a working, secure digital assistant might lead to a new subscription model worth tens of billions of dollars.
An assistant uniquely powered by Google would know everything from your contacts and calendar, to the places you have been and where you want to go. It would know your interests and desires. Google has been collecting this data, through Contacts, Calendar, Search, Maps, etc. since the day you signed up for your Gmail account.
Advances in artificial intelligence and better cloud infrastructure mean all of this wisdom could easily be delivered on demand to your smart device. The rub is that networks need to be upgraded to get to that stage.
Arista Networks
ANET makes the critical hardware and software infrastructure to make it happen. The Santa Clara, California-based company has become a leader in next-generation scalable switches, routers and other network equipment for data centers, hybrid cloud/on-premisis and edge-computing customers.
And they are now scrambling to upgrade their networks ahead of a barrage of data-thirsty new AI applications.
In December 2022, the company introduced a series of 800G ethernet switches for data centers for these larger loads. The current standard is 400G.
Arista reported in April that Q1 sales reached $1.35 billion, up 54% year over year. Gross margins rose to 63%, with operating margins of 41%. Executives also raised full-year guidance to $5.5 billion, up 22% versus a year ago.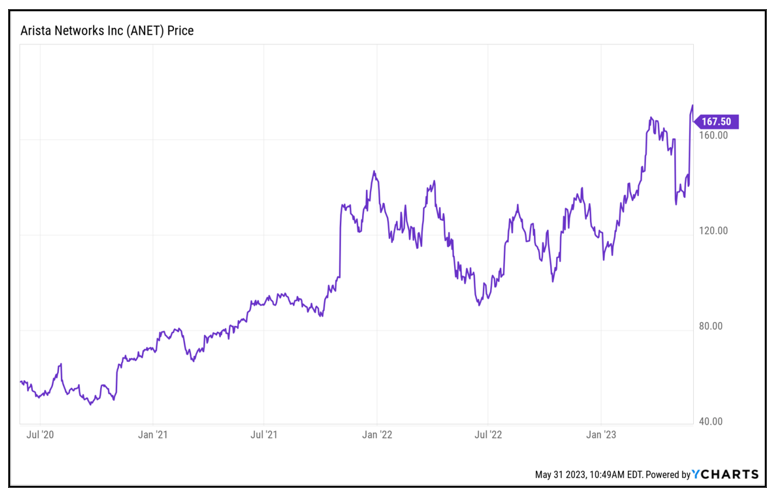 Three-year chart of ANET.
Click here
to see full-sized image.
At a price of $167.50, shares trade at 25.4x forward earnings and 9.9x sales. Both of these metrics are within the historical range for financial ratios.
Some investors are underestimating the growth ahead as networks are upgraded for AI projects — but you don't have to be one of them …
Consider buying Arista shares on any pullback into the $160 level, but as always, conduct your own due diligence before entering any trade.
That's all for today. I'll be back with more soon.
All the best,
Jon D. Markman
P.S. We've been warning loyal readers like you about a new government program called Fed Now — or what we call Fed Control. This is why I urge you to join founder, Dr. Martin Weiss, for our first-ever Emergency Banking Summit on Tuesday, June 6, at 2 p.m. Eastern. It's free, and you'll want to attend. Just click here to sign up.