Why You Should Fear the Debt Ceiling Crisis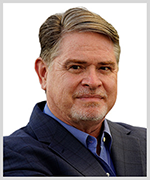 By Sean Brodrick
Even as America struggles with tightening credit and the resulting banking crisis, it's careening toward another crisis: the battle over the federal government's debt ceiling.
I expect the U.S. will go into default for a while; it's impossible to predict how it ends. And, as I'll show you, it's impossible to predict how the market will react.
The good news: I'll tell you about something you can buy to protect yourself, and even introduce you to someone who can help you.
The bad news: America is walking on thin ice. And it looks like this June, we'll fall through that ice.
An unresolved debt ceiling means:
• The government will shut down.

• Federal workers — including the armed forces — won't get paid.

• Federal facilities like post offices and national parks will close.

• About 1/10th of U.S. economic activity could halt in the short term, so economic growth will likely tank.

• And the U.S. credit rating could get downgraded, which means all our borrowing costs go up.
This doesn't have to happen, though.
But politicians in Washington, D.C. are holding a gun to the head of the American economy, refusing to pay debts we've already rung up.
There aren't two legitimate sides to this debate. Sure, the size of the American deficit — which currently stands at $31.7 trillion — is something to worry about.
And the growth of that debt is a worthy and necessary debate to have. Both parties have a hand in that. But we're talking about paying bills that already exist.
And we've raised the debt ceiling plenty of times. Since 1960, Congress has increased the ceiling 78 times, most recently in 2021. Forty-nine of these increases took place under Republican presidents, and 29 were under Democratic presidents.
Should the U.S. default for longer than a few days, it could have a cataclysmic effect on the U.S. economy and the global economy. Refusing to raise the debt ceiling — to pay off existing debts — is irrational.
The Risk of
U.S. Default
I don't think this crisis will be solved quickly. That brings us to default, whether it is solved quickly or not. And traders are already pricing in a U.S. default.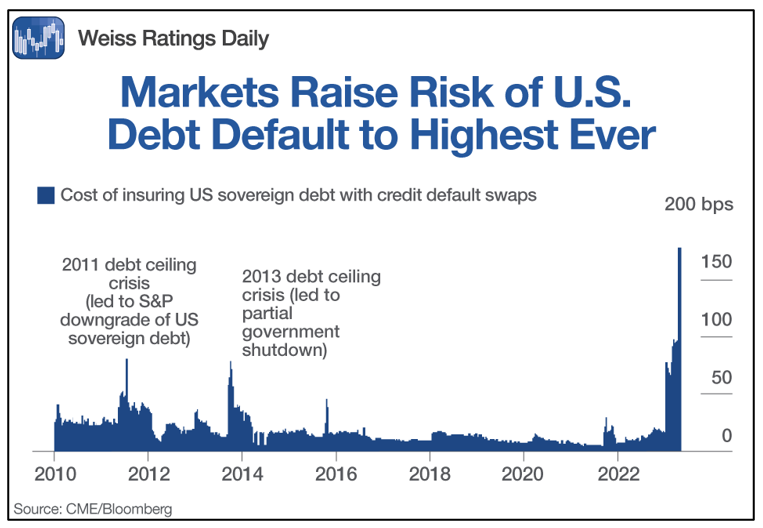 Risk of debt default at an all-time high.
Click here
to see full-sized image.
For investors, the important question is: What do you buy when America is at high risk of debt default?
I have one idea for you: Gold.
History shows us that when America teeters on the brink of default, gold and gold miners do very well. One of the worst crises was in 2011. That debt default crisis led to Standard & Poor's downgrading U.S. sovereign debt.
That crisis also sent the major stock indices plunging. What did well? Gold and gold miners. Here's a historical chart. I've outlined in yellow the time period when America was at serious risk of default: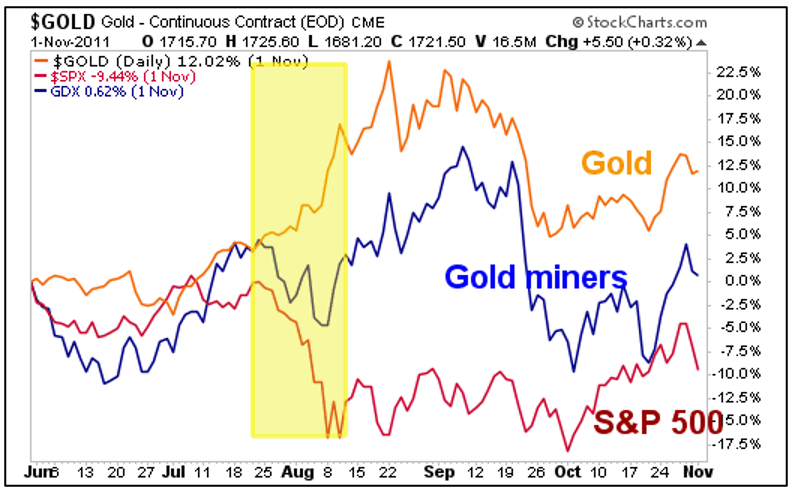 Price chart comparing gold, gold miners and the S&P 500.
Click here
to see full-sized image.
You can see the crisis didn't last long, but it sent stocks plunging. Gold and gold miners started ramping up ahead of the crisis and kept zigzagging higher after the crisis was over, before finally coming back down to Earth. During that crisis, gold hit its then all-time high.
Fast forward to today. Does this mean you should sell stocks? Not necessarily. Every crisis is different. Morningstar did some research on federal shutdowns, including those caused by debt ceiling crises. It turns out that only one — the one in 2011 — took a hammer to stocks: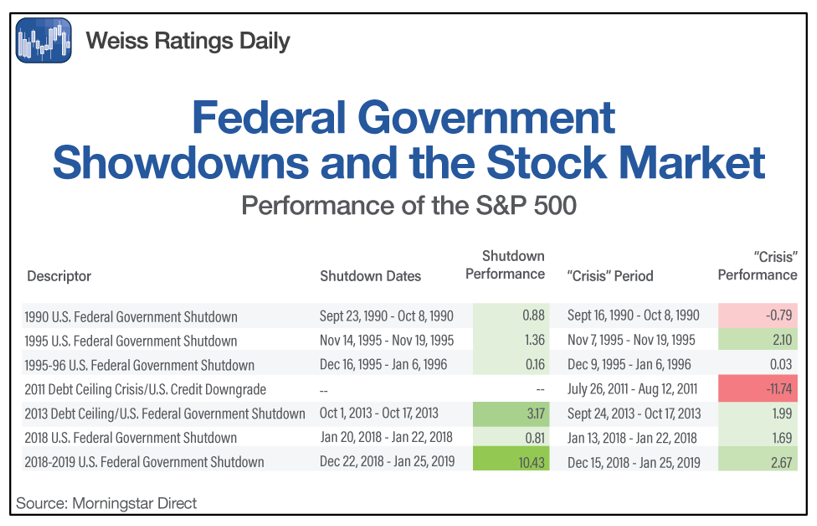 Federal government showdowns and the stock market.
Click here
to see full-sized image.
What made 2011 different? It's hard to say. But this table shows that selling everything may not be the solution … and is probably a bad idea. Instead, a good idea is to protect yourself by holding the right things.
That brings me back to …
Gold & Gold Miners
You probably know how to buy miners, but do you know how to buy gold itself?
Recently, I was in Las Vegas for the MoneyShow. While there, I talked to Rich Checkan, the president and COO of Asset Strategies International. It's a company that helps its customers buy physical gold, and much more.
You can watch that short interview below: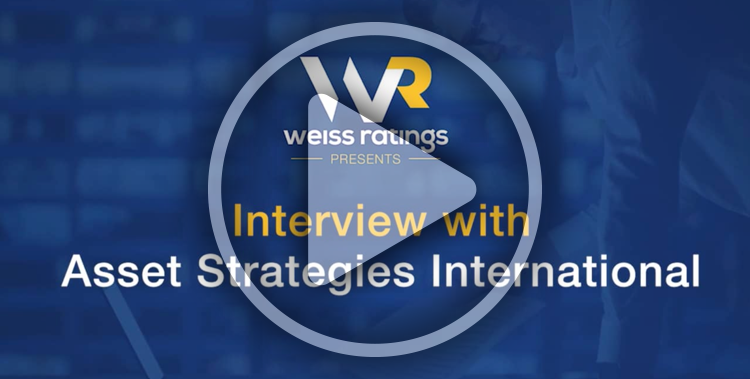 Rich and I discussed a range of topics, including his outlook for gold, silver and platinum. Sure, he's bullish, and for all sorts of reasons beyond the debt ceiling brouhaha. Rich offered some real insight into why platinum could rocket, and the supply squeeze going on in silver. And he also dished up a warning for investors. You'll see it all in the video.
Importantly, Rich and Asset Strategies International help people buy physical gold. Now, there are plenty of people who do this; you don't have to go with ASI. Just be sure that whoever you buy from has been around a while and has a reputation to uphold.
I know that with America barreling into a debt ceiling crisis, I'm comforted by the fact that I own physical gold. If you don't own any, consider picking some up. There's a storm coming. And historically, gold has been the best kind of shelter in the worst kind of financial storms.
Best wishes,
Sean
P.S. My colleague Chris Coney's strategy for going after capital appreciation AND yields can help bolster your wealth during rangebound markets … like we're seeing right now. You can receive 18%+ when you want to add income to your portfolio. Click here to learn more.