Hits, Strikeouts & Homers: An Update on Recent Market Calls
Wednesday, April 03, 2019
Baseball season is underway again! Stadiums are already serving up massive quantities of hot dogs and bags of peanuts. Outfielders are making the requisite highlight grabs (and groan-inducing drops). Fans are enjoying cool spring days at the ballpark with family and friends.
I'm more of a football guy. But I like to catch ballgames on TV or in person when I can. And in the spirit of the season, I'm going to recap some of the hits, strikeouts and homers I've had lately among my market calls. Then I'll share a few thoughts about what's going to happen in the remaining innings of 2019.
First, let's talk about the Lyft (LYFT, Unrated) IPO. You know I've been warning about the lousy quality of the offerings Wall Street has been dumping on the public markets. For instance, I said last summer that more money-losing companies were coming public than ever before — even more than at the peak of the dot-com bubble. And I added that the "IPO mania will end in tears."
Lyft, the ride-sharing company, sold 32.5 million shares at $72 in its IPO last Thursday evening. The transaction valued Lyft at $24.4 billion on a fully diluted basis. That was up 61% from its last private valuation of $15.1 billion in mid-2018.
Eager investors seeing visions of dot-com-like dollar signs piled in, and the stock soared to more than $88 at the open on Friday.
But that was that.
Lyft ultimately gave back a chunk of those gains, closing at $78 and change. Then the stock plunged AGAIN on Monday, losing almost 12% and closing below its IPO price at $69.01.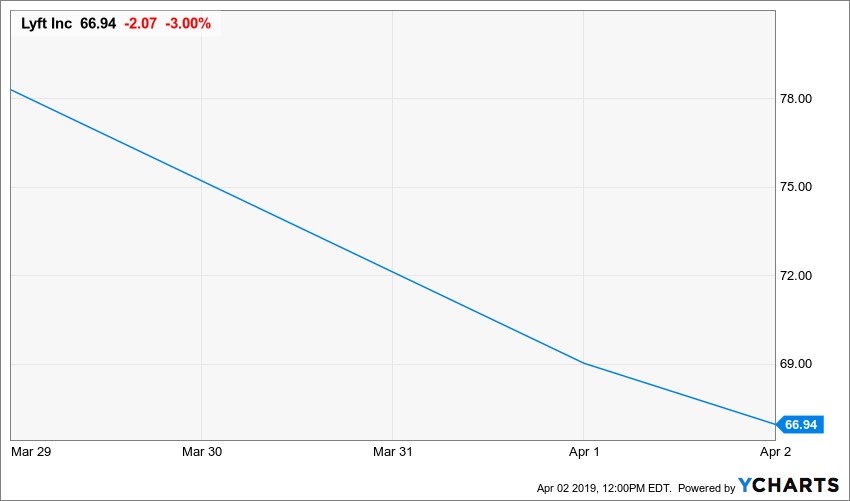 Lyft was priced at $72 for its March 29 debut. It soared to $88.60 Friday. But as of midday Tuesday, it was trading at $66 and change.

Some post-IPO volatility is normal. But this certainly wasn't.
It's a sign (to me) that eager venture capitalists, bulled-up Silicon Valley insiders, and starry-eyed outside analysts may be way off-base about the true value of today's money-losing tech darlings.
And Lyft certainly qualifies as a money loser. It racked up $911 million in red ink last year, or about $2.5 million PER DAY!
I'm going to give myself a "single" here. Many of the risky IPOs from last year have faceplanted, just like Lyft has so far in 2019. But the broader Renaissance IPO ETF (IPO, Rated "C-") is up sharply this year and flirting with last summer's highs. If those gains fail to hold (as I suspect they will) and more future IPOs flop, this runner of a call will advance to second.
Next, let's review the call last year that over-loved, over-owned, overhyped FAANG names would start lagging while "Safe Money" stocks would start leading. I'd rate that a solid double.
I say that because the only two (of 11) S&P 500 sector ETFs to hit new highs are the defensive, anti-recession, higher-yielding Utilities Select Sector SPDR Fund (XLU, Rated "B-") and Real Estate Select Sector SPDR Fund (XLRE, Rated "B-"). They're also up 20.1% and 20.2% in the past year, respectively. That's roughly double the rise in the benchmark NYSE FANG+ Index over the last 52 weeks.
Third, my warnings about the flattening/inverting yield curve – and its implications for the economy, fixed-income investments and financial stocks – has proven to be a home run.
I noted as far back as April 2018 that financial stocks were going to be major losers from important changes in the interest-rate markets. Then I said in December that you had to pay attention to how the curve was starting to invert, because that would get major attention on Wall Street before long.
Bonds just went ballistic to the upside, while bank stocks suffered their worst declines in several years. Overall, the diversified Financial Select Sector SPDR Fund (XLF, Rated "C-") has LOST around 5% in the past year. That means it has underperformed my favorite Safe Money sectors by a stunning 25 percentage points!
That said, I've been striking out (so far) on the direction of the stock market for a little while. My market atlas from January suggested the S&P 500 would likely top out in the mid-2,600s. But we're trading about eight percentage points above that level now.
On the other hand, my call from early 2018 that we may have seen the last gap upside move — and a broader top in the averages — still hasn't been invalidated. That's especially true for something like the Russell 2000 Index of smaller-capitalization, domestically focused names. It remains far below its 2018 highs.
Best of all for my Safe Money Report subscribers: The handful of higher-quality, higher-yielding, higher-rated names I've been recommending are mostly doing very well given the shift in market leadership.
In fact, they just had the chance to bag almost 19% gains in only nine weeks on a utility play that has benefitted from the surge in defensive investments. If you're interested in joining us, you can click here to get started – or call our Customer Care team at 877-934-7778.
No analyst or investor can bat 1,000. But I think you'll agree that a lot of the information and guidance you've gotten here has proven actionable, and many of my more specific recommendations have worked out nicely.
So, what about the rest of 2019? I still expect this to be a challenging year. We're very late in the economic and credit cycle, a time when market "accidents" and out-of-the-blue shocks typically become more common.
The yield curve is sending out cautionary signals about future growth, while corporate credit spreads remain elevated despite the rally in equities. Those are signs that bond investors aren't anywhere near as sanguine as stock jockeys. Several volatility gauges also remain in higher ranges vs. those that prevailed before last spring. That's another sign of lingering concern.
If anything changes, I'll be sure to let you know. But I still advocate carrying a higher level of cash than you did from 2009 through 2018 ... keeping your stock investments titled toward "defensive" rather than "offensive" sectors and names ... and getting rid of stocks poorly rated by our objective, time-tested Weiss Ratings system.
Until next time,
Mike Larson
P.S. Did you get my note last week? The one about how I'll be sharing my market forecasts and recommendations in greater detail LIVE and in person next month? Just in case you didn't: I'm presenting at the MoneyShow Las Vegas that runs from May 13-15.
You can get more details and register to attend by clicking on this link. Or if you prefer, call the MoneyShow team at 800-970-4355 and tell them you're responding to my invitation. The conference won't cost you a penny to attend. But it'll be well worth your time!