Yields Stink! So, Here are Ways to Make Your Portfolio Pay
Wednesday, August 14, 2019
It's official: Yields stink!
The yield on the 30-Year U.S. Treasury Bond just hit 2.12% this week. That puts it within a couple basis points of the all-time low from 2016, and far below those double-digit yields of yesteryear!
The 10-year has only 30 bps or so to go at 1.64%, while short-term yields will plummet if the Federal Reserve gets more aggressive with interest-rate cuts.
Think you can find refuge in foreign bonds? Good luck!
Check out this chart that shows the government bond curve in four key European countries (Switzerland, the Netherlands, Denmark, Germany) and Japan.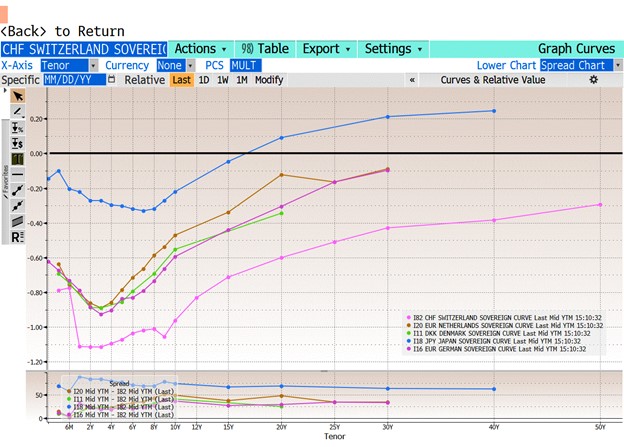 Source: Bloomberg, Data Date: Aug. 12, 2019
That black horizontal line represents a 0% yield. As you can see, there isn't a single bond on the entire curve from those European countries generating a positive yield! You can't find a Japanese bond doing so unless you go out to the 20-year maturity.
You can wait two decades, for not much return. But if you want to get paid early and often, there are good ways and bad. Here's one of each …
Some alleged bond market "experts" have touted higher-yielding emerging-market debt as an alternative. Like, say, the 100-year century bond that serial defaulter Argentina issued back in 2017.
Just look at this chart! That piece of garbage paper I panned multiple times just plunged around 30% in two days when unfavorable election results caused the Argentinean peso to collapse. Who wants that kind of risk?
So, where CAN you find some yield? What kinds of investments can you use to make your portfolio pay YOU?
Well, there are a few options to consider …
In the red-hot gold and silver mining sector, for instance, a subsector of companies called "streaming" or "royalty" firms look attractive to me.
Rather than operate mines directly — and take on all the expenses and operational risk that entails — they provide both development- and production-stage miners with mine financing.
In exchange, they receive streams of cash flow/royalty payments. These are based on production over time. That money can be used to pay dividends to shareholders, buy back stock if management considers it undervalued, and reinvest in additional properties.
I did a lot of research on these companies in Vancouver, and wanted to share a couple of video interviews that were recorded there.
The first is with Kim Forgaard, director of capital markets at Sandstorm Gold Ltd. (SAND, Rated "C"). You can watch that here:
My other video interview is with Iain Farmer, director of evaluations at Osisko Gold Royalties (OR.TO, Rated "D+"). Check that out here:
I also found a lot of value in the presentations and comments from Wheaton Precious Metals (WPM, Rated "C+") CEO Randy Smallwood. SAND and WPM have been recommended in my Safe Money Report, and I see real potential there. (Though you'll need to conduct your own due diligence and decide on your own buy and sell targets if you don't subscribe. Want to get my timely trading signals in your inbox, the moment I release them? Click here to see how.)
Beyond the power of owning metals, there are other ways to find safety in this market. Income, too. In fact, with the right strategies, you can even BOOST the frequency and amount of the "paydays" your portfolio delivers.
The general idea? Collecting annual or quarterly dividends are great. But using select investments and strategies, you can generate more frequent payouts and boost the yields you're earning substantially. I'll have more details down the road.
Finally, you know I'm a fan of defensive, anti-recession, dividend-paying stocks. I've mentioned a handful of sectors and individual names here over the past several months, like Wheaton. Subscribers to my Safe Money Report have ridden out uncertainty in the market and banked gains of up to 42%. You can join them and get specific recommendations for our two distinct portfolios by clicking on this link.
Bottom line? While yields on many bonds stink ... and yields on others aren't worth the risk involved in owning them ... you can and should find ways to make your portfolio pay YOU. I'll keep doing my best to point you in the right direction.
Until next time,
Mike Larson