Shifts in investor sentiment happen quickly. When looking for ways to profit, it's important to understand what's important and what's not.
Executives at Apple (AAPL) are curbing spending and reducing staff ahead of a possible recession, according to a Monday report. The news sent shares of the iPhone maker reeling, and the rest of the stock market went along for the ride.
Stocks can't rally on bad news. The bearish trend remains dominant, for now.
You'd never know this from listening to bulls. They say that all the bad news is known, that's why the S&P 500 is down 20% year to date. That kind of chatter gets louder when stocks rally, as they did late last week and Monday morning.
However, sharp rallies are common within the context of bear markets. These advances happen because there are very few sellers. Longer-term investors hunker down, riding out the downturn. And investors with no stomach for the volatility closed their positions long ago. When stocks do begin to rise, bears get nervous and begin frantically buying to cover short positions. The lack of sellers leads to explosive rallies.
Related Post: Netflix Ads Winners
Context is important, though.
Bears will usually buy stocks only up to key levels like the 50-day or 200-day moving averages. They know that other bears will add to short positions on rallies to these levels, putting the forces of supply and demand back in their favor.
This occurred Monday as the S&P 500 pushed toward its 50-day moving average at 3,927. The Bloomberg report about Apple's curtailing spending dropped shortly thereafter.
The idea that the management team at Apple is planning for a possible economic slowdown isn't terrible. They're competent. The company based in Cupertino, California, became a business icon by successfully managing the business to meet expected future demand.
It's the reaction to the news that's important.
Stocks and stock markets bottom when investors ignore bad news. When stocks rise on bad news it's a sure sign that investors are looking past current events.
It's the beginning of a trend-changing shift in sentiment. It's like ringing a bell. It appears to be a good time for investors to move all the way back into your favorite stocks.
The next two weeks seem to be vital. Almost 70 companies will report quarterly financial results. Undoubtedly, many of those reports will feature downbeat assessments for the second half of 2022 as corporate executives embrace the kitchen-sink management approach.
Getting in front of all the possible bad news now will set up a potential positive surprise later. It's the secret of managing expectations. Getting it all out there is what good executive teams do during times of duress.
Related Post: Three Arrows, One Big Mess
If stocks can rally against the backdrop, there'll be a real stock market bottom. On the other hand, if weakness persists … you get the picture.
Bars are winning so far. The reaction to the Apple news on Monday wasn't great. And after the close, International Business Machines (IBM) shares fell 4% after the company reduced its cash forecast for the rest of 2022, according to a report at CNBC.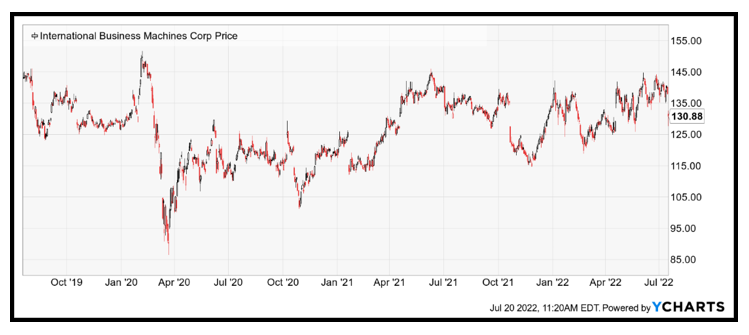 Tech investors would be wise to ride this short-term turbulence out. Remember to always to your own due diligence before buying anything.
Best wishes,
Jon D. Markman
P.S. Earlier this week, Dr. Martin Weiss revealed an opportunity that's been off-limits to the public for nearly 100 years. Click here to learn more about how to invest in Alpha Rounds of companies that have yet to go public.