Digital advertisements are coming to the world's only global media company. It's a watershed moment in media, and it'll bring big changes for investors, too.
Netflix's (NFLX) CEO Ted Sarandos said last week that ads are officially coming to the streaming media company. The announcement is an about-face and a game changer for a whole swath of firms.
Netflix is undoubtedly the most important company in entertainment media. The Los Gatos, California-based company spent $17 billion on production deals in 2021. And with its 220 million paid subscribers, Netflix is the elephant in the room. Rumors of its demise are greatly exaggerated.
Since the firm started streaming in 2007, company leaders have been dead set against ads. They correctly argued that the point of Netflix was uninterrupted entertainment on demand. It was a differentiator that customers flocked to.
Related Post: Look for Tech Bargains
At the Consumer Electronics Show in 2019, executives at all the leading TV set makers touted deals that brought the Netflix app to their flat screens. They argued TVs were largely unsellable without a dedicated Netflix app.
Ads Changed Everything
They are the interruption Sarandos said would never happen. Then growth began to slow. The company announced in April that it lost 200,000 subscribers during the first quarter.
An ad-supported, lower-priced tier is likely to revive subscription growth, although it will come at a cost.
Sarandos told the Hollywood Reporter last week that ads will bring Netflix to customers who could not otherwise afford the service. I suspect he's right, especially in emerging markets.
Unfortunately, introducing ads is also likely to cannibalize existing subscribers who don't mind an interruption if it means lower monthly fees.
If the reaction since the announcement is any indication, Netflix investors are likely to sell shares based on profit margin worries. That's a short-term headwind for the stock.
But that's not the main thing investors should be focused on … rather, it's which companies benefit from these ads.
Longer term, Netflix ads are a big win for The Trade Desk (TTD) and Alphabet (GOOGL).
Who's Set to Win
The former runs a programmatic digital ad placement platform. Brands use its software to buy digital ad inventory in real time, then seamlessly place those commercials across connected TVs, the web and other digital domains. With its global reach, Netflix is the ultimate connected TV platform. Prior to last week, reaching those eyeballs was a pipe dream.
Unfortunately, the short term could be a little dicey for Trade Desk shareholders. That's because there have been credible reports that Netflix will partner for ad sales with Google or NBCUniversal, a division of Comcast (CMCSA).
Again, I expect investors to sell Trade Desk shares first and ask questions later about what this ultimately means.
NBCUniversal would be an odd choice for Netflix. The company currently works closely on ads with Apple (AAPL), a minor Netflix competitor. It's also a sibling to Peacock, another Netflix challenger.
Google is more intriguing. Its YouTube subsidiary equals Netflix in sales, and it's growing faster. Google is also the current ad partner to Walt Disney (DIS), another Netflix foe.
On the flip side, the company is a digital ad pioneer with the biggest network and a compelling tie-in with Google Cloud. Landing Netflix, both for ads and later for cloud computing, would be a big win that would surely drive share prices higher.
As a side note, if Netflix ultimately moved to Google Cloud, that would be a big loss for Amazon.com (AMZN), its current provider via Amazon Web Services.
Related Post: Upstarts AI Flop
You can see where I'm going with all of this … most paths point in the short term to lower share prices. Investors are currently speculating that adding digital ads from Netflix is a net negative for the sector.
Ultimately, nothing could be further from the truth.
Netflix joining the digital ad onslaught changes everything, for the better. It means global targeted ads across the biggest connected TV platform in the world. It means greater inventory of digital ads. It'll accelerate the transition to digital ads over analog. It's game-changing.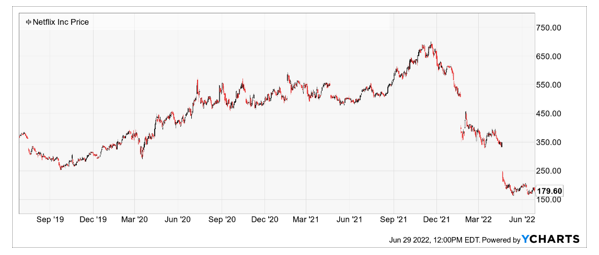 The opportunity is going to take investors a while to figure out. Remember to always do your own due diligence.
Best wishes,
Jon D. Markman
P.S. Yesterday, U.S. stock indices had their worst day in two weeks. A full-on bear market has arrived, but there are ways to produce enormous profits from economic and market crises. To learn more, click here now.