The market was up around 6% last week, and the big bear market may finally be over … but not for the reasons you will read in the financial news.
Sentiment is changing for the better.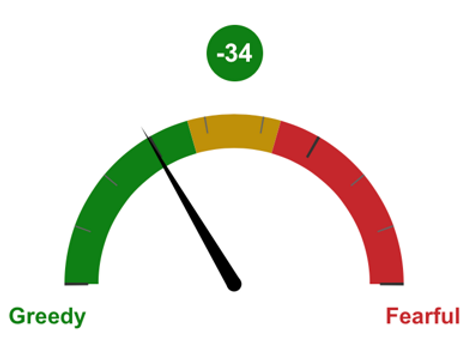 Source: American Association of Individual Investors
Technology stocks surged last Friday. The catalyst? A monthly decline in an obscure inflation metric. Longtime traders understand that the market is finally looking past bad news.
Most investors believe stock prices are a weird mixture of macroeconomics, profitability and Federal Reserve policy.
That is partly true. However, getting economics right is a coin flip. So many variables are at work simultaneously.
Profitability can also be tough. Sometimes investors are willing to pay dearly for earnings, and other times not so much.
Then, there's the Fed. Eight months ago, the Fed was committed to rates near zero until 2023. Today, the central bank is raising rates furiously in order to combat inflation.
Related Post: Level Up With Sony
The part many investors miss, to their detriment, is sentiment.
The way a consensus of traders "feels" about stocks is more important than any other factor. This is why stock indexes can rise when interest rates are advancing, or when earnings are collapsing.
The greatest bull markets began in 1982 when rates were rising to head off inflation. Likewise, stocks rocketed higher in 2020 when earnings were falling off a cliff.
Jump forward to last week ...
Semiconductor giant Broadcom (AVGO) rallied following news of its proposed acquisition of VMware (VMW), an enterprise software company.
Then, a few days later Nvidia (NVDA) reversed an early decline despite a shortfall in year-end financial guidance. Two important stocks rallied in the face of decidedly bad news.
Shifts in sentiment precede big price swings.
Tech stocks have mostly been in a funk since January due to concerns over valuations and rising interest rates.
Many shares have been cut in half as the tech-heavy Nasdaq fell by 30%. The carnage for newer tech companies bereft of earnings has been more extreme.
An index of special purpose acquisitions companies (SPACs), the pinnacle of the recent hype era, is down 60%. A report Friday in The Wall Street Journal warns that many will go bust.
But despite their warning signs, now's the time to find bargains. One tech titan that looks especially cheap right now is a stock that I've been following for a very long time: Cadence Design Systems (CDNS).
CDNS: A Semi Star With Consistent Profits
Cadence Design Systems sits comfortably at the other end of the spectrum of overvalued tech stocks.
Although shares are down 16% year to date, this fast-growing company looks very poised to be among the first to rekindle investor favor.
The weakness in 2022 appears to be a very strong buying opportunity, especially now that sentiment for semiconductors is improving.
The company, based in San Jose, California, makes software used by the semiconductor industry to design microprocessors and helps with software integration.
Cadence is an extremely profitable business from the ground up:
Current gross margins are 90%.


Operating margins are 28%.


And free cash flow is up 77% since 2020.
The strength for Broadcom and Nvidia means investors are now betting that the worst of the semiconductor downdraft is over … and that bodes very well for Cadence.
The firm is capably led by Lip-Bu Tan, a graduate of the nuclear engineering program at MIT. Tan is also the founder of Walden International, a venture capital firm that makes early stage investments in chip design firms.
Relationship Science, a Silicon Valley analytics firm, has consistently named Tan among the most connected executives in technology.
Related Post: Don't Skip the Trade Desk
He earned a perfect score of 100 in 2017 for his influence in the technology sector and access to corporate boards. He sat on 69 of them.
During 2019, Tan deepened Cadence's relationship with Samsung (SSNLF), the second-largest semiconductor company in the world, behind Intel (INTC).
Cadence also earned a fourth partner of the year award from Taiwan Semiconductor Manufacturing (TSM), the world's largest independent semiconductor fabricator.
Cadence touches every part of the sector, small and large. The company builds the software those businesses need to scale new processes and to integrate with ever-evolving software applications.
The shares recently traded around $161.41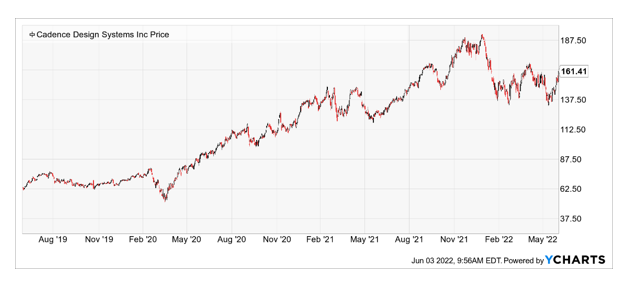 Savvy investors should strongly consider using any near-term strength as a bullish indicator. Remember to always do your own due diligence.
And just keep in mind, it's the unknowns that can ultimately have the most impact on your investment. As mentioned above, with so many variables at work simultaneously, getting economics right is a coin flip. But if you're prepared for that unknown flip, you can create wealth in any market. There's a strategy I highly recommend for these black swan events that you can get in this free investor broadcast. Click here for all the details.
Best wishes,
Jon D. Markman