Don't Skip The Trade Desk
The world's online future is going to be photorealistic, immersive and expensive to produce.
To offset costs, producers will experiment with new forms of advertisements. Smart firms are already ahead of the curve on this development.
Microsoft (MSFT) is working on digital billboards that will appear inside its free-to-play video games. The software giant will pass on revenues to game developers and ad agents.
This should have been easy to see coming. The blueprint was laid out in 1982 when the original version of "Blade Runner" hit the silver screens.
The groundbreaking science fiction thriller depicted a dystopian future with incessant rain and neon billboards. Brands constantly demanded the viewer's full attention.
Society is not quite there yet ... thankfully. Brand ads are not neon, nor are they flashing.
Most are strategically aimed for a specific audience.
Consumers have learned to expect commercials at big events. We watch the Super Bowl for the drama of the game and the lighthearted ads sprinkled in between.
Televised golf, motorsports and even music concerts have become a parade of technology and luxury brand logos.
It's a tradeoff we're willing to make to view the content.
That is the calculus clearly being made at Microsoft. Executives at the Redmond, Washington-based company are betting that ads on virtual buildings and billboards will not detract too much from gameplay.
They're also wagering that the revenue generated will be a new incentive for software developers to build new photorealistic digital worlds.
The oddity: Microsoft will not take any part of the revenue, according to a report at Insider.
Related Post: Bitcoin Is Here to Stay
Nor will the software firm use data collected from its Bing search engine or Xbox platform to target ads.
Instead, Microsoft plans to allow game developers to work with advertising companies to share the full proceeds.
One advertising company stands to benefit mightily.
A Desk That's Ready for Business
I'm talking about The Trade Desk (TTD), a data-driven digital ad platform business.
The Ventura, California-based company uses sophisticated software for real-time digital ad placement across all of the online world not owned by Alphabet (GOOGL) and Meta Platforms (FB).
Since its initial public offering in 2015, executives at The Trade Desk have been telling a single, consistent story about the future of media.
It will be digital and mostly ad-supported. Digital content is on-demand and portable to any screen. Ad-supported content democratizes media by removing the barriers of affordability.
This year, Deloitte Insights found that most consumers draw the limit at three paid subscriptions. Its Digital Media Trends report also made another startling finding about gaming: The frenzy is global, social and unstoppable.
Big brands understand that a data-driven approach is the best way to find and market to gamers. Walmart (WMT), Proctor and Gamble (PG), Nike (NKE) and other Trade Desk clients have largely dismissed the scattershot, flashing neon light approach from the old days.
Another data-driven approach that's winning?
My colleague Sean Brodrick's Wealth Megatrends service. He's tackling inflation at high speed and helping his Members turbocharge wealth creation and preservation. If you'd like to learn more, check this out.
Analog is inefficient. It's also annoying to customers. Advertising needed to evolve to succeed.
Digital ads let buyers marry the data they're collecting with customer relationship management software to real-time targeted demographic profiles online.
Related Post: Google Doubles Down on Security
The Trade Desk platform lets buyers program digital campaigns in the blink of an eye. It's fast, measurable and reliable.
Digital ad sales now represent 62% of total sales globally. This figure is rising quarter after quarter as companies like Microsoft find innovative ways to place more online ads.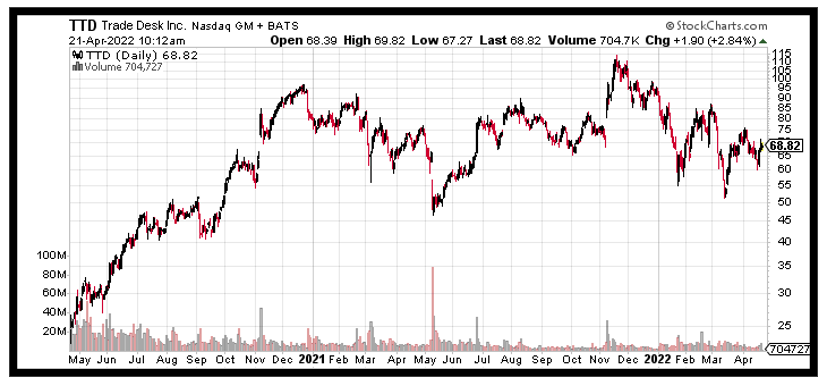 Shares are currently trading around $68.62, and The Trade Desk trades around 54 times forward earnings, yet gross margins are a lofty 81.5%.
While the stock has been under pressure in the weaker technology landscape, the outlook remains bright.
Best wishes,
Jon D. Markman