2 Semiconductor Makers Cashing in on the Chip Shortage
Join Jon at the Money Show where he'll talk about new developments in the digital transformation. And for another idea that you can act on today, read on.
There is a global semiconductor shortage impacting everything from new iPhones to the price of used Ford (NYSE: F) F-150 trucks.
It's a major global economic issue, and it's very important for investors to understand what's going on.
The root of the chip shortage is threefold:
Rising demand as dumb devices get smarter.
Logistic bottlenecks caused by the global pandemic.
Some terrible decisions made by auto companies.
• The combination crippled several industries … yet it also created a huge opportunity for forward-looking semiconductor firms.
Keep in mind that the crisis is the result of rising demand for semiconductors. These chips are vital to modern manufacturing. Even a decade ago, they were the brains of our refrigerators, televisions and electric toothbrushes.
As these devices and others became smarter, the number and complexity of chips required has grown exponentially.
Related Post: Why GM Is a Software Company Now
About 90% of the smartest chips used in tablets, laptops, computers and smartphones are manufactured in facilities located in Asia. When the pandemic struck, many of those fabricators were temporarily shuttered resulting in a supply chain bottleneck.
This alone was problematic because chips were already in extremely short supply. However, the biggest contributor to the crisis was yet to come…
Months into the pandemic, Toyota (NYSE: TM), Ford and General Motors (NYSE: GM) began to cancel orders for the chips they needed for speedometers, anti-lock braking systems (ABS) and other fundamental vehicle systems.
Most of these processors are based on older 28-48 nanometer designs, which are no longer used in a lot of modern consumer electronic devices.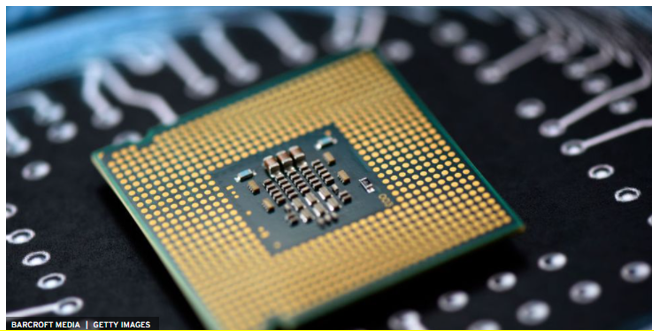 A semiconductor chip used in automobiles. Source: Barcroft Media
Faced with an order shortfall, the Asian chip manufacturers began switching production lines to make more advanced chips for other sectors.
The decision by automakers to curtail orders meant fabrication plants were shut down for weeks, which led to further bottlenecks. It also disincentivized chip makers from producing the older chips.
Automakers are now between a rock and a hard place…
They either need to wait their turn in line for older chips … or rewrite firmware to use newer chips that are more abundant.
Sporadic manufacturing shutdowns at GM and Ford led to third-quarter vehicle sales declines of 33% and 27%, respectively. And the short supply of new cars and trucks is directly responsible for surging used vehicle prices, according to a report from The New York Times.
The Manheim Used Vehicle Value Index is up 27.1% from a year ago.
Automakers will adapt, and this shortage will create several winners. In fact, it already has …
It's economics 101: When demand rises and supply is constrained, prices rise. Forward-looking companies that design the most sought-after chips are seeing unprecedented profit margin expansion.
And two of those companies that I want to highlight today are Monolithic Power Systems (Nasdaq: MPWR) and Broadcom (Nasdaq: AVGO).
Monolithic designs tiny integrated circuits used to control the power supply. These chips are used primarily in cloud computing infrastructure, telecommunications, consumer electrics and industrial and automotive applications.
In the midst of the pandemic last year, Monolithic's executives began building inventory to enter the automotive marketplace. That move proved to be a winner, as many of its competitors either slowed production or were impacted by supply chain constraints.
Now, the Kirkland, Wash.-based company is benefitting handsomely.
Broadcom, which is also benefiting mightily, is the biggest player in chips for connectivity. If a device connects to a network, the San Jose, Calif.-based company is likely a manufacturer partner.
Broadcom is the biggest connectivity player in data centers, networking, broadband, wireless, data storage and many industrial applications.
Related Post: Advanced Micro Devices Looks Poised for a Run
Since the start of the pandemic, the prices of its products have steadily crept higher. The company reported in September that third-quarter earnings rose to $6.8 billion, a 16% gain versus a year ago.
These firms may not be top of mind in the conversation about the global semiconductor shortage … but they should be. Too often, investors worry about potential pitfalls instead of looking for opportunities.
Executives at Monolithic Power and Broadcom positioned their businesses to take advantage of the semiconductor shortage. They've already had a great year, but I personally believe more explosive growth is ahead.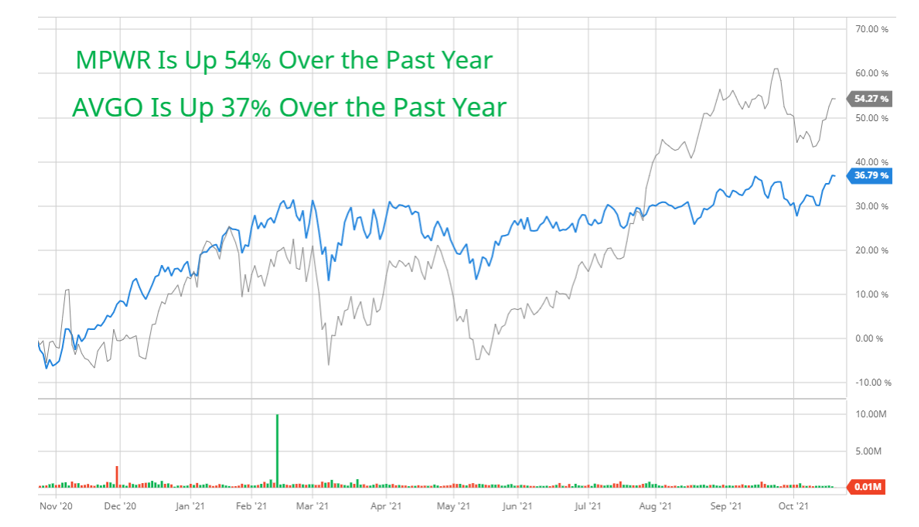 Monolithic Power shares were recently trading around $498.48, and Broadcom shares were recently trading around $511.53.
I think both stocks have a shot at gaining 25% or more over the next year.
Best,
Jon D. Markman