2 Tech Giants That'll Win the Digital Advertising Battle
Digital advertising is rapidly transforming, and these companies look poised to profit.
Financial media's talking heads claim the digital advertising apocalypse is here.
They're wrong … and this is how investors can take advantage.
On Thursday, Snap (NYSE: SNAP) reported that Q3 revenues missed earlier forecasts and future sales will fall short of previous estimates, too. Executives blamed ad tracking changes.
Snap's been a wonderful growth story …
The company is a wildly popular short-form video platform serving young smartphone users. Its software and the rapid expansion of digital ad sales helped the Santa Monica, Calif.-based company grow revenues from $404 million in all of 2015 to $2.8 billion through just the first three quarters of 2021.
Related Post: Facebook's Probably Wrong … But Here's What it Does Right
Snap CEO Evan Spiegel seemed ready for any challenge, and in February he told analysts that sales should grow by 50% annually for the next several years.
In June, The Wall Street Journal reported that Snap and Apple (Nasdaq: AAPL) were working together to tackle digital ad sales in the new identifier for advertisers (IDFA) mobile era.
IDFA is a random code Apple assigns to iPhones and iPads for tracking purposes. In June, changes Apple made to its mobile operating system made it much more difficult for advertisers to access that data.
On Thursday, Snap reported that revenues are now expected to grow by only 28% to 32% next quarter.
Spiegel blamed changes made to the IDFA.
• The kneejerk reaction among pundits has been hyperbolic. The narrative is that the digital ad ecosystem is now broken.
Without tracking, pundits say online ads are no better than outdoor billboards, and that ad buyers will slow investment.
This is simply untrue.
The IDFA applies to Apple products only. While these devices represent 50% of the mobile market in the United States, penetration in only 14.1% globally.
Also, many of the biggest players in the digital ad sector are destinations unto themselves with billions of users …
• And their engineers have been working since February to develop IDFA workarounds.
The two best ways for investors to consider playing this trend are with Alphabet (Nasdaq: GOOGL) and Facebook (Nasdaq: FB).
YouTube (an Alphabet business) and Facebook consume 35% and 25%, respectively, of the entire global spend for digital ads. Advertisers who want to reach consumers on their platforms have no alternative.
• That market in the U.S. alone is expected to grow to $191 billion in 2021, or 25.5%, according to eMarketer, an online analytics firm.
The issues at Snap seem to be twofold:
1. It has a relatively small base of 293 million active users who are located predominantly in the United States.

2. Spiegel bet that an alliance with Apple would ensure a smooth IDFA transition.
Oops.
It's worth noting that Apple's digital ad business is reportedly growing rapidly. It helps that digital ads from Apple are not subjected to changes made to the IDFA.
Facebook's software developer kit uses IDFA data for targeting in third-party apps. Without good access, targeting is much less effective for ad buyers in its Audience Network program.
However, this is a relatively small slice of the revenue pie:
• The program produced 2020 revenues of only $3.4 billion. Overall, though, digital sales were $86 billion.
Ironically, the changes made to the IDFA may benefit Facebook in the longer term.
Ad buyers are likely to migrate to its data-rich Facebook portal, plus WhatsApp and Instagram applications.
Related Post: Sorry, Roku — the Future of Television Is (Google's) FAST
The prospect is eerily similar at Alphabet.
YouTube is an online powerhouse. More than one billion hours of video content is consumed on the platform daily. It has 2 billion global users, comprising 74% of adults in the United States, according to Hootsuite research.
More importantly, the website and application are part of the larger Google network …
YouTube accounts, as with Gmail, Maps and Chrome, are signed in to Google, regardless of the device used. Changes made to the IDFA don't have a material impact on these accounts.
Most of this is being lost in the current hyperbole over Snap, and what its revenue shortfall implies for the rest of the digital ads landscape.
• Longer-term investors should use near-term weakness in Facebook and Alphabet shares to add new positions.
At the time of writing, FB is trading at $324.40 and GOOGL is trading at $2,728.13.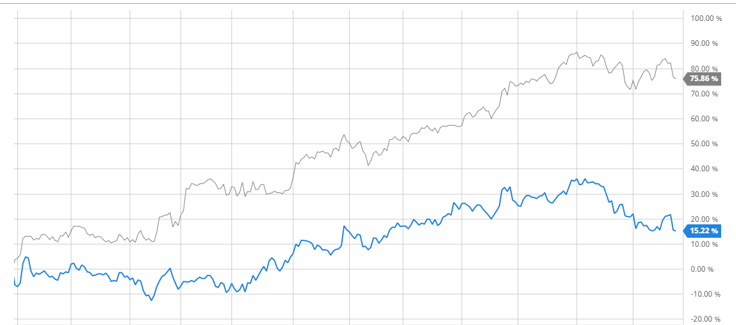 GOOGL is up 76% over the past year, and FB is up 15% over the past year.
These businesses have the scale and dominance to win as advertising moves online.
Best wishes,
Jon D. Markman