A Cybersecurity Star in Times of War
Tomorrow, one of the most important forecasts in the 50-year history of Weiss Ratings is set to be released.
We're already seeing the impacts of shocking current economic cycle. Inflation. War. Endless money printing.
Tomorrow, Dr. Martin Weiss is hosting an emergency Zoom call to discuss what he calls a "Financial Judgment Day."
To reserve your free seat and possibly take the next steps to both protect and grow substantial wealth over the coming years, click here now.
The world is more connected than ever before, but in times of war, that can sometimes be a bad thing.
Last week, the Biden administration announced that the Federal Communication Commission (FCC) will seek rules mandating minimum cybersecurity standards for infrastructure firms.
The move by the Feds should not come as a surprise.
The war in Ukraine and Russia's close ties with some of the world's most renowned hacking groups are a major wakeup call.

And days before Russian tanks began rolling into Ukraine, a major connectivity outage hit at Viasat (VSAT).
Based in Carlsbad, California, this company is a leading provider of high-speed satellite broadband and secure networking for military and commercial customers worldwide.
In this case, the Viasat modems that control thousands of European wind turbines mysteriously went offline.
Related Post: Why GM Isn't Tesla
The outage dramatically impacted the Ukrainian military as generals prepared for the Russian invasion. Reuters later reported that the outage was intentional … and the culprit was surprisingly not Russia.
These major developments have prompted the Biden administration to plan stronger oversight for organizations that provide key infrastructure services.
And to make certain that minimum standards are followed, the new regulatory framework will follow precedents set by the Clean Air Act of the Food and Drug Administration (FDA), according to a story in the MIT Technology Review.
A new filing at the FCC is seeking input from industry on the Border Gateway Protocol, the backbone of the internet's global routing system.
It's the start of greater regulation and a lot of new public funding for cybersecurity.
And by the looks of it, a gold rush in sales is headed toward CrowdStrike Holdings (CRWD).
CrowdStrike has been riding the cyber-threat tailwind since its founding in 2011.
The fast-growing company based in Sunnyvale, California, provides cybersecurity to 15 of the 20 largest banks, and 77 of the Fortune 100 companies.
Those private-sector clients are especially worried about new threats in the aftermath of the invasion of Ukraine … and for obvious reasons.
State-sponsored hacking groups out of Russia, China and North Korea are using sophisticated tools to embed malware deep inside the biggest networks.
In many cases, malicious code can go undetected for months, infecting millions of computers.
And recent events have unquestionably proven that its impacts can be devastating.
The Colonial Pipeline was hacked in May 2021 by cyberterrorists.
The 5,500-mile pipeline transports 100 million barrels per day (bpd) of gasoline and other fuel products to the eastern US.
Attackers distributed malware through email, then demanded a ransom to restore services. Gasoline futures spiked by 3%, according to a report from Reuters.
Two months later, U.S. Secretary of Energy Jennifer Granholm said that bad actors gained the ability to shut down the U.S. power grid.
That's a big area where CrowdStrike can help.
CrowdStrike's cloud-based software collects threat data across all the connected devices, analyzes the information using artificial intelligence and then seamlessly updates all endpoints.
On March 9, the company reported that fourth-quarter sales grew to $431 million, up 63% year over year.
Annualized recurring revenues surged 65% to 1.7 billion. And CEO George Kurtz said that the company added $217 million of net new annualized sales during the quarter.
Next year, Kurtz believes sales will move to the $2.1 billion range, up from $1.7 billion reported in 2021.
The best part?
All these gains don't even account for the new FCC cybersecurity guidelines for communication infrastructure companies like Viasat and the telecommunications sector.
The world is a dangerous place, and cybersecurity is essential as the world becomes increasingly digitalized.
Some businesses — like CrowdStrike — are uniquely positioned to benefit.
Defense contractors build missile-defense systems, armaments and fighter jets … the implements of kinetic war.
Related Post: A New War Is Already Here
Other firms such as CrowdStrike are constructing a different kind of defense apparatus. It's equally important.
At a price of $208, CrowdStrike shares trade at 133.6 times forward earnings. That number may seem frothy, yet the company is early into its profitability stage.
With gross margins of 73.6%, there is plenty of room for explosive earnings growth going forward.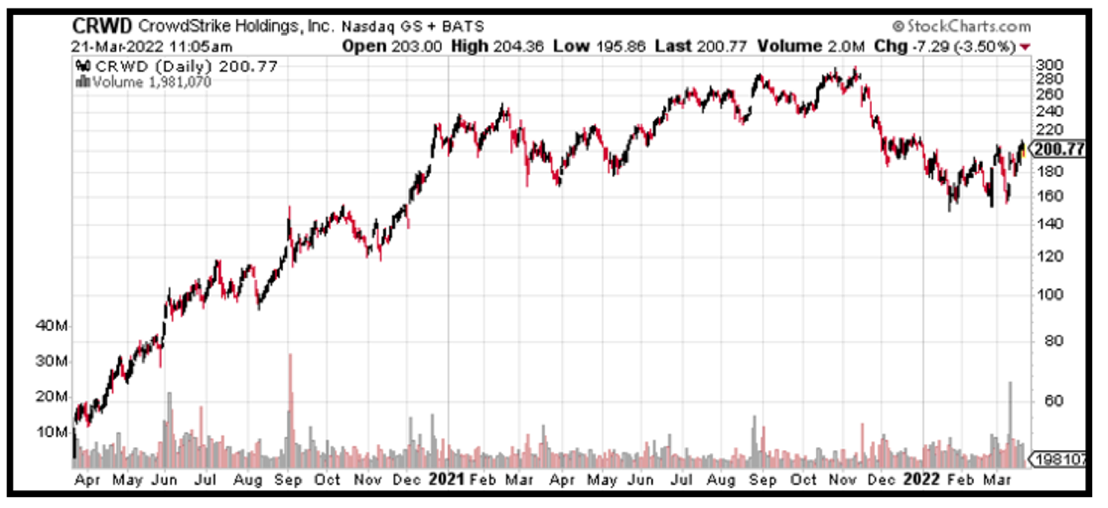 Shares traded in November at $300. A test of that level is possible within the next 12 months, representing a 50% gain from current levels.

Longer-term investors should consider buying pullbacks, but as always, remember to do your own due diligence before buying anything.
Best wishes,
Jon D. Markman