With gasoline prices surging, the timing could not be better for another high-end electric SUV … but General Motors (GM) still looks unprepared to join the electric vehicle (EV) market. On Tuesday, GM announced that production of its Cadillac LYRIQ is set to begin next week.
At first glance, you'd think this would be huge news and a potential hot seller, but the deck is stacked against its success.
Let's be perfectly clear: Despite countless press releases and bravado, General Motors is not really in the EV business.
At this stage, the company, based in Detroit, Michigan, is more focused on giving the impression it's an EV market leader … when in reality, it's still far from it.
Like so many top-heavy organizations, executives are more concerned with pleasing investors, rather than making products customers love.
That is not to say LYRIQ is hard to look at, or short on high-end features. It's a beautiful-looking car.
LYRIQ's styling is long, low and futuristic. Its 122-inch wheelbase is crafted on a skateboard platform.
The big, 20-inch wheels come with Cadillac's distinctive six-spoke alloy rims.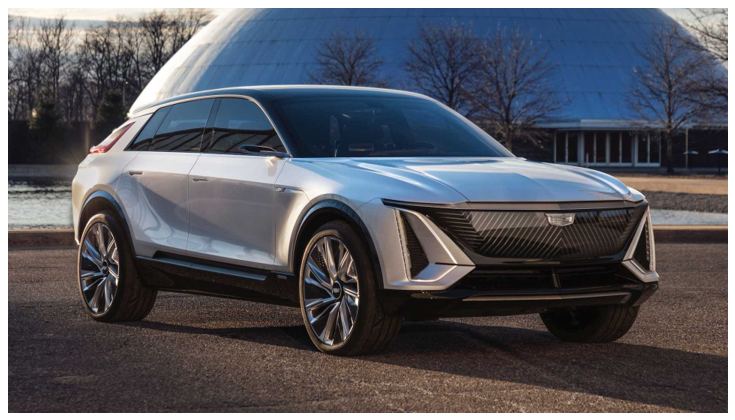 Its battery generates 340 horsepower and 324 pound-feet of torque, according release notes on the corporate website.
And its interior is just as impressive with plenty of cabin space, a massive 33-inch diagonal infotainment display, with a 19-speaker stereo system and the option for Super Cruise, an advanced driver assistance system that enables hands-free driving.
In a sense, the luxury SUV is designed to be a Tesla (TSLA)-killer … but that's ironically a big part of the problem.
GM wants to prove to investors that the company is capable of building EVs that can take on the best from Tesla … and win.
Right now, that certainly doesn't look like it will happen.
Related Post: Why Tesla's in a League of Its Own
Granted, GM's LYRIQ looks the part. On paper, the tech keeps up as well … but that's unfortunately about it, because all the LYRIC has is a fancy press release and a skeleton production run.
Although GM executives claim interest in LYRIQ is massive, the company took no reservations or deposits from actual customers, which is a major red flag.
And when pressed about the size of its initial production run, CNBC reports that GM spokespeople offered only vague platitudes about increasing production "fairly significantly from where the previous plan of record was."
GM is capable of designing EVs … but the company has shown no expertise in making them.
During the fourth quarter of 2021, GM delivered only 26 EVs domestically, down almost a whopping 100% year over year.
That number consisted of 25 Chevrolet Bolts and 1 GMC Hummer EV pickup. These puny numbers are mostly due to the Bolt getting a complete recall for faulty battery packs. Yikes.
In contrast, Tesla delivered 308,000 vehicles during the quarter. Deliveries in 2021 jumped to 936,172, up 83% from a year ago. That's the type of growth you want to see in an EV manufacturer.
Tesla bears make the argument that it's only a matter of time before the real automakers got into the EV business, and when that occurs, they'll dominate EV sales, but I wouldn't buy that logic.
Legacy automakers certainly hold scale advantages with parts suppliers, and this was supposed to translate into market share gains. Except it hasn't worked out that way.
Why? Well for starters, Tesla is wisely vertically integrated.
It makes the sheet metal, the battery packs and the software for its EVs. Its advantage, apart from having a huge backlog of actual customer orders, is having fewer parts suppliers and vendors.
This upper hand was on full display during 2021 when legacy automakers all over the world struggled under the weight of a semiconductor chip shortage.
We've seen the impact these global events can have on the economy … and it's important to point out that we're living in some of the most powerful cycles of history and nature ...
The cycle of economic expansion and contraction. The cycle of debt. The cycle of war. Instead of fighting them, I recommend joining them.
That's why I highly suggest checking out Dr. Martin Weiss' emergency Zoom call that will be held next week. For more information, click here now.
While the semiconductor chip shortage raged across the globe, Tesla's sales skyrocketed.
Related Post: Hop In, the EV Era Is Here
This debacle puts GM in a tricky spot. And it makes the company's claims of only selling EVs in 2030 seem like a fairy tale.
That message reads great in a press release, but getting there will be much tougher.
GM's perceived strength of an EV leader is really a weakness at the moment.
Its future is full of EV component shortages, product recalls, software glitches and unhappy customers.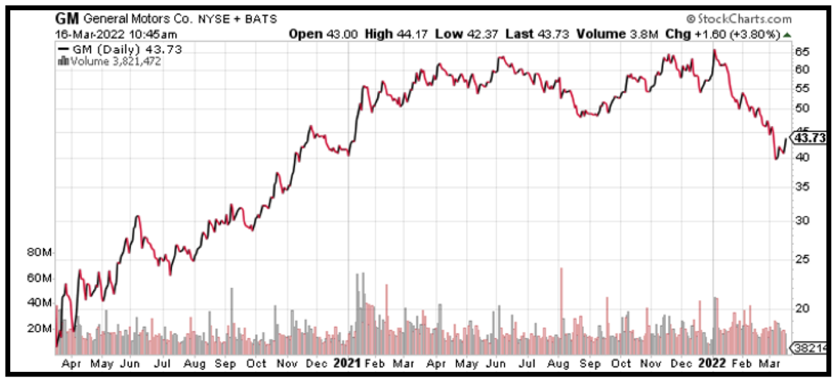 At a price of $43.73, GM shares trade at 5.8 times forward earnings and 0.5 times sales.
Savvy investors should strongly consider using any near-term strength to liquidate positions.
Best wishes,
Jon D. Markman