The biggest e-commerce company in the U.S. is getting into the healthcare business. People are worried about their medical records and getting ads to buy drugs online.
Last week, Amazon.com (AMZN) announced it will acquire One Medical for $3.9 billion. The deal brings the healthcare company, based in San Francisco, into the Amazon ecosystem.
People need to chill out. This is a flywheel thing and it's good for stakeholders.
Big Tech is under attack, mostly in the media and on Capitol Hill. With the exception of Meta Platforms (META), the key complaints are made-up and will have little longer-term effect on the businesses.
A survey from The Washington Post in 2021 found that customers hold Big Tech in very high esteem. Amazon, Alphabet (GOOGL) and Apple (AAPL) are trusted by customers.
Related Post: Why Meta & Alphabet Should Dance on TikTok's Grave
Those companies, and other American firms, were among the most trusted brands globally in 2021, according to a survey at Morning Consult.
Despite this, it's hard to go more than a day or two without sensationalized headlines about customers being in peril because Big Tech has too much power.
In fairness, several of these companies have built so-called walled gardens around their ecosystems. Apple integrates their watches, computers and iPhones so tightly that switching to competing products is difficult. Google uses a universal login. Its Gmail account shares data with Search, Maps, Google Drive and even YouTube.
But Amazon's flywheel has the best competitive advantage of them all.
The flywheel is at the center of Amazon's consumer-facing business model. It works like this …
Amazon.com is the biggest e-commerce company in the U.S. Its online store sells everything from auto parts to batteries to clothing. Most products are stored in 110 Amazon warehouses located on the edge of big population centers. Customers can get free, two-day shipping if they also purchase a monthly or annual Prime subscription.
Free shipping is the jumping-off point for the flywheel.
Among other services, a $14.99 per month or $139 per year Prime membership provides access to exclusive sales online and at Whole Foods, digital perks at Prime Gaming, tight integration with Amazon Alexa digital assistants and Prime Video, a free streaming media service. The latter is like a scaled-down version of Netflix (NFLX), but with live Thursday night NFL games. And more perks are being folded into Prime all of the time.
In June, Amazon announced a partnership with GrubHub. The deal offers Prime members one year of free food delivery in select markets.
Related Post: How Netflix Planned Its Death … and Possible Recovery
Through July 5, the company, based in Seattle, had 163.5 million domestic Prime members. The U.S. Census Bureau in 2020 found a total of 128.5 million households. Prime is ubiquitous.
One Medical customers should not fear Amazon. They should expect that some portion of their current healthcare costs is going to be folded into the flywheel for free.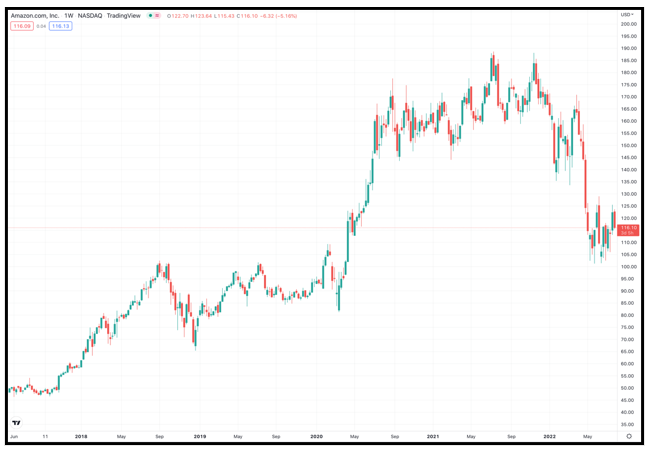 Five-year chart of AMZN stock.
CNBC notes that the current One Medical offering is a paid membership for $199 per year. The company maintains a mobile app where clients can record their blood pressure, resting heart rate, check lab results and renew prescriptions.
Journalists and politicians like to target Big Tech because the companies are powerful. They have thriving ecosystems that customers love, and the benefits of joining are mostly free. Big Tech is the ultimate Goliath to their pithy David. Except it's hard to compete with free.
For investors, tech shares are in a funny place. The political and rhetorical headwinds are strong, yet the core businesses are resilient. They're also only getting started. Wait until Amazon folds even more businesses into Prime.
Even with all of this, it's not time to be buying shares. Most Big Tech company shares are in the process of building bases. Ultimately, these consolidations will yield big moves higher.
I'll be certain to let you know when the time is right for shares to rise again.
Best wishes,
Jon D. Markman
P.S. We're about to make the biggest change in our 51-year history: expanding our research to lucrative Alpha Round deals. Discover how to seize these lucrative, pre-IPO opportunities, including FIRST ACCESS to one deal for Weiss Ratings members, by clicking here.