How Netflix Planned Its Death … and Possible Recovery
Netflix (NFLX) scored itself a nice win … especially after battling through a brutal start to 2022.
The real secret to effective management is to underpromise and overdeliver.
On Tuesday, Netflix exemplified this by delivering terrific second-quarter financial results, considering the bar had been set so low. Shares promptly scooted smartly higher.
Unfortunately, shares of other companies may not get the same Q2 earnings love.
Netflix & 'Free Will'
Netflix gets a lot of hate. From a fundamental perspective, shares have always been expensive. Even now, with 220 million paid monthly subscribers, execs say the company will only generate about $1 billion in free cash flow in 2023. And this metric has been way worse through the years.
The problem is spending.
Long before the Los Gatos, California-based company made the innovative jump in 2007 to a streaming distribution model, executives spent lavishly to build out the infrastructure of the business.
The first big spend was software, specifically compression algorithms and recommendation engines. Then came the mountains of cash used to conjure up a content library.
According to a report at the Hollywood Reporter, Netflix plans to spend $20 billion on media in 2023 alone, making it the biggest studio in the world by far.
Related Post: ADM Slam Dunks Earnings
While spending has served the company well through most of its history, headwinds began to develop in 2021. Subscription growth was slowing as the global economy emerged from COVID-19 lockdowns. That's when CEO Ted Sarandos decided to torpedo future expectations. It was an opportunity to begin telling a new story about the company.
It was a giant reset.
Following the Netflix Q1 results, Sarandos said the streaming company might lose 2 million subscribers in Q2. He also shocked analysts with plans to revisit previous decisions that categorically ruled out advertising and password-sharing.
Jump forward to this past Tuesday. With investors expecting the worst, Sarandos said Netflix lost only 970,000 subscribers, and earnings swelled to $3.20 per share, versus guidance of $2.98.
Shares jumped 7.5% higher in after-hours trading.
There's a lot to like about Netflix. Advertising should grow subscribers significantly, especially in emerging markets where customers would rather watch commercials than pay a monthly subscription fee. And cutting back on password-sharing should help with subscriptions, too.

News leaked ahead of the Q2 results that Netflix was also clamping down on password-sharing in several Latin American markets.
So Goes Netflix, So Goes the Rest of Tech? Don't Bank on It
Bullish investors often use Netflix as a technology company proxy. The streaming media giant reports results near the beginning of earnings season. It's also a big business with a household name. The combination makes it tempting to wager that, and so goes Netflix, so goes the rest of tech.
That's dangerous.
Netflix executives had their reset moment last quarter. Sarandos saw a big opportunity to slash expectations, and he took it. Shares fell precipitously. There's reason to believe the same scenario might play out this quarter for the rest of tech, and it won't be pretty.
Related Post: War Fuels Inflation
Investors should be careful chasing down recent gains. Specifically, I'd be wary of many of the smaller Software-as-a-Service (SaaS) companies. Some of these stocks are 50%-70% off their highs.
Nobody wants to admit it, but share price weakness makes it more difficult for smaller companies to:
Raise capital.


Retain employees.


And most importantly, win new business from larger companies.
Chief information officers in the Fortune 100 are wary of hitching their business to smaller firms that may fail … or will eventually get bought out in the future.
The bottom line is, while Netflix shares may ultimately rally much higher from current levels, investors should be careful about ascribing its brighter prospects to the rest of tech.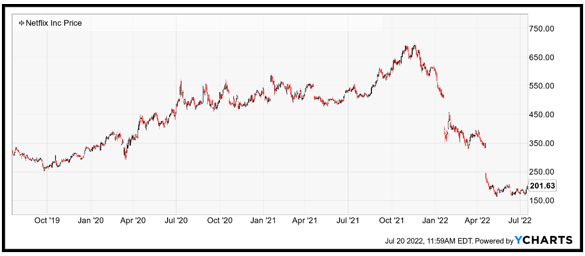 Remember the part where I mentioned executives underpromise? Well, that might be coming up straight ahead, and savvy investors will do well not to fall for it.
Best wishes,
Jon D. Markman
P.S. Earlier this week, Dr. Martin Weiss revealed an opportunity that's been off-limits to the public for nearly 100 years. Click here to learn more about how to invest in Alpha Rounds of companies that have yet to go public.