Apple on Track to Lead Augmented Reality
Augmented reality is finally ready for the mass market. New AR devices are coming soon that will change the way we learn, play and see the world.
Last week, a leaked viral video showed the amazing potential of AR to bridge the gap between our physical world and the wealth of digital information now available. It's the beginning of a gigantic new business segment.
Investors should consider buying Apple (AAPL) shares for the long-term on big pullbacks.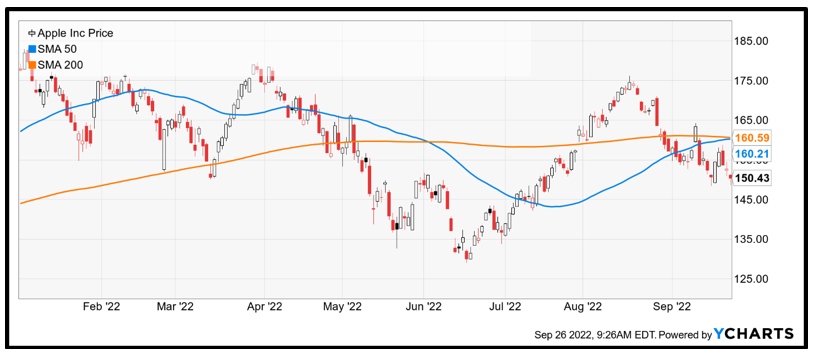 CEO Tim Cook first expressed interest in AR in 2016 when he told analysts the platform could be huge. Cook promised Apple would make investments accordingly.
Since then the Cupertino, California-based company filed numerous patents, bought startups, hired new executives and launched ARKit, its AR software developer kit. The purchase of Camerai in 2019, and Next VR during 2020, added computer vision building blocks plus teams of dedicated developers. Bloomberg reported in January that all of those investments could bear fruit as early as 2023, when Apple is set to release its first AR device.

Updated reports in early September suggest three new Apple headsets will straddle both the augmented and virtual worlds. The first is a goggles-like device code-named Reality Pro that will feature two 4K micro-OLED displays with Apple microprocessors, 15 optical modules, WiFi 6E connectivity, eye and object tracking plus handheld gesture controls.
Gestures play a big part of the video that's making the rounds in social media.
Related Post: Why Solar Windows Are an Investment Moonshot
The video was made by a company called Varjo and shows a user interacting with a digital version of the human anatomy. The data is superimposed over the physical world. It's rich and tactile. The experience is fully immersive. The headset wearer easily manipulates musculature, portions of the skeleton, organs and even elements of the circulatory system.
The video is viral because it shows how AR solves a problem: The Harvard Business Review notes that human reality is three-dimensional. We now have access to more information than at any time in history, yet most of it is trapped in a two-dimensional world of pages and screens.
AR unlocks that information by making it 3D.
Cook recognized the potential long ago. More importantly, he saw an opportunity to scale AR into a huge new business vertical for Apple. New iPhones and iPads now come equipped with state-of-the-art LiDar sensors. These light-detecting radar sensors can easily 3D map rooms, people and objects in space. Using software developed through corporate acquisitions, it's a snap to add AR digital information in real time.
The rest of the integration is happening in Cupertino. Changes to the core operating system code allow AR content to be viewed on devices as old as the first-generation iPhone SE. For those not keeping track, that smartphone predates iPhone 6.
There are some challenges, though.

Related Post: Here's What to Do About Nvidia
According to Bloomberg, the Reality Pro headset might cost as much as $3,000. There's also the pesky problem of ultimately convincing users to wear computers on their face.
Apple product managers have never been shy about pricing company gear above the competition. The average selling price of iPhones far exceeds Androids, yet in 2021 the company shipped 228 million units. And the marketing team somehow convinced tens of millions of customers to buy AirPods. The original wireless white earbuds launched in 2016 and looked like a pair of golf tees dangling from the wearer's ears.

Three years later Dan Ives, an analyst at Wedbush estimated that Apple sold 60 million units, making AirPods a $12 billion business.
AR has that kind of potential, only bigger. AR fundamentally changes the way people interact with digital media. There are big new opportunities in education, gaming and general productivity. Also, the large ecosystem of iPhone and iPad users provides a convenient transition to headsets.
At a price of $150.43, Apple shares trade at 23.3x forward earnings and 6.3x sales. Technology stocks have had a rough time in 2022, and Apple is down 15% year to date.
Given the AR opportunity, shares are definitely attractive over the long term. When the broad rebound in the market arrives, be sure to have Apple on your shopping list.
All the best,
Jon D. Markman
P.S. Dr. Martin Weiss and a special guest expert who picked the last big bottom are getting ready to show our members how to spot the NEXT one. Not only is it coming our way, but the list of winners will also look VERY different from the last. Get that list and more Wednesday, Sept. 28 at 2 p.m. Eastern. Click here to get your free ticket.