Why Solar Windows Are an Investment Moonshot
The future of energy is transparent. One perfect example is companies working on clear solar panels. It's a moonshot-type investment opportunity.
Researchers at Morgan Stanley published a report last week with a startling discovery: Innovation accelerates during economic uncertainty. Analysts argue transparent solar panels are one of 20 emergent technologies with game-changing potential.
With that said, investors should put solar panel manufacturer JinkoSolar (JKS) on their radar.
To be clear, moonshots are ideas so big that they reset the investment playing field. Transparent solar panels could disrupt construction materials and change the face of future commercial buildings.
Most of the moonshots listed by Morgan Stanley (MS) researchers are not new technologies. They're the product of a deliberate cycle of invention. Academic publications lead to further research and development, followed by venture capital funding, then initial public offerings.
When successful, new public companies emerge. Legacy firms are disrupted and eventually usurped.
This is largely the story of Google, born in 1998 when Stanford students Larry Page and Sergey Brin began tinkering with algorithms and a networked computer. It was 2004 — six years later — before the company issued shares to the public.
Morgan analysts discovered that one-third of the companies in the Fortune 500 were incubated during recessions. And since 2000, a staggering 40% of all shareholder wealth has been generated by only 1% of public companies. Like Google, those companies developed moonshots.
Related Post: How the New iPhone Will Dial Up Apple Shares
Transparent solar cells are especially interesting because the technology is two decades in the making and sublimely simple. Transparent and semi-transparent solar panels are more like windows that also generate electricity, as opposed to the traditional heavy photovoltaic cells found on rooftops.
The fully transparent tech works by embedding organic salts into glass panels. The salts collect infrared and ultraviolet light while letting visible light pass through. When combined, the IR and UV light creates a new light that casts a subtle glow. This energy is captured by narrow photovoltaic cells located at the perimeter of the glass, creating electricity.
The tech was first used in 2014 by researchers at Michigan State University. While these panels are currently less than half as efficient as traditional PVs, they can be placed into any window opening. The potential scale of deployment is enormous.
Glass used in office and other commercial buildings in the United States alone is 5 to 7 billion square meters. Replacing even a tiny portion of that installed base annually would create a huge new business opportunity.
Semi-transparent solar cells are essentially thin layers of PV cells sandwiched between glass panels. The semiconductor material is thin enough to be mostly transparent, although some researchers are rethinking traditional photovoltaic panels completely.
Third-generation PVs use perovskite, a thin, lightweight and flexible material in place of silicon. These PVs can be applied directly to layers of glass to generate electricity.
Saule Technologies, a public company listed in Poland, has rolled out glass perovskite PVs for use in office building facades. The company also makes energy-harvesting solar blinds.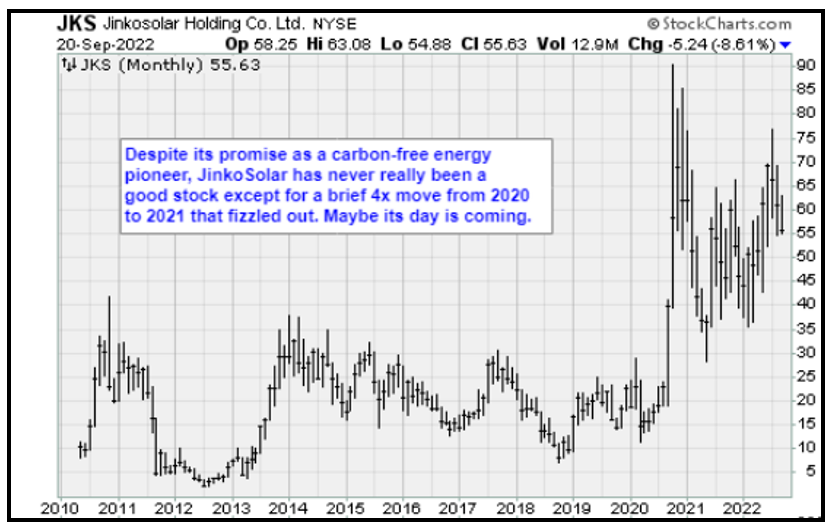 JKS' 12-year growth chart.
Click here
to see full-sized image.
JinkoSolar Holding is a vertically integrated solar company with production facilities in China, United States, Malaysia and Vietnam. The Shanghai-based firm sells solar products globally to utility, commercial and residential customers. And business is booming.
Related Post: Cancer-Detecting Blood Test Bolsters This Healthcare Stock
The company reported in August that Q2 revenues rose to $2.8 billion, up 27.6% year over year. Gross profits jumped to $414 million, a gain of 24.5% versus a year ago. The growth is being led by China and Europe where shipments grew 136% and 137%, respectively.
There are some risks.
The Chinese government has a zero-tolerance covid policy that's led to several production constraints. CEO Xiande Li says shutdowns and province-wide power rationing has led to several intermittent factory closures.
There's also the general risk of investing in Chinese firms. JinkoSolar still reports unaudited financial results. The Securities and Exchange Commission has proposed a 2024 deadline for Chinese firms to adopt generally accepted accounting principles.
Assuming these issues are resolved, at a share price of $55.63, JinkoSolar is super cheap, trading at only 9.5x forward earnings, and 0.4x sales.
The opportunity to invest in a moonshot with semi-transparent PV glass, and the inherent growth of traditional solar, is like a ray of sunlight in a dark and energy-challenged world.
As always, be sure to conduct your own due diligence beforehand.
Best,
Jon D. Markman
P.S. If you enjoyed reading this issue, check out my paid service, The Power Elite. Members are currently sitting on open gains of around 142%, 130% and 122%!