How the New iPhone Will Dial Up Apple Shares
It's September, so it's time for Apple (AAPL) to unveil its new iPhone.
However, this one is going to be a bigger deal than most. Here's why …
Around this time each year, executives at Apple reveal the company's new products. The most plugged-in analyst says this year's event will show off an iPhone that looks nothing like previous devices.
Change means bigger sales, meaning investors should use recent weakness to buy Apple.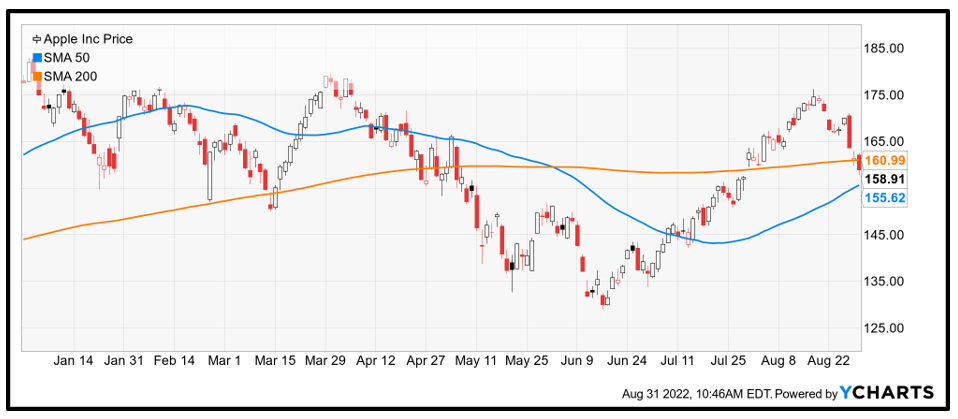 Related Post: Amazon's Recent Failure Makes It a Winner
By most accounts, iPhones are a lucrative yet mature business. They've been the gift that's kept on giving ever since 2009 when the first iPhone sent shockwaves through the tech sector.
Back then, there were plenty of critics. Analysts said it was too expensive. Microsoft's (MSFT) then-CEO Steve Ballmer said it would flop because it didn't have a keyboard.
The iPhone succeeded, in part, because it was different than all the other devices at the time.
Ironically, the new iPhone is going to look like Samsung Electronics' (SSNLF) Galaxy smartphone, according to Ming-Chi Kuo, an analyst at TF International Securities. Kuo has a terrific track record predicting the components used in new iPhones, mostly due to his perch in Asia where iPhone parts are sourced.
He says the flagship iPhone Pro Max will ditch the iconic notch in favor of a hole-punch cutout for the front-facing camera. While that will make it look like a Samsung phone, it will be unlike any iPhone on the planet … and that's likely to be a huge selling point.
Several other camera upgrades are planned, too. In another tweet, Kuo said the new iPhone lineup will get sensors made by Sony Group (SONY) for better low-light sensitivity, and a new wide-angle lens for the top-of-the-line devices.
A possible big benefit to shareholders is pricing.
Related Post: Pathway to Tech Turnaround
According to Kuo, Apple is expected to raise the price of the Pro and Pro Max devices by 15%. While executives at the company based in Cupertino, California, may blame the price increases on inflation, history shows that most of the premium will fall to the bottom line in the form of higher profits.
Apple dominates smartphone profitability because its customers are fiercely loyal, thumbing their noses at all other smartphone brands. Higher prices simply mean bigger profits at Apple.
A survey of American teens conducted by the research firm Piper Sandler showed that 90% of those surveyed plan to buy an iPhone as their next device. A staggering 87% already own iPhones.
That stranglehold on the future of the American smartphone market is also driving the adoption of other Apple products in the ecosystem.
The Apple Watch is the best-selling watch in the world, according to a note from International Data. Air Pods, the iconic white earbuds, began as the wireless replacement to the hands-free Ear Pods that came packaged with every new iPhone.
During a span of only six years, that business has grown from a standing start to 90 million pairs sold during the 2021 holiday season.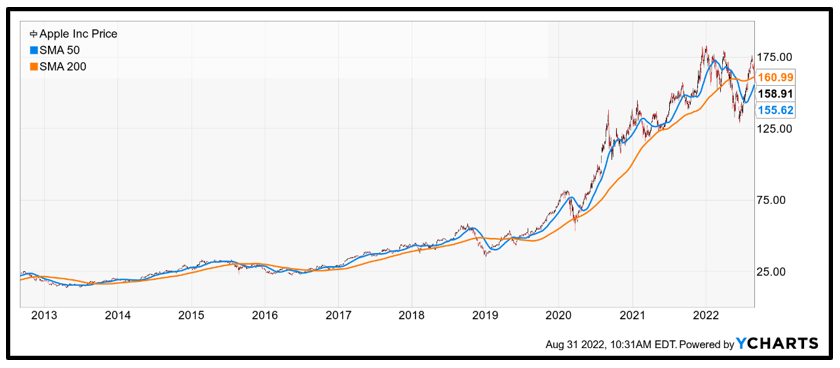 None of this has been lost on investors. Apple is now the largest public company in the Western world. At a share price of $158.91, its market capitalization has grown to $2.65 trillion.
Shares have been under pressure since mid-August, along with the rest of the tech sector. There's mounting concern that in its battle against inflation, the Fed will raise rates too aggressively, leading to an economic recession.
There's no way to know for sure if that'll actually happen, yet it's safe to say macroeconomic events are unlikely to change Apple's core business.
The franchise is largely immune to competitors because they're unable to make iPhones and other devices within the Apple ecosystem.
The new iPhone will be especially sought after. For one thing, it looks like no other device within the Apple product family, and based on Apple's history, looking different has served the firm quite well.
Shares trade at 24.6 times forward earnings, and 6.8 times sales. Given the near- and long-term prospects for profit growth, investors should use this weakness to accumulate shares.
As always, remember to conduct your own due diligence beforehand.
Best wishes,
Jon D. Markman
P.S. If you like this article, check out my other service, The Power Elite. Members are currently sitting on open gains of 148%, 131% and 150% in tech-leveraged positions!