Amazon's Recent Failure Makes It a Winner
Failure is at the center of every corporate decision at Amazon.com (AMZN) and it's what makes the company a long-term winner.
On Wednesday, executives at the online shopping giant announced that Amazon Care is shuttering. The telehealth venture was Amazon's first big foray into healthcare. It didn't work, yet all is not lost.
Therefore, investors should continue to bet on Amazon.com.
Related Post: Small Chipmaker, Big Vision
Jeff Bezos, chair and founder, said it best:
"To invent you have to experiment and if you know in advance that it's going to work, it's not an experiment. Most large organizations embrace the idea of invention but are not willing to suffer the string of failed experiments necessary to get there."
Failure is woven into the DNA of Amazon.com. Bezos embraced big, failed experiments because they were necessary to innovate and grow the business. There have been a lot of failures through the years, from Fire Phone (a would-be iPhone competitor) to Amazon Auctions, its eBay (EBAY) rival.
Amazon Care was also a copycat business of sorts.
Formed in 2017, the firm was designed to take on Teladoc Health (TDOC) by offering virtual urgent care, telehealth consultations and in-home visits from nurses for a fee. After executives consulted with would-be corporate customers and hired doctors and nurses, the service was launched in 2019 solely to the staff of Amazon.com.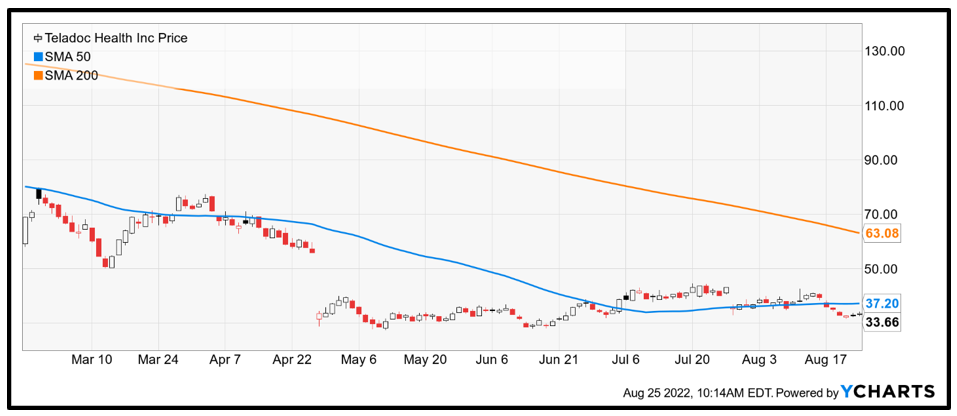 Building new businesses for Amazon.com is another great innovation concept. It provides fledgling enterprises with the initial scale to succeed. This was the blueprint for Amazon Web Services, its cloud-computing behemoth. Today, AWS is home to some of the biggest corporations in the world. Its revenue run rate is $79 billion and counting.
It's hard to say what went wrong at Amazon Care. An Amazon.com spokesperson said the offering was not complete enough for large customers.
However, healthcare remains an area of focus at Amazon.com.

The company announced last month that it would acquire One Medical, a provider of primary-care services. The $3.9 billion purchase sets up Amazon.com to move beyond telehealth, and The Wall Street Journal reported last week that the company is one of several bidders for Signify Health (SGFY), a healthcare payment platform.
Related Post: Stock Indexes Are at an Inflection Point
Healthcare in the United States is a tremendous opportunity.
Per capita spending on health is an astonishing $10,224, the highest in the world. That's roughly twice the amount spent by other developed countries, according to data collected at Policy Advice.
Corporations are struggling to keep pace with rising costs, and consumers are feeling the pain, too.
The Bureau of Labor Statistics found in 2018 that American households spent an average of $4,968 on health insurance, prescription drugs, medical services and devices.
Through its AWS unit, Amazon.com has tremendous corporate reach. And its Prime membership program in 2021 had 153 million domestic accounts. The Census Bureau notes that there are only 129.9 million households in the entire country.
Getting healthcare right at Amazon.com would definitely move the needle.
This is also why investors shouldn't be terribly concerned that Amazon Care is shutting down. The history of Amazon.com is that failed products and services lead to innovative big businesses.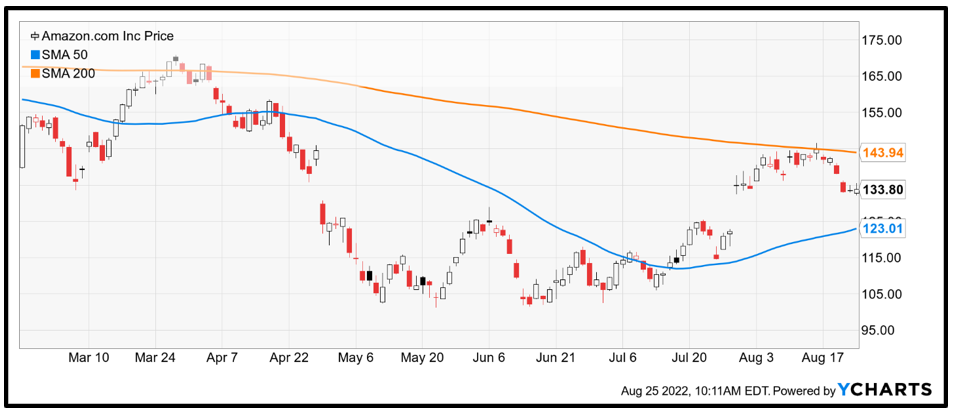 At a share price of $133.80, the stock has been in a funk this year. Some of this is the sloppy price action for technology shares in general. However, Amazon.com did build a sturdy base during May and July. A breakout from $130 yielded an immediate rally to $143.90, the 200-day moving average.
Best wishes,
Jon D. Markman
P.S. Tuesday, Dr. Martin Weiss held a free tutorial for an all-weather strategy that helps investors consistently beat the market. Testing shows this strategy would've beaten the S&P 500 nearly 5-to-1 over the past 19 years! See how it works by clicking here.