Small Chipmaker, Big Vision
The electric vehicle revolution is here, even in the most unexpected places, and it's a huge opportunity for astute investors.
Executives at Stellantis NV (STLA), the automotive manufacturing giant that develops and manufactures Dodge vehicles, announced last week that production of its Dodge Charger and Challenger muscle cars will end this year. The company is replacing them with electric vehicles.
This would make right now a good time for investors to consider buying ON Semiconductor (ON).
You see, the Challenger and Charger brands in 2008 became part of a muscle car revival. Aging baby boomers and internal combustion engine enthusiasts suddenly found the marketplace full of revamped Chevy Camaros, Ford (F) Mustangs and Dodge Chargers. Many of these 1970s look-alikes were stuffed with some of the most powerful motors ever developed in Michigan.
Related Post: Tesla's a Good Long-Term Bet
The Hemi Hellcat engine in 2018 quickly earned a cult following. With its best power configuration, fitted with a premium exhaust system, the Hemi V8 motor generated a whopping 808 horsepower. Production of the Hellcat will end in 2024, according to Dodge CEO Tim Kuniskis.
Kuniskis said last week that the electric 2024 Charger Daytona SRT Banshee will be a better muscle car. It will be more aerodynamic, efficient and faster than even the most powerful supercharged Hellcat models. It will even have a simulated 126 dB engine roar, just like the old fire-breathing cats.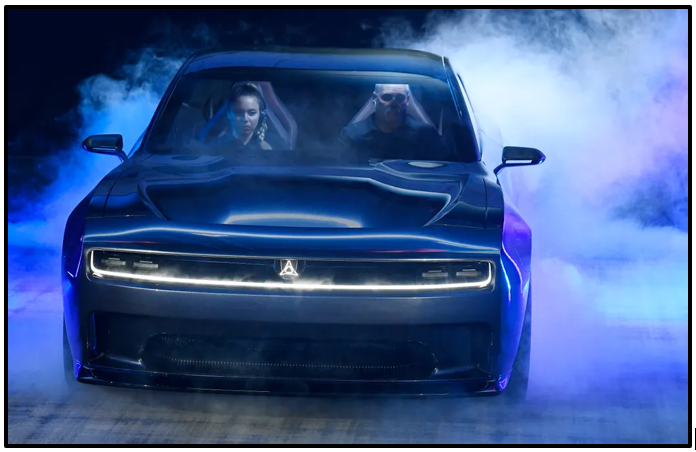 It all may seem a bit silly. However, the emergence of EVs for muscle car enthusiasts punctuates where the industry is headed. Electrification is happening, regardless of whether consumers want it. Investors need to understand that huge new markets are taking shape, creating real winners.
Speaking of, the automobile industry is chasing EV pioneer Tesla (TSLA). The Austin, Texas-based company disrupted transportation by wisely resetting the value proposition. EV perception has moved from eco-friendly and utilitarian, to pavement-shredding ICE-beaters that are also fun to drive. Now Stellantis and other automakers are racing to catch up.
ON Semiconductor is a top 10 supplier to the automotive sector and the business is quickly building capacity to service the growth in EVs.

The Phoenix, Arizona-based company sells semiconductor components into every part of the emergent EV marketplace, including power modules and DC-DC power conversion for electrification, image sensors and modules for advanced driver assistance systems, LED drivers and operational amplifiers for LED lighting. During 2021, ON had revenues of $6.74 billion, 38% of which came from the automotive sector.
CEO Hassane El-Khoury has been carefully reorienting the business around vehicle electrification. He engineered the acquisition of GT Advanced technologies in 2021, a major producer of silicon carbide, which is considered a key material for the next generation power switching devices used for EVs, EV charging stations and clean energy infrastructure.
Related Post: Digital Ads Are the Future
ON Semiconductor reported in early August that its automotive and industrial units now account for 66% of overall sales, where robust demand for power management systems and sensors continue to outpace supply.
During the Q2 call with analysts, El-Khoury noted that some customers have taken the unusual step of co-investing with ON to expand capacity of key semiconductor components. Others have extended existing contracts through 2029, as they clamor to secure supply of the components they'll need for future EVs.
During the pandemic, the entire sector was walloped by shortages of legacy chips used for everything from speedometers and electronic hatch mechanisms to automatic braking systems. Executives in Detroit, Germany, Korea and Japan can't afford to have the same thing happen as they electrify their fleets.
EVs are certainly the future of Stellantis. This was unthinkable only five years ago. Executives were thumbing their noses at electrification and rolling out gas-guzzling trucks, SUVs and muscle cars with supercharged Hellcat engines. Those monsters are being replaced with EVs the company says nobody saw coming.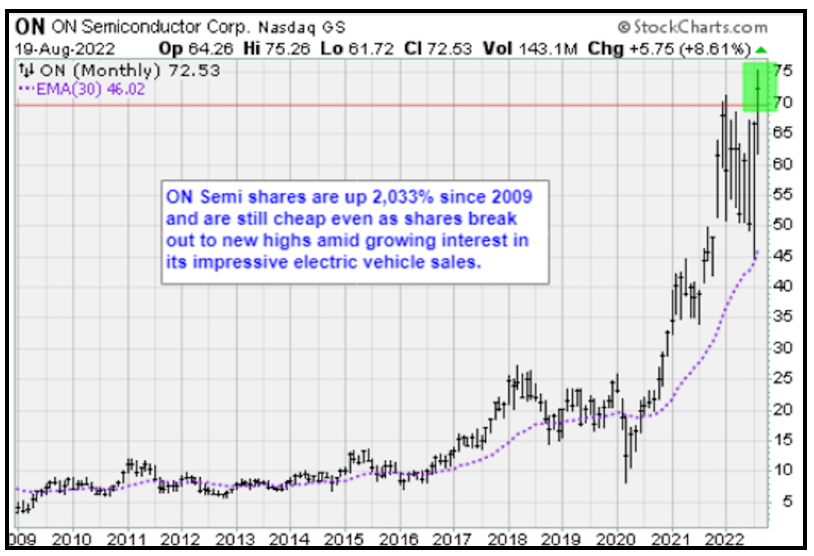 At a price of $72.53, ON shares trade at 14.7x forward earnings and 3.8x sales. This is extremely inexpensive given gross margins of 46.6% and the potential of its automotive and sustainable ecosystem businesses.
The stock is a buy for longer-term investors, though always make sure to conduct your own due diligence beforehand.
Long-term investors should also check out my service, The Power Elite, for tailored recommendations. Members are currently sitting on open gains of 164%, 141% and 132%!
Best wishes,
Jon D. Markman