Tesla's a Good Long-Term Bet
It looks like Tesla (TSLA) is firing on all cylinders, and its growth phase is only getting started. This means shares are about to race much higher.
Tesla's CEO Elon Musk tweeted on Sunday that the electric vehicle company has now made over 3 million vehicles, up from only 3,000 a decade ago. The company's manufacturing growth is remarkable.
Longer-term investors should consider buying Tesla shares.
The bull case for Tesla has always been a leap of faith. Even with its heady manufacturing growth, the company based in Austin, Texas, is a tiny player in terms of total vehicles made. In fact, Toyota (TM) built 10 million vehicles during 2021 alone, and that was in the midst of a parts shortage.
Despite this, at a market capitalization of $904 billion, Tesla shares fetch two times greater than the combined value of Ford Motor (F) ($63.6B), General Motors (GM) ($56B), Stellantis (STLA) ($48.5B) and Toyota ($259.6B).
Bulls are betting on exponential future growth. It's a good bet.
The California New Car Dealers Association announced last week that Tesla produced the two top-selling vehicles in the state during the first half of 2022. This is a huge development.
Related Post: What Bears Don't Want You to Hear
Its EVs, the Model Y and Model 3, are more popular than long-time internal combustion engine best sellers like Toyota Rav4, Camry and Corolla.
Tesla Model Y commands 54.2% market share in the luxury compact sport utility vehicle marketplace. The 42,320 units were sold in the first half compared to 7,856 units of Mercedes GLC-Class, the runner-up. The comparable BMW, Audi and Lexus rounded out the top five, each having sold less than 5,500 units.
Among luxury sedans, Model 3 took 60.8% market share over Lexus and Bayerische Motoren Werke Aktiengesellschaft (BMWYY). Even the Tesla Model S bested its comparables in the luxury and high-end sports car category, according to a report at Electrek.
It would be easy to dismiss this data as a California thing. The state is notoriously green. It's also the biggest and most important car market in the U.S.
All carmakers compete there, and trends that start in California necessarily sweep across the country because automobile companies are reluctant to build two sets of vehicles.
Tesla's growth isn't limited to California.
The company's become a major player in China, where this week its Shanghai factory celebrated the manufacture of its 1 millionth vehicle, according to the Musk tweet. That factory began production in 2019 and today is considered to be the most advanced facility in the world.
Bloomberg noted that recent upgrades put the factory on pace to produce 21,000 cars and SUVs weekly, more than 1 million units annually.
Plus, Tesla has next-generation factories coming onstream in Austin, Texas, and near Berlin in Germany. Those facilities will use so-called giga castings to shrink complexity.
The massive rear casting reduces the number of pieces of sheet metal from 171 to two pieces of aluminum, while eliminating 1,700 welds. Musk says that casting can be optimized even further.
These are real competitive advantages that allow Tesla to build EVs faster and more efficiently. High average selling prices are maintaining profits margins. Tesla recently posted 26.5% profit margins, about 1,400 basis points higher than the industry average.
What's more, high prices are having no impact on demand.
Related Post: Semiconductor Leader Is a Good Bet
Drive Tesla Canada reported Friday that Tesla has officially stopped taking new orders in the U.S. and Canada for the Model 3 Long Range due to overwhelming demand. The new order configuration page now states flatly that the product is unavailable until 2023.
Let's now look at the company's one-year technical chart: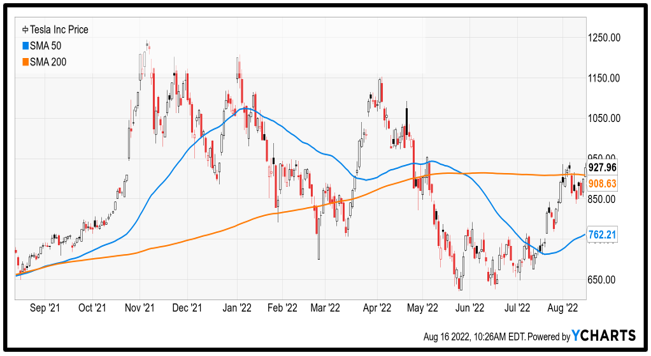 Tesla One-Year Tech Chart Source: YCharts
The bottom line: Investors should see the bigger picture. Tesla's in the pole position in the race to EVs, the future of the sector.
Analysts at Alix Partners expect EV sales to rise to 28% by 2025, up from the current level of only 3%. By 2028, the same analysts see the EV segment reaching 59%. In Europe, market share during the same time frame is expected to jump to 44% and 83%, respectively.
A close above $900 for Tesla should be the start of the next big move higher. As I mentioned earlier, longer-term investors should consider buying Tesla shares now before its next leg up. As always, though, remember to do your own due diligence.
And if you're interested in my tailored picks for industry-dominating companies, join members of my service, The Power Elite, who are enjoying open gains of more than 172%, 164% and 151%.
Click here to learn more.
Best wishes,
Jon D. Markman
P.S. On Tuesday, Aug. 23, Dr. Martin Weiss is offering a free tutorial for an "all-weather" strategy for consistently beating the market. Testing shows this simple strategy would've beaten the S&P 500 nearly five to one over the past 19 years! See how it works by signing up here.