Semiconductor Leader Is a Good Bet
Semiconductors and software are creeping into everything. But it's the story behind the bigger trend that's easy to miss, and investors can't afford that oversight.

Executives at Brembo revealed a revolutionary automotive-braking system last week. Sensify is completely electronic. It has no mechanical connection to the brake pedal … everything is digital.
Chalk up another victory for the digital transformation.

High-end car owners are probably familiar with Brembo. The Italian company, founded in 1961, is synonymous with the uber-specification braking systems used in Formula 1 race cars, sports cars, motorcycles and luxury vehicles. Its new platform is a big step up from what's now available.
Related Post: The Gas Crisis in Europe Heats Up
Since the 1980s, all but the least expensive vehicles have featured antilock braking systems. ABS is electronic, yet it's based on a hydraulic system where the brake pedal is mechanically connected to a master cylinder that sends fluids to pistons at each wheel. This structure means that stopping pressure is generally applied equally across all four wheels.
Sensify is a dramatic departure.
Stepping on the brake pedal sends an electronic signal to a central computer. The processor then commands electronic actuators at each wheel. Brembo execs say that the electronic system is 80% faster than current ABS products. Sensify is also able to send signals to each wheel independently, so the outer brakes might get more stopping power when the brakes are applied driving into a corner.
The system is safer, quieter and potentially game-changing for electric vehicles.
EVs still suffer from the perception that they're inefficient. Consumers continue to offer up battery life as the No. 1 worry about making the transition to EVs, according to a survey from Car and Driver.
Sensify maximizes the regenerative breaking, thereby sending more energy back to EV batteries and increasing range.
It all seems too good to be true. In reality, it's the same digital transformation story that's disrupting so much of the old economy. Semiconductors are creeping into everything, and they're changing what's possible.
This is a story that bears don't want told because they argue chips are still in a glut due to demand pulled forward from the pandemic, when corporations rushed to buy up laptops to help employees work from home. However, this idea ignores new applications.
Related Post: Amazon Enters Healthcare
Advanced Micro Devices (AMD) makes high-end chipsets used in personal computers, laptops, game consoles and data centers. The company, based in Santa Clara, California, began delivering those chips in 2021 to Tesla (TSLA) for use in its high-end Model S and Model X vehicles. Today AMD chips power Tesla's entire fleet of EVs.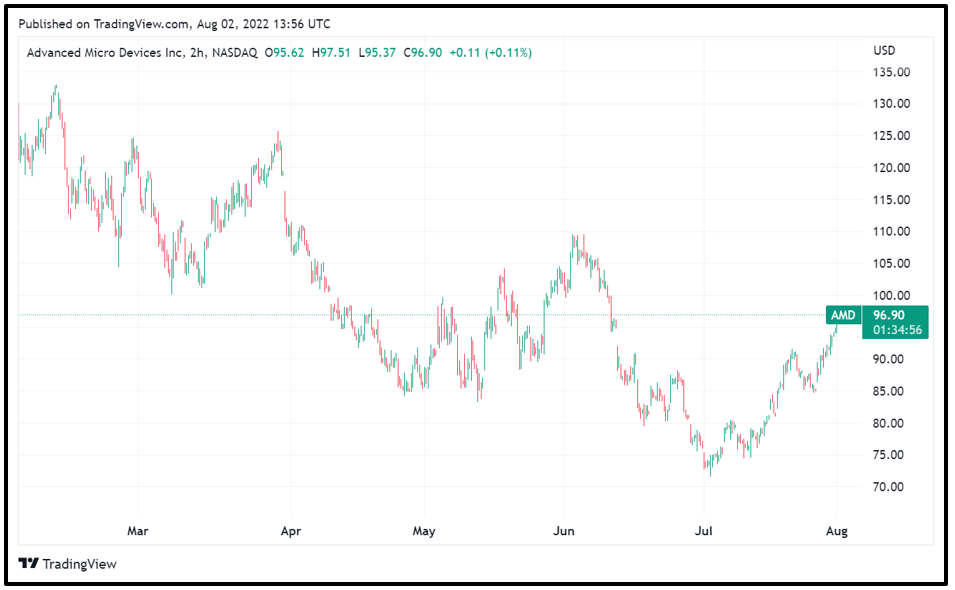 Tesla uses AMD chips to power its media control unit and many other smaller systems. This application for AMD chips didn't exist two years ago. It's part of a bigger trend that CEO Lisa Su called "computing everywhere" in an interview with Fortune magazine.
This point is important.
Su says the current semiconductor shortage occurred because of the overwhelming demand for chips as they move into more categories. This trend isn't going to be reversed any time soon.
AMD is scheduled on Tuesday to report its Q2 financials. While the company is clearly stealing market share in data-center processors from its rival, Intel (INTC), AMD is also building big new markets as applications expand.
Two years ago, completely digital braking systems seemed unimaginable. Now they're a reality due to powerful semiconductors and software.
This disruption is a big opportunity for investors. Savvyinvestors should consider shares of AMD into any weakness.
As always, be sure to do your own due diligence.
Best wishes,
Jon D. Markman
P.S. For the first time in our 51-year history, we've expanded our research to include lucrative, early stage investment opportunities on companies that aren't public. Discover how to seize these opportunities by clicking here now.