Digital Ads Are the Future
Last Tuesday, executives at The Trade Desk (TTD) announced that revenues during Q2 rose 35% year over year. The outlook for the rest of 2022 is even brighter. The stock price jumped 20%.
TTD is the clear-cut winner of digital advertising platforms, and investors should consider securing shares of the company.
A bullish outlook for digital ads is far from the consensus view. Investors have been overwhelmed by a lot of misinformation. Weak earnings reports from Snap (SNAP), Meta Platforms (META) and Roku (ROKU) cast a big shadow on the entire sector.
Bears say digital ads are not the panacea that longer-term bulls have made it out to be. Bears also argue that high valuations for the sector are not warranted and that investors should get out while the getting is good, so to speak.
Related Post: Netflix Ad Winners
As with all misinformation, there's enough truth in the bearish view to make the argument palatable to the mainstream. Digital ad spending will rise and fall with the ebbs and flows of general ad spending. At present, spending for digital ads is two-thirds of all spending. If spending declines, there will be some falloff.
What bears don't say is the trend for online ad spending is rising, not falling. Spending for digital is projected to reach 73% by 2027, according to research complied at Statista.
More importantly, the shortfalls at Snap, Meta and Roku can be explained by significant market share losses. The problem is micro, not macro.
Meanwhile … the market is speaking.
Producing media is expensive. Consumers, as much as they hate ads, are unwilling to pay hefty subscription costs for media. They prefer to suffer through ads. Ironically, the promise of commercial-free video on demand has been replaced with a business model that looks a lot like traditional commercial TV, except delivered online.
Even executives at Netflix (NFLX) have softened their view on digital ads. As recently as 2020, management at the Los Gatos, California-based company panned the idea of commercials.
However, shrinking subscriptions in 2022 is a powerful motivator. Suddenly, ads seem like a good idea. Here's a look at Netflix's one-year tech chart …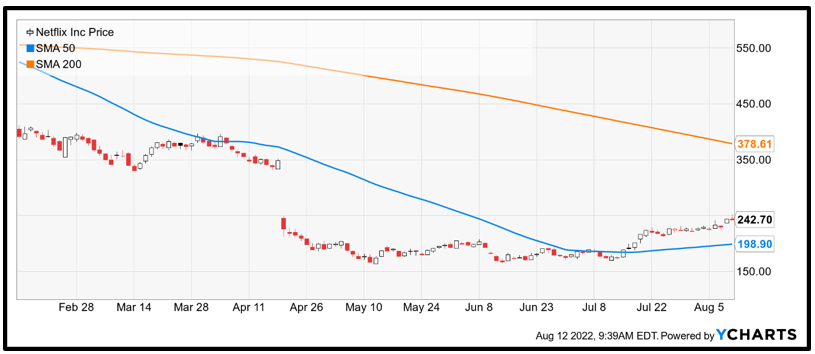 Netflix one-year chart. Source: YCharts
Now, let's get back to The Trade Desk, which is a data-driven digital ad platform business. The Ventura, California-based company uses sophisticated software to help ad buyers place real-time digital ads across the online world not owned by Alphabet (GOOGL) and Meta Platforms.
Related Post: Look for Tech Bargains
Since its initial public offering in 2015, executives at The Trade Desk have been telling a consistent story about the future of media, which will be digital and mostly ad-supported.
Digital content is on demand and available on any screen. Ad-supported content democratizes that media by removing the barriers of affordability. This might be why executives at Netflix are now experimenting with ads.
Deloitte Insights found in 2022 that most consumers draw the limit at three paid subscriptions. Its Digital Media Trends report was clear: The future of digital media delivery will be supported with ads.
The Trade Desk reported on Tuesday that sales in Q2 rose to $377 million, up from $280 million a year ago. The adjusted earnings before interest, taxes and amortization margin were 37%, in line with past quarters.
And CEO Jeff Green explained that TTD continues to sign new longer-term agreements with big ad buyers, negating the idea that buyers are moving away from digital ads.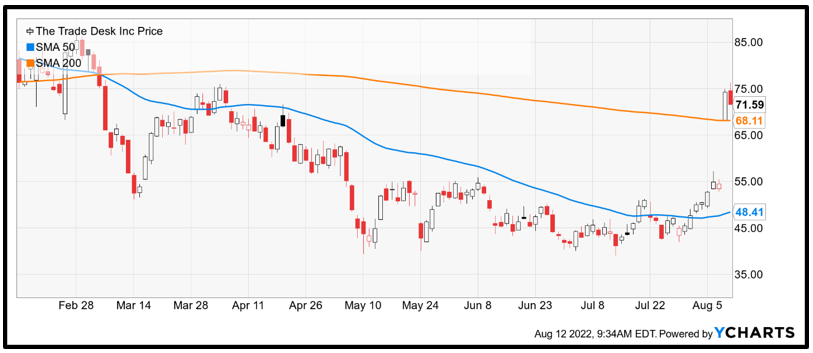 The Trade Desk six-month chart. Source: YCharts
It's easy to lose sight of bigger investment trends. Comments from companies that are losing market share get a lot of attention. Their failings are often generalized.
Digital advertising continues to grow. Companies like The Trade Desk are gobbling up market share and mindshare among the most important buyers.
At around $73 per share, The Trade Desk trades at 50 times forward earnings with a market capitalization of $25.3 billion. Given its dominance in programmatic ad placement, shares are a bargain.

Patient investors should buy shares into near-term weakness. Though, as always, make sure to do your own research and due diligence beforehand.
Also, if you enjoyed this content, you should check out my other service, The Power Elite. Members of that service are currently sitting on enormous open gains of 164%, 155% and 147%!
Best wishes,
Jon D. Markman