Cancer-Detecting Blood Test Bolsters This Healthcare Stock
Researchers are making real progress diagnosing cancer with a simple blood test. It's a game changer in healthcare and a big deal for investors.
Results published last week from a new medical study show that researchers have developed a DNA blood test that is 99.1% effective screening for several types of cancer.
That means investors should consider buying Guardant Health (GH) to cash in on this opportunity.
Screening for cancer with a simple blood test used to be the stuff of science fiction. So-called liquid biopsies, if accurate, could save millions of lives with early diagnosis and reduce healthcare costs by billions through better resource allocation.
The problem has always been accuracy. Researchers worried about false positives — tests that detected cancer when there was none.
The Pathfinder study offered liquid biopsies to 6,621 adults aged 50 and over. The test was negative for 6,529 participants. Ninety-two study members, or 0.9%, returned positive results. And of these, 38% were later found to have cancer, according to results published at ClinicalTrials.gov.
More importantly, the liquid biopsy spotted ovarian and pancreatic cancers, typically only detected in their latter stages when survival rates are poor. Catching these cancers early provides the best chance of treatment.
Related Post: Biden's Pressure on China Should Make Snap Dance
Guardant Health is one of several companies pursuing a simple blood test for cancer. The Palo Alto, California-based company uses cutting-edge big data, machine learning and genomic sequencing techniques to help clinicians diagnose cancer using cheaper, more effective methods.
In 2019, the company completed a hotly anticipated initial public offering. Even after investment bankers bumped the initial offering price to $19, shares still jumped 70% on the first trading day.
While the investment climate was more favorable for growth companies in 2019, Guardant was a special case. Prior to its IPO, the firm had seven funding rounds, and raised $550 million from venture capital heavyweights like Softbank, Sequoia Capital, T. Rowe Price, Khosla Ventures and Lightspeed Venture Partners. Those investors saw the future of innovative healthcare that Guardant was promising.
In fact, CEO Helmy Eltoukhy promised a liquid biopsy that would ultimately allow oncologists to see all of the patient's genomic information in one easy-to-administer blood test.
The alternative is a tissue biopsy, which can be expensive and risky because those tests require a piece of the physical tumor for analysis.
In an interview with CNBC in 2018, Eltoukhy claimed that a typical lung cancer biopsy costs $14,000 and has a complication rate of 19%. The same information can be gleaned from a Guardant test with only two teaspoons of blood.
The low cost and convenience mean the test can be performed frequently to track how the tumor is mutating with medication and treatment.
Guardant's secret is applying digital-communication algorithms to the process of DNA sequencing. Whereas tissue biopsies look at the tumor only, this process reveals the entire genome.
It also means the science works across all cancers. Additionally, Eltoukhy says machine learning, coupled with big data analytics, lead to a 1,000X-10,000X error rate reductions.
Related Post: Tough Times for Tech Investors Could Get Worse
It's the kind of crazy progression that Guardant officials believe will unlock an $80 billion addressable market, according to a January investor presentation.
Guardant shares in the past were a highflier.
The stock soared to $180 in 2021. However, rising interest rates and investor skittishness regarding growth stocks sent shares reeling below $30 in April. Since that time the stock has doubled, and it's likely that the best is yet to come.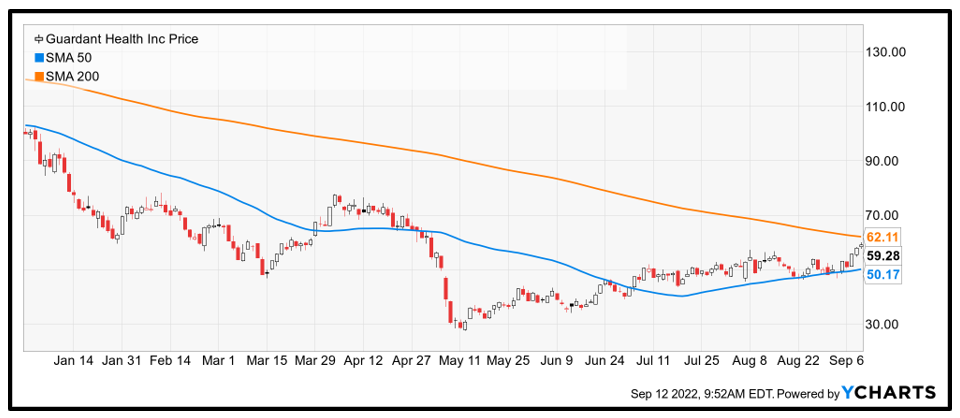 Year-to-date chart of GH. The company is rallying to test its 200 moving average.
Click here
to see full-sized image.
Although there's more research to perform, the Pathfinder study validates the science of liquid biopsies. This should lead to new business models most investors can't even imagine. Tests are likely to become commonplace to reduce healthcare costs and save lives.
Guardant shares currently have a total market capitalization of $5.9 billion and trade at 14.5x sales. The company logged $370 million in sales in 2021 and is not currently profitable.
Long-term investors should consider buying shares following a rally above $62.40, the 200-day moving average. As always, make sure to conduct your own due diligence beforehand.
All the best,
Jon D. Markman
P.S. If you'd like my individual picks sent directly to you as soon as I make them, check out my service, The Power Elite. Members are currently sitting on open gains of 159%, 147% and 126%!