Biden's Pressure on China Should Make Snap Dance
Something big is happening in Washington with respect to China, and it's going to change everything for investors.
According to a new report Friday, President Joe Biden is preparing a series of executive orders that will dramatically curtail investment in China, what technology can be sold there and the proliferation of TikTok.
This is bad news for Qualcomm (QCOM) and good news for Snap (SNAP).
Semafor reported last week that Biden will set the wheels in motion to ban direct investment by American firms in Chinese technology companies. The president also wants to limit what kinds of technology can be sold in China.
While the initial focus will be high-end semiconductors, the guidelines may extend to artificial intelligence, quantum computing, electric vehicles and rare earth metals.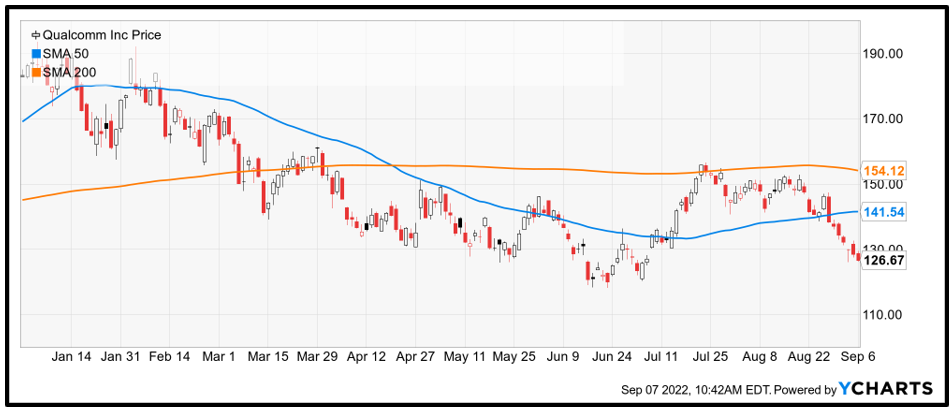 Year-to-date chart of QCOM.
Click here
to see full-sized image.
The motivation is clear: Mute Chinese neocolonialism.

China is rising as a superpower. Under the leadership of President Xi Jinping, the Chinese Communist Party set ambitious goals toward expanding its influence across the globe. Advanced technology is a good place to start, especially in the developing world.
The Belt and Road Initiative, introduced in 2013, is a Chinese global infrastructure development strategy for roads, rail systems and sea routes. The BRI seeks to help countries in Asia, Europe, Africa, the Middle East and the Americas exchange capital, talent and technology. The catch is that the infrastructure must come from Chinese firms.
Related Post: How the New iPhone Will Dial Up Apple Shares
Leaders in the U.S. State Department believe that infrastructure will become a tool for the Chinese government to further its political agenda.
Semafor notes that officials in the Biden administration were particularly alarmed to learn that Sequoia Capital, a major Silicon Valley venture capital firm, is raising $8 billion to make new investments in Chinese technology firms.
The yet-to-be-announced executive orders will make it tougher to invest in China, limit what technology can be sold to Chinese firms and squash the rising influence of Chinese-owned companies like TikTok.
This will have wide-ranging implications for several American companies.

During the past week, Nvidia (NVDA) revealed in a Securities and Exchange filing that the U.S. government asked the company to stop selling certain technologies to China. And Bloomberg reported last week that Berkshire Hathaway (BRKA) has begun liquidating its investment in Boyd Gaming (BYD), a major Chinese battery and EV manufacturer.
The pain could be more severe for Qualcomm. The company, based in San Diego, designs cutting-edge semiconductors used in smartphones and communication gear used in next-generation EVs. More important, the company derives 67.4% of its $33.5 billion annual sales from China.
Related Post: Teen's Invention Means EV Expansion
Snap is on the other side of the ledger. The company, based in Santa Monica, California, operates Snapchat, a social media platform that's popular with teens and 20-somethings. Snap isn't active in China, but unfortunately, a prominent, Chinese-owned firm is active in Snap's market …

TikTok is a social media phenomenon and it's gobbling up market shares from Snap. So much so that videos created and shared on TikTok are often shared and viewed on Snapchat, as well.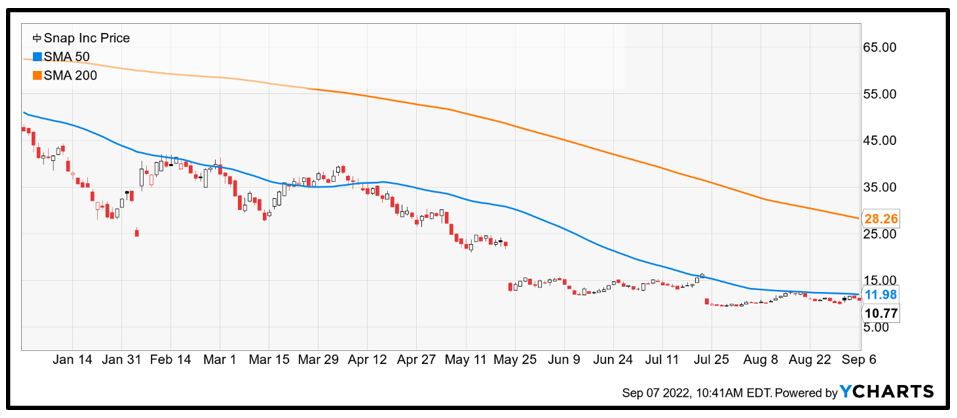 Year-to-date chart of SNAP.
Click here
to see full-sized image.
The Chinese social media company has been the most downloaded smartphone app globally for the past two years.
Given its Chinese roots, official data is sparse, yet industry insiders believe TikTok has sales in the $4.6 billion range.
The Biden administration is more concerned about what the firm is doing with all the data it's collecting on an estimated 155 million U.S. members. That information could be used to sway public opinion through disinformation campaigns.
Nine sitting U.S. senators sent a letter in June to Treasury Secretary Janet Yellen to address that concern. A second letter was sent in July to Lina Khan, chair of the Federal Trade Commission, to investigate data security at ByteDance, the Chinese parent company of TikTok.
Snap would be the direct and immediate beneficiary of any potential TikTok regulation. Snap shares are down 77% year to date.
The bottom line is some direct action on China and tech is imminent, and it will have a dramatic impact on the near-term performance of specific firms. The time for investors to prepare is now.
All the best,
Jon D. Markman