Teen's Invention Means EV Expansion
A Florida teen may have the answer to supply constraints that slowed the adoption of electric vehicles. This is how investors can play along.
Robert Sansone is the winner of the 2022 Regeneron International Science and Engineering Fair for his research on high-torque, magnet-free electric motors. The innovative design could make EVs cheaper and more widely available.
According to the press release, Sansone hopes his research will lead to the proliferation of EVs that do not require magnets made from strategically important rare earth elements, or REEs.
One way investors can consider taking advantage is by buying shares of Amphenol (APH). More on that later. First, some background for the situation …

There's no doubt that leaders at automakers across the globe want to move their fleets to electric propulsion.
Sweeping plans have been announced at Ford (F), General Motors (GM), Volkswagen (VWAGY), Bayerische Motoren Werke (BMW), Mercedes Benz Group (DMLRY), Hyundai Motor Company (HYMTF), Honda (HMC) and Toyota (TM).
However, the transition is fraught with supply chain concerns. Too many companies are chasing too few components needed to make electric motors at scale.
Currently, all EVs use electromagnetic fields and rotors to create torque. Unfortunately, these motors also require magnets that use rare earth elements. REEs are both costly to mine, and nonrenewable.
Related Post: Tesla's a Good Long-Term Bet
Sansone wanted to develop a motor that was independent of REEs. So, he cut out the magnets.
So-called synchronous reluctance motors have been around since 1926 when a white paper from Doherty and Nickel explained torque development in salient-pole synchronous machines. These motors are widely used in fans and pumps. They're also rugged, efficient and most importantly, magnet-free. However, automakers don't use them for EVs because they do not generate enough torque.
Torque is the genius behind the success of Tesla (TSLA). It makes the EVs fun to drive because they have instant, breathtaking acceleration.
The genius behind Sansone's research is that he used a second electromagnetic field to spin the rotor faster, creating more torque. The work could transform the EV industry, according to a report at The Smithsonian.

To get the required torque for an EV, Sansone compiled research, then went about building models made from 3D-printed plastic, copper wires and a steel rotor. He's still working through the math for future patents; however, the research was sufficiently advanced to win first prize this year at Regeneron ISEF.

The contest this year featured 1,750 applicants from 63 countries, and offered prize money of nearly $8 million, according to Society for Science.
How Investors Can Play It
Amphenol makes fiber optic connectors, interconnect systems, sensors, antennas, infotainment, light assemblies, switches and power management products for the automotive sector.
Related Post: Recession-Resistant Big Tech & EV Stocks
The company, based in Wallingford, Connecticut, completed the acquisition of SSI in 2018 to broaden its portfolio to high-tech sensor systems, including ultrasonic level systems used widely across the automotive and industrial sectors. These sensors are essential for collecting the data needed to power next generation cars and trucks. Amphenol's other businesses make all the connections and handle the power switching.
Collectively, the package is surprisingly lucrative.
The company reported its Q2 earnings in July:
Sales reached a record $3.1 billion, up 18% from a year ago.
The bottom line was stronger. Adjusted generally accepted accounting principles earnings rose to $0.75 per share, up 23% year over year.
And operating margin was 20.7%, according to documents filed at the Securities and Exchange Commission.
Magnet-free electric motors would be a giant step forward in the transition to EVs for the automotive sector. Motors without REEs would bring down costs and provide supply chain security. This should help the sector attain scale.
It's hard to comprehend that a 17-year-old high schooler might play a vital role, yet innovation comes from unexpected places. Thomas Edison started his career as an inventor around age 16, after all. Sansone's research is innovative, and experts say it could change the entire EV transition.
Amphenol is clearly one of the early winners in the transition to EVs. That business will get much better as more EVs go mainstream. The company receives a "B" or "Buy"-rating from Weiss.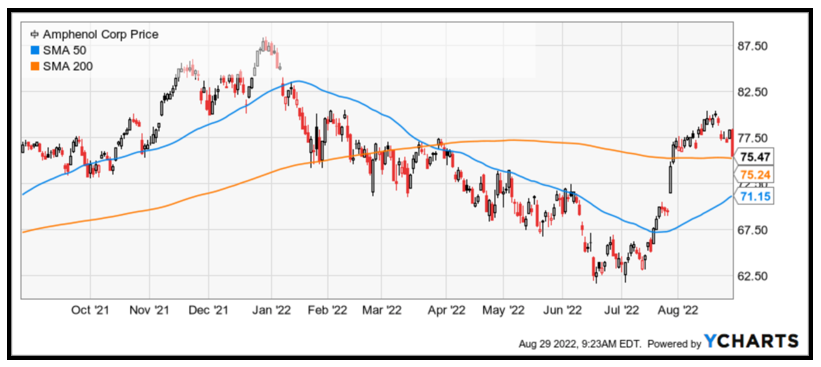 One-year chart of APH. Source: YCharts
Shares trade at 24.7 times forward earnings, and 3.9 times sales. The market capitalization is $46.6 billion. The prospects for Amphenol are bright given the push toward EVs. Investors with a longer-term time horizon can safely buy Amphenol shares trading above $81.50.
As always, conduct your own due diligence.
Best wishes,
Jon D. Markman
P.S. Testing shows that Weiss Ratings' battle-tested "All-Weather" strategy would have outperformed Buffett's Berkshire Hathaway (BRKA) by 5.3-to-1 in both good markets and bad. Click here for access to a FREE tutorial on this game-changing strategy now.