Attacks on TikTok Bring Upside for Snap
Addressable markets are being cut in half, then cut in half again. Division is killing progress in politics, business and especially technology.
Yet, despite that, there are still some winners. Here is one.
Bob Lefsetz wrote this week about Trevor Noah wanting to quit his late-night Comedy Central show because it was hindering his career. Lefsetz makes the point that mass media is fantasy. Real success is in the niches.
That's exactly why investors should consider buying Snap (SNAP). Let me explain.
You see, Snap is in the midst of a terrible predicament. The youth-oriented social media company depends almost entirely on digital advertising sales; however, in 2019 executives decided to work with Apple (AAPL) to stiffen privacy.
The alliance hit all of the correct notes with technology writers who worried that Alphabet (GOOGL) and Meta Platforms (META) were becoming too powerful. However, it was always a bad idea for Snap shareholders.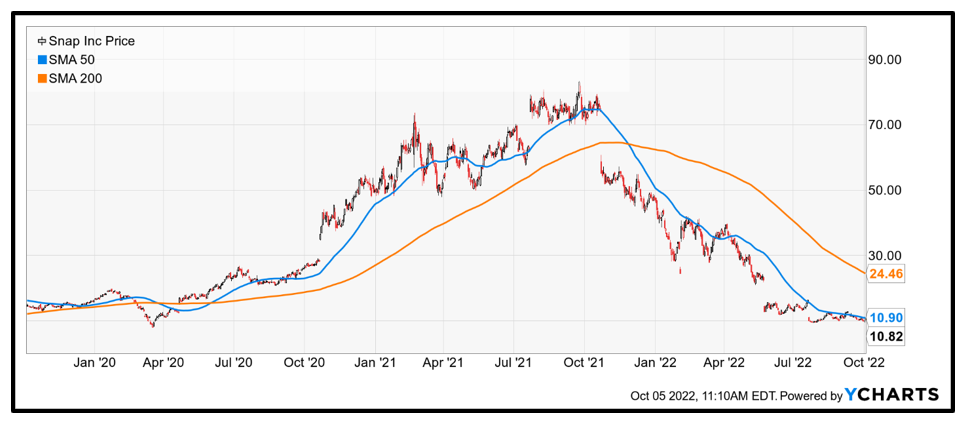 Two-year chart of SNAP.
Click here
to see full-sized image.
Then in 2021, Apple changed its mobile operating system. The alteration made it difficult for Snap to sell advertising inventory across iPhones and iPads. Sales plummeted and the stock price followed, declining 77% in 2022 alone. On top of that, Bloomberg reported that Apple is stepping up its digital ad business, which turns it into a competitor.
There is far too much hyperventilating about digital ads. Analysts and investors seem to believe that online advertising has peaked. That is not the case. In fact, nearly all ads will become digital in the near future.
Analysts at eMarketer expect that by 2025, the digital ad market in the United States will exceed $300 billion, comprising 75% of all media spending.
Related Post: Digital Ads Are the Future of Online Streaming Services
This trend is not going to be reversed, and it's causing TV networks to bleed customers. Everything is on demand — even live sports are moving in that direction.
Amazon.com (AMZN) is now the sole distributor of Thursday Night Football, and Apple has a deal to broadcast Major League Baseball.
Late-night TV audiences are minuscule compared to on demand social media views, or the financial rewards for servicing motivated by niche markets. Trevor Noah is right to want out of late-night TV. There is no money or fame there — or as much as there is in digital media.
TV executives correctly blame TikTok, a Chinese-owned social media company that has become the most downloaded mobile application for the last two years running. Lefsetz says TikTok is the heartbeat of America.
The rise of the short-form video platform has everything to do with its addictive algorithm. The application analyzes what individual users watch, for how long, and then it serves up an endless queue of personalized, related videos.
Tens of millions of users are captivated, often watching for hours at a time, and can be manipulated with divisive content or disinformation campaigns.
Related Post: Intel Left in the Lurch
Fears that the Chinese government might weaponize TikTok led President Trump to sign an executive order insisting that ByteDance sell TikTok's American operations to a firm located in the U.S. That order was replaced in 2021 with a new order from President Biden.
TikTok is currently banned by the Army and Navy. And several bills are circulating in Washington that would ban the mobile app in the U.S. outright.
TikTok Ban Would Be Big for Snap
The Santa Monica, California-based company is currently being ravaged by declining engagement and ad sales growth as its members flee to TikTok. Shares skidded 39% in July, following the release of disappointing Q2 results.
The political divide between the U.S. and China is escalating. In August, the Biden Administration asked Nvidia (NVDA) and Advanced Micro Devices (AMD) to stop selling state-of-the-art processors needed for artificial intelligence to Chinese companies. CNN Business reports the fear is that China will use AI to develop weapons against the U.S.
TikTok can be weaponized, and its niche business has become foundational in American culture. Restrictions to its distribution or algorithm seem inevitable.
In a world where TikTok is limited, Snap shares look cheap.
At a share price of $10.82, the stock is down 87% from its record high of $83.34.
Snap shares could easily rebound to $22.40, a gain of 107% from current levels.
Always conduct your own due diligence beforehand.
Best wishes,
Jon D. Markman
P.S. If you'd like my tailored picks in the digital space, considering joining my trading service, The Power Elite. Members are enjoying open gains of nearly 140%, 130% and 123%.