Digital Ads Are the Future of Online Streaming Services
Technology and television were supposed to merge. It turns out that TV simply outlasted tech, and that'll have big implications for tech investors.
Hollywood insiders were shocked last week when the CEO of Fox Entertainment quit to join Roku (ROKU) as the president of its media division. The hire is a major win for the digital platform.
However, investors should continue to focus on The Trade Desk (TTD), a stock I introduced to members six years ago.
I confess that I have not been a fan of Roku. I could never quite get my head around how the company based in San Jose, California, could compete with the likes of Amazon.com (AMZN) and Alphabet (GOOGL).
In addition to their deep pockets, the latter two companies seemed better in every way. Their software, advertising platforms and relationships with content providers made Roku seem minor-league.
With shares trading near $440 in 2021 I recommended that investors short Roku stock, a stance I rarely take. Those shares today are currently worth only $61.11.
Related Post: Tech Giant vs. Government Roadblocks
Roku's fall from grace as a tech company has been profound. It was also entirely predictable. However, I didn't expect the next chapter, which is that Roku is becoming a digital media company.
The hire of Charlie Collier away from Fox begins that transformation. Hollywood insiders were shocked by what appears to be a nonlateral move, according to a report in Variety.
Let's now take a look at Roku's monthly chart …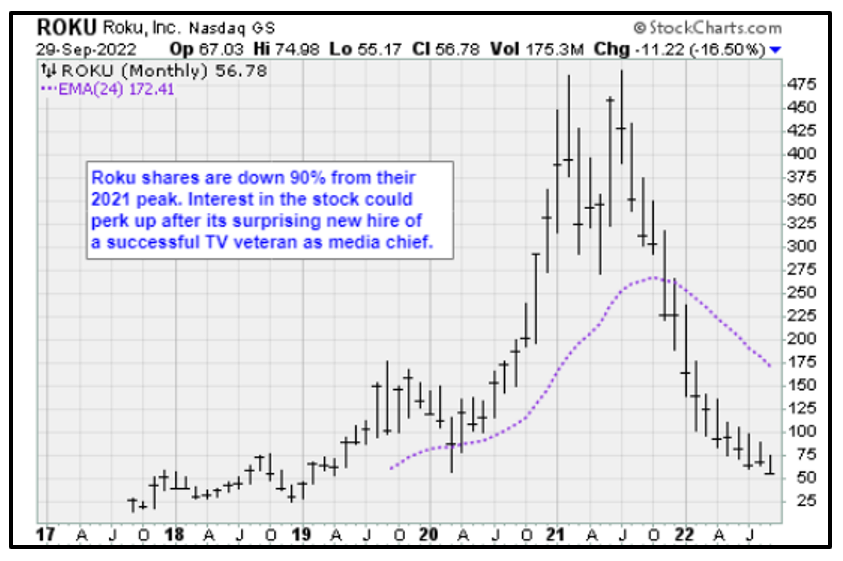 ROKU monthly chart.
Click here
to see full-sized image.
Collier has a reputation for producing salable content. At Fox, he engineered the buyouts of the animation shop Bento Box Entertainment, the TMZ franchise and a joint venture with TV celebrity chef Gordon Ramsay.
Before joining Fox in 2018, Collier was president at AMC Networks where he helped drive the development of an impressive catalog of original series such as "Mad Men," "Breaking Bad" and "The Walking Dead."
Collier is an extremely impressive hire for a media company.
This distinction is important for Roku investors. Media companies are not tech companies; they don't typically get the expansive leeway or price/earnings multiples afforded to tech businesses. Investors will demand profits almost immediately. They're also not going to give Roku a tech company valuation. The implication is even lower prices.
There's a better way for investors to play the expansion of digital media.
Related Post: Apple on Track to Lead Augmented Reality
The Trade Desk is a great business. I've written glowingly since 2016 about the prospects for digital advertising. Inevitably, all media advertising will be digital, and the majority of those will be programmatic.
Programmatic digital ad campaigns rely on algorithms and sophisticated exchange platforms, like the one developed by The Trade Desk. Ad buyers can purchase ad inventory in real time based on the fair market value. Campaigns can be targeted based on actual traffic data to drive ad impressions at scale.
Let's take a look at TTD's monthly chart …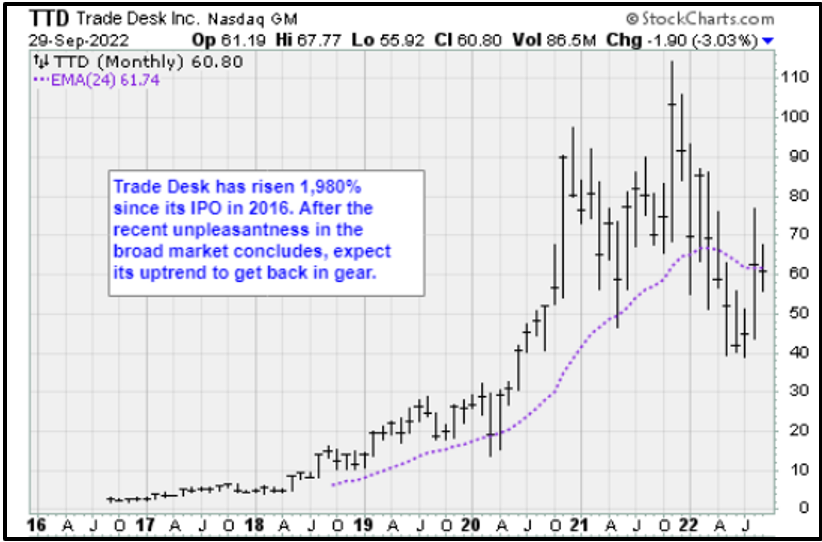 TTD monthly chart.
Click here
to see full-sized image.
The transformation at Roku follows similar shifts for Netflix (NFLX) and Walt Disney (DIS) Disney+ service. Paid media subscriptions are nice; however, when given an ad-supported option, consumers invariably choose to watch for free.
Since its initial public offering in 2015, executives at The Trade Desk have been telling a single, consistent story about the future of media: It'll be digital and mostly supported by ads. Digital content is on-demand and portable to any screen. Ad-supported content democratizes that media by removing the barriers of affordability.
Deloitte Insights found in 2022 that most consumers draw the limit at three paid subscriptions. Its Digital Media Trends report was clear. The future of digital media delivery will be supported with ads.
Despite the current economic slowdown, Trade Desk reported in August that Q2 sales rose to $377 million, up from $280 million a year ago. The adjusted earnings before interest, taxes and amortization margin was 37%.
The stock has been weak with the rest of technology. At $62.96, shares currently trade at 54.8x forward earnings. The market capitalization is $31.5 billion.
As always, be sure to conduct your own due diligence beforehand.
All the best,
Jon D. Markman
P.S. Last week, Dr. Martin Weiss and a special guest expert who picked the last big bottom showed members how to spot the NEXT big bottom. Find out how by clicking here.