Tech Giant vs. Government Roadblocks
Artificial intelligence might be the future of software. However, being at the forefront of artificial intelligence development isn't what it once was.
The Nvidia Fall GTC conference kicked off Tuesday online. The four-day confab is normally a celebration of the company's huge lead in AI infrastructure.
This year, however, Nvidia (NVDA) is faced with the challenge of explaining how its business will grow again.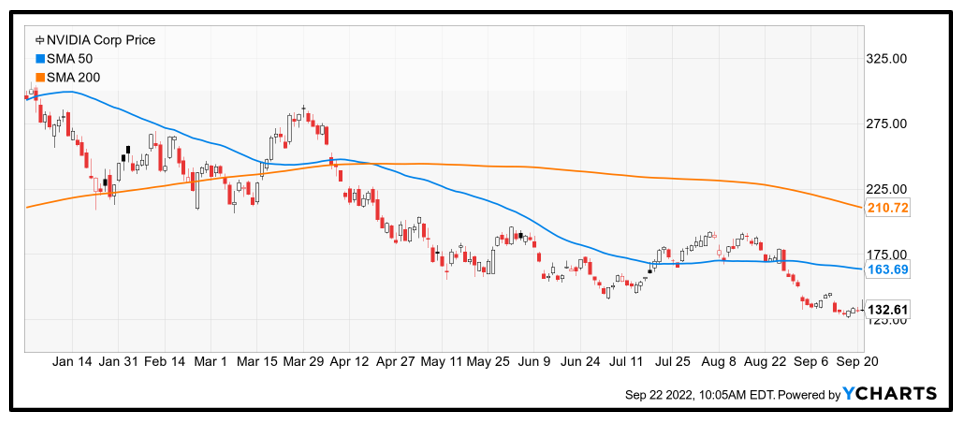 NVDA 6-month chart.
Click here
to see full-sized image.
It's time to be more cautious with Nvidia shares for all the wrong reasons.
The Santa Clara, California-based company is iconic. Under the leadership of CEO Jensen Huang, Nvidia went from making graphic processing units for game consoles and high-end personal computers to powering the backbone of the AI movement.
Huang engineered acquisitions to grow Nvidia's software acumen while continuing to make the most advanced GPUs in the computing sector. When other industry watchers scoffed at the idea that AI might be a real business, Huang doubled down. The buyout of Mellanox gave the firm a foothold in hyperscale data networks and networked high-performance computers.
Related Post: Big Tech Gets Smeared on Capitol Hill
That voracious appetite for growth and innovation is now a detriment.
In a filing with the Securities and Exchange Commission in early September, Nvidia warned that the U.S. government requested that the firm stop selling its most advanced AI chips to companies in China and Hong Kong. Policymakers believe the A100 and upcoming H100 AI processors might be used by the Chinese and Russian governments to make military weapons.
To be clear, Nvidia doesn't sell any state-controlled AI infrastructure entities in China or Russia. However, the firm has a significant Chinese business. The SEC filing reveals potential losses of $400 million in the current quarter if sales in China are banned. That's a real kick in the teeth for developing best-in-class products.
This is precisely why the GTC conference is so important.
Huang needs to explain how the company will continue to grow despite the U.S. government unilaterally curtailing sales of its most sought-after products.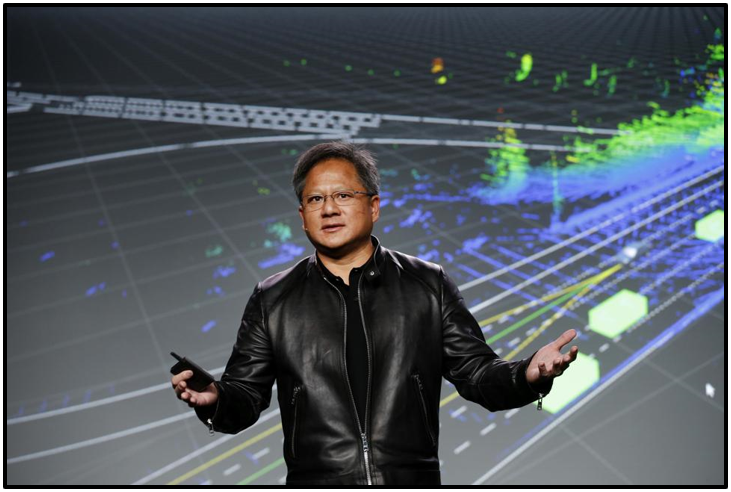 Nvidia CEO Jensen Huang.
Click here
to see full-sized image.
Last Wednesday, Huang introduced two new platforms that look like big winners.
Large Language Model Cloud Services allows developers to remotely train AI models based in GPT-3 or Megatron-Turing 530B.
Huang says that initially developers will be able to quickly deploy custom AI applications for digital biology. However, these models can eventually be applied to every industry.
Omniverse Cloud Services is a new infrastructure-as-a-service software suite that allows developers to collaborate on the fly using 3D workflows. It's the perfect companion to Large Language Model, and early adopters include Siemens and RIMAC Group, the maker of the all-electric Rimac Nevera, the world's fastest production vehicle.
Related Post: Here's What to Do About Nvidia
Speed is vital at Nvidia, too. The company faces unprecedented challenges as its cutting-edge AI gear becomes a political pawn in this latest high-stakes cold war.
At a price of $132.61, shares are down 54.9% year to date. During the past decade, Nvidia has been a huge winner, advancing by 4,145%. However, times change.
It's hard to let go of companies with visionary executives who are doing all the right things, yet this is clearly an inflection point. Huang can remake Nvidia. We simply don't know if investors will afford him the time he may need.
All the best,
Jon. D Markman
P.S. On Dec. 12, 2018, Weiss Ratings' Crypto Analyst Juan Villaverde posted his now-famous tweet, announcing the big bottom in Bitcoin. Anyone who bought Bitcoin on that day had the chance to turn $10,000 into $200,832. But if you missed that big day, you have a second chance. Juan's getting ready to announce the next big bottom in Bitcoin, the single best time to profit from the next bull market. To learn exactly how to seize this historic opportunity, click here for your free ticket to our upcoming forum, to be held Wednesday, Sept. 28.