Big Tech Gets Smeared on Capitol Hill
Technology companies have a problem, and it's been on investors' radars for a while.
Executives from all of the largest social media platforms met Wednesday in front of a Senate Homeland Security committee. Long story short: Politicos want to scapegoat technology companies.
Expect continued downward pressure on tech stock prices.
This is a familiar pattern. For one thing, Washington lawmakers hold technology platforms to different standards for content moderation than television and print media platforms. Then, the politicos convene hearings designed to garner soundbites that can later be used in fundraising campaigns.
Related Post: Tough Times for Tech Investors Could Get Worse
It's a predictable smear campaign that's sadly effective.
In one notable exchange on Wednesday, Committee Chair Sen. Gary Peters (D-MI) pressed spokespeople from Twitter (TWTR), Meta Platforms (META), YouTube and TikTok about content trust and safety. Peters scoffed that the companies didn't have large teams of engineers devoted solely to content moderation.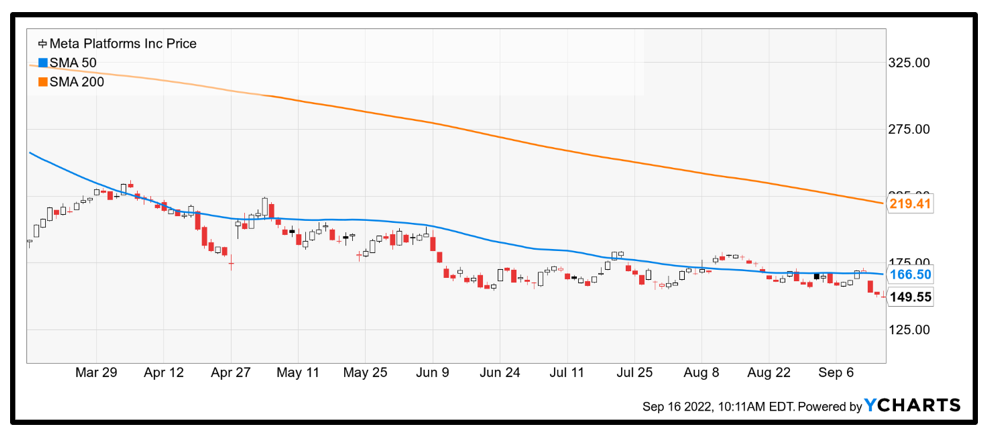 Six-month technical chart for META.
Click here
to see full-sized image.
In another key exchange Sen. Josh Hawley (R-MO) asked if it was true that 4,000 Twitter engineers had global access to user geolocation and personal data. The implication was the data is being abused for political ends.
There is a remedy. Congress could regulate Big Tech, however scapegoating it is far more convenient. Shifting the blame to Big Tech for all that's wrong in America deflects from those tasked with actually making the rules.
Sadly, even in a divided political climate, politicos are united about blaming Big Tech, or worse, nationalizing intellectual property when it's convenient.
Related Post: Big Tech's Bracing for a Recession
In a filing with the Securities and Exchange Commission last week, Nvidia (NVDA) noted that a U.S. government agency asked the chip designer to stop selling its high-end graphic processing units to Chinese firms. Similar requests have been made to Advanced Micro Devices (AMD), according to reporting at the Wall Street Journal.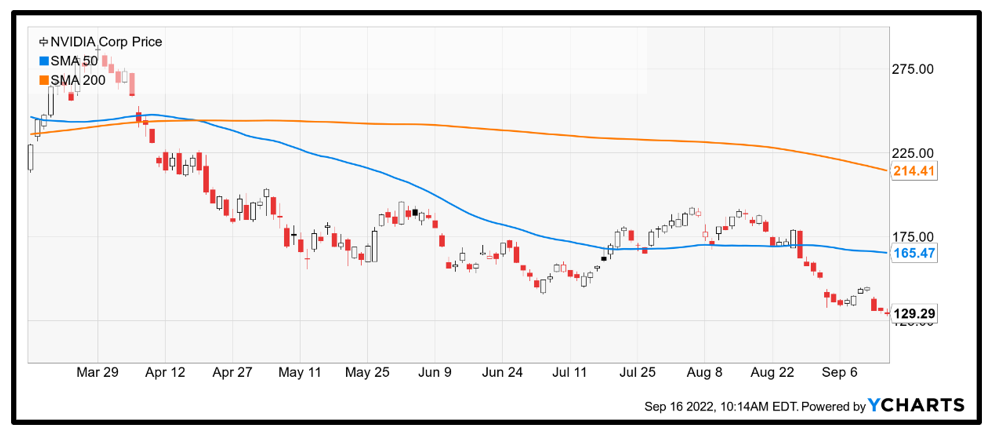 Six-month technical chart for NVDA.
Click here
to see full-sized image.
The United States is the undisputed global leader in semiconductor innovation, due in large part to firms like Nvidia, AMD and others. Since the Nvidia announcement, the entire sector is under pressure. Investors are uncertain what company will be impacted next.

It's a tough time to invest in innovation. Bombs are dropping everywhere and they're coming from inside of Washington, D.C.
Investors should always worry when a Senate Homeland Security committee asks tech executives to come to Washington. There's everything to lose and little to gain. It's hard to know how long the poor sentiment will last, yet investors are correct to be fearful about the headwinds.
The bottom line: Tech investors need to keep their heads down until this all passes.
Best wishes,
Jon D. Markman
P.S. If you enjoyed this issue, check out my trading service, The Power Elite. Members are currently sitting on open gains of around 142%, 130% and 122%!